Spider-Man: No Way Home Trailer Dropped - The Loop
Play Sound
1970 was Coronation Street's eleventh year.
Main characters
Production
Now in colour, Coronation Street began the decade with the rebuilt Grape Street set appearing for the first time on 12th January. The set was made in brick and contained fibreglass roofs, but no chimneys.
June Howson
June Howson, a director on the programme, became its second female producer in March and remained in place until October. All other episodes were produced by H.V. Kershaw, credited as executive producer.
Following Howson's arrival, the characters of Bernard and Sandra Butler and Audrey and Dickie Fleming departed one-by-one, significantly reducing the programme's younger cast. Dickie was the first to leave, when he walked out on Audrey after discovering her affair with Ray Langton. Audrey followed on a week later, while Bernard and Sandra left the Street in June and August respectively. Introduced in 1969 as Elsie Tanner's extended family, they became redundant when writers decided to marry Elsie off to Alan Howard, her third husband, and develop her storylines in that direction.
For the only year in Coronation Street's history, no new regular characters were introduced, although there were returns from Kenneth Farrington as Billy Walker, Sandra Gough as Irma Barlow and Julie Goodyear as Bet Lynch. Producers hoped to bring Alan Rothwell back with Gough to keep Irma and David Barlow together, and presumably introduce their unseen son Darren, but Rothwell was busy with theatre work and turned down a new contract. Writers responded by killing David and Darren off in a car crash in Australia, thus allowing Irma to return as a free agent. The news of David's death was relayed to the Barlows in a pre-booked telephone call at the end of a sombre episode in which the Street residents wait for an update on the crash.
Bet Lynch returned to the fold as an old workmate of Irma's who moved into the Corner Shop flat. Originally, this was to have been a new character named Julie Ganley but this was changed when Julie Goodyear was cast in the role. In December, Bet was recruited as a barmaid at the Rovers Return by Billy Walker, heralding the beginning of a 25-year-run that would see her become landlady.
Kenneth Farrington had signed for a year as Billy Walker, with the intention of leaving at the end of it. His return was in the early planning stages when Arthur Leslie, who played Jack Walker, suffered a heart attack and passed away at age 70. His death was a devastating blow to the cast and crew, particularly Doris Speed who seriously considered quitting her role of Annie Walker. Jack Walker's death was immediately written into the programme, but out of respect to Leslie's family, it was not exploited for dramatic purposes, with the funeral taking place off-screen in Derby and his passing being treated as an already known fact by Jack's friends in Coronation Street.
After Annie returned to the Rovers as licensee, her character transitioned from being one half of a bedrock couple to empress of her own kingdom, where the staff knew to toe the line. Although Billy was back on the scene, writers carried on with the original plan of having him buy the Canal Garage and hire Alan Howard as a mechanic.
The summer also saw the last appearance for two years of William Moore as Cyril Turpin. Cyril was never written out, and continued to be mentioned by Betty until Moore finally signed a new contract in 1972.
Year of strikes
As the programme approached its 1000th episode, a technician's strike at Granada halted production at the station between 26th May and 20th June, resulting in eight episodes going unrecorded. Coronation Street belatedly reached the milestone in August, although due to a change in production codes, the 999th episode was promoted as the 1000th. The occasion was marked by TV Times with a 64-page souvenir magazine published in July, containing a series of articles and viewpoints about the then ten-year success of the programme. The episode itself made no reference to the occasion, nor did the episode broadcast on 9th December acknowledge the tenth anniversary, with both being treated as regular episodes with no significance beyond their number or airdate.
Two scripts, numbered 1026 and 1027, were pared down to one later in the year due to illness on the part of actress Doris Speed. As Annie Walker was due to have a big role in the episodes, excising her scenes caused an entire episode's worth of plot to be lost. The amalgamated episode, numbered 1026 on this site, was the only one made that week, resulting in all following episodes moving up in the transmission schedule.
On 13th November, just under a year after Granada went into colour, ACTT members went on strike pending a pay rise for using the new colour equipment. From that day onwards, all ITV stations transmitted their programmes in black and white, even those which had been recorded in colour. For a three-month period, Coronation Street was recorded and shown in monochrome. No changes were made to the sets to reflect this fact.
Aside from Coronation Street itself, a special which aired as part of ITV's All Star Comedy Carnival on 25th December was also transmitted in black and white due to the strike. This year's mini-episode featured a party at the Rovers Return and was introduced by the evening's host Max Bygraves.
Viewing figures
1970 was a successful year for Coronation Street. After reaching a peak in 1964, overall ratings had declined year-on-year. 1970 bucked the trend, with an average figure of 16.26 million viewers, the highest of the decade, increasing by 1.2 million on 1969. December was the only month where ratings fell year-on-year, while April, July and August rose by more than 10% on 1969.
Episode 955 on 18th February was the highest-rated episode of the year, with 19.47 million viewers or 8.85 million homes, the highest peak since 1967.
Despite the reduced episode count, the number of episodes which reached number one in the ratings was 24, an increase of eight over 1969, but less than in 1967 or 1968.
Episodes
#
Ep.
No.
Date
Writer
Director
Viewing
Figures
(homes/
viewers)
Chart
Position
1
942
Monday 5th January
Ron McDonnell
Joe Boyer
8,250,000
18,150,000
1
2
943
Wednesday 7th January
Malcolm Lynch
Joe Boyer
8,050,000
17,710,000
2
3
944
Monday 12th January
Brian Finch
Eric Prytherch
8,050,000
17,710,000
3
4
945
Wednesday 14th January
Leslie Duxbury
Eric Prytherch
8,200,000
18,040,000
2
5
946
Monday 19th January
Malcolm Lynch
Brian Mills
7,900,000
17,380,000
3
6
947
Wednesday 21st January
Ron McDonnell
Brian Mills
8,200,000
18,040,000
2
7
948
Monday 26th January
Susan Pleat
Joe Boyer
7,900,000
17,380,000
3
8
949
Wednesday 28th January
Leslie Duxbury
Joe Boyer
8,350,000
18,370,000
2
9
950
Monday 2nd February
Brian Finch
Eric Prytherch
8,100,000
17,820,000
5
10
951
Wednesday 4th February
Geoffrey Lancashire
Eric Prytherch
8,650,000
19,030,000
1
11
952
Monday 9th February
Brian Finch
Brian Mills
7,950,000
17,490,000
4
12
953
Wednesday 11th February
Leslie Duxbury
Brian Mills
8,500,000
18,700,000
2
13
954
Monday 16th February
Geoffrey Lancashire
Joe Boyer
8,250,000
18,150,000
3
14
955
Wednesday 18th February
Ron McDonnell
Joe Boyer
8,850,000
19,470,000
1
15
956
Monday 23rd February
Susan Pleat
Eric Prytherch
8,150,000
17,930,000
3
16
957
Wednesday 25th February
Malcolm Lynch
Eric Prytherch
8,750,000
19,250,000
1
17
958
Monday 2nd March
Susan Pleat
Brian Mills
8,100,000
17,820,000
5
18
959
Wednesday 4th March
Malcolm Lynch
Brian Mills
8,650,000
19,030,000
4
19
960
Monday 9th March
Leslie Duxbury
Joe Boyer
7,750,000
17,050,000
5
20
961
Wednesday 11th March
Julian Roach
Joe Boyer
8,400,000
18,480,000
3
21
962
Monday 16th March
Ron McDonnell
Baz Taylor
8,200,000
18,040,000
4
22
963
Wednesday 18th March
Brian Finch
Brian Mills
8,250,000
18,150,000
3
23
964
Monday 23rd March
Malcolm Lynch
Joe Boyer
8,100,000
17,820,000
1
24
965
Wednesday 25th March
Brian Finch
Joe Boyer
8,100,000
17,820,000
1
25
966
Monday 30th March
Ron McDonnell
Eric Prytherch
5,292,000
11,642,400
n/k
26
967
Wednesday 1st April
Leslie Duxbury
Eric Prytherch
8,250,000
18,150,000
2
27
968
Monday 6th April
Susan Pleat
Brian Mills
6,950,000
15,290,000
7
28
969
Wednesday 8th April
Adele Rose
Brian Mills
7,800,000
17,160,000
2
29
970
Monday 13th April
Malcolm Lynch
Baz Taylor
7,400,000
16,280,000
6
30
971
Wednesday 15th April
Brian Finch
Baz Taylor
8,150,000
17,930,000
3
31
972
Monday 20th April
Leslie Duxbury
Eric Prytherch
7,700,000
16,940,000
3
32
973
Wednesday 22nd April
Geoffrey Lancashire
Eric Prytherch
8,100,000
17,820,000
2
33
974
Monday 27th April
Malcolm Lynch
Joe Boyer
7,600,000
16,720,000
1
34
975
Wednesday 29th April
Susan Pleat
Joe Boyer
7,400,000
16,280,000
2
35
976
Monday 4th May
Leslie Duxbury
Baz Taylor
6,650,000
14,630,000
3
36
977
Wednesday 6th May
Malcolm Lynch
Baz Taylor
7,200,000
15,840,000
2
37
978
Monday 11th May
Brian Finch
Eric Prytherch
7,250,000
15,950,000
4
38
979
Wednesday 13th May
Geoffrey Lancashire
Eric Prytherch
7,500,000
16,500,000
2
39
980
Monday 18th May
Leslie Duxbury
Joe Boyer
6,750,000
14,850,000
4
40
981
Wednesday 20th May
Malcolm Lynch
Joe Boyer
7,650,000
16,830,000
1
41
982
Monday 25th May
Brian Finch
Baz Taylor
4,250,000
9,350,000
19
42
983
Wednesday 24th June
Leslie Duxbury
Baz Taylor
6,900,000
15,180,000
1
43
984
Monday 29th June
Brian Finch
Eric Prytherch
6,550,000
14,410,000
3
44
985
Wednesday 1st July
Malcolm Lynch
Eric Prytherch
7,400,000
16,280,000
1
45
986
Monday 6th July
Susan Pleat
Eric Prytherch
6,650,000
14,630,000
4
46
987
Wednesday 8th July
Brian Finch
Susan Pleat
Baz Taylor
7,100,000
15,620,000
1
47
988
Monday 13th July
Geoffrey Lancashire
Baz Taylor
6,750,000
14,850,000
2
48
989
Wednesday 15th July
Leslie Duxbury
Joe Boyer
6,950,000
15,290,000
1
49
990
Monday 20th July
Leslie Duxbury
Joe Boyer
6,750,000
14,850,000
3
50
991
Wednesday 22nd July
Malcolm Lynch
Eric Prytherch
7,400,000
16,280,000
1
51
992
Monday 27th July
Brian Finch
Eric Prytherch
6,650,000
14,630,000
1
52
993
Wednesday 29th July
Susan Pleat
Bill Podmore
6,100,000
13,420,000
4
53
994
Monday 3rd August
Julian Roach
Bill Podmore
5,900,000
12,980,000
3
54
995
Wednesday 5th August
Brian Finch
Carol Wilks
6,000,000
13,200,000
2
55
996
Monday 10th August
Geoffrey Lancashire
Eric Prytherch
6,700,000
14,740,000
2
56
997
Wednesday 12th August
Leslie Duxbury
Joe Boyer
6,500,000
14,300,000
4
57
998
Monday 17th August
Malcolm Lynch
Joe Boyer
6,700,000
14,740,000
2
58
999
Wednesday 19th August
H.V. Kershaw
Baz Taylor
6,900,000
15,180,000
1
59
1001
Monday 24th August
Geoffrey Lancashire
Baz Taylor
6,450,000
14,190,000
3
60
1002
Wednesday 26th August
Leslie Duxbury
Bill Podmore
6,550,000
14,410,000
1
61
1003
Monday 31st August
Susan Pleat
Bill Podmore
6,250,000
13,750,000
5
62
1004
Wednesday 2nd September
Malcolm Lynch
Joe Boyer
6,950,000
15,290,000
1
63
1005
Monday 7th September
Brian Finch
Joe Boyer
6,850,000
15,070,000
3
64
1006
Wednesday 9th September
Adele Rose
Baz Taylor
7,350,000
16,170,000
1
65
1007
Monday 14th September
H.V. Kershaw
Baz Taylor
6,800,000
14,960,000
5
66
1008
Wednesday 16th September
Malcolm Lynch
Eric Prytherch
6,750,000
14,850,000
6
67
1009
Monday 21st September
Brian Finch
Eric Prytherch
6,900,000
15,180,000
2
68
1010
Wednesday 23rd September
Julian Roach
Carol Wilks
6,700,000
14,740,000
4
69
1011
Monday 28th September
Susan Pleat
Carol Wilks
7,250,000
15,950,000
3
70
1012
Wednesday 30th September
Julian Roach
Baz Taylor
6,800,000
14,960,000
7
71
1013
Monday 5th October
Leslie Duxbury
Baz Taylor
7,250,000
15,950,000
1
72
1014
Wednesday 7th October
Geoffrey Lancashire
Eric Prytherch
7,250,000
15,950,000
1
73
1015
Monday 12th October
Brian Finch
Eric Prytherch
7,300,000
16,060,000
1
74
1016
Wednesday 14th October
H.V. Kershaw
Carol Wilks
7,250,000
15,950,000
2
75
1017
Monday 19th October
Malcolm Lynch
Carol Wilks
7,300,000
16,060,000
1
76
1018
Wednesday 21st October
Malcolm Lynch
Oscar Whitbread
7,250,000
15,950,000
2
77
1019
Monday 26th October
Julian Roach
Oscar Whitbread
7,750,000
17,050,000
3
78
1020
Wednesday 28th October
Brian Finch
Eric Prytherch
8,150,000
17,930,000
1
79
1021
Monday 2nd November
Leslie Duxbury
Eric Prytherch
7,500,000
16,500,000
4
80
1022
Wednesday 4th November
Susan Pleat
Hugh Munro
7,550,000
16,610,000
3
81
1023
Monday 9th November
Geoffrey Lancashire
Hugh Munro
7,550,000
16,610,000
3
82
1024
Wednesday 11th November
Malcolm Lynch
Eric Prytherch
7,500,000
16,500,000
4
83
1025
Monday 16th November
Julian Roach
Eric Prytherch
7,650,000
16,830,000
7
84
1026
Wednesday 18th November
Brian Finch
Leslie Duxbury
Brian Mills
7,850,000
17,270,000
5
85
1028
Monday 23rd November
Leslie Duxbury
Carol Wilks
7,550,000
16,610,000
6
86
1029
Wednesday 25th November
Geoffrey Lancashire
Carol Wilks
7,800,000
17,160,000
4
87
1030
Monday 30th November
Brian Finch
Les Chatfield
7,700,000
16,940,000
4
88
1031
Wednesday 2nd December
Julian Roach
Les Chatfield
7,650,000
16,830,000
5
89
1032
Monday 7th December
Leslie Duxbury
Brian Mills
6,750,000
14,850,000
8
90
1033
Wednesday 9th December
Brian Finch
Brian Mills
6,950,000
15,290,000
6
91
1034
Monday 14th December
Susan Pleat
Carol Wilks
7,400,000
16,280,000
4
92
1035
Wednesday 16th December
Geoffrey Lancashire
Carol Wilks
7,450,000
16,390,000
3
93
1036
Monday 21st December
John Finch
Les Chatfield
7,600,000
16,720,000
4
94
1037
Wednesday 23rd December
Leslie Duxbury
Les Chatfield
7,700,000
16,940,000
3
95
1038
Monday 28th December
Brian Finch
Brian Mills
6,750,000
14,850,000
12
96
1039
Wednesday 30th December
Malcolm Lynch
Brian Mills
7,950,000
17,490,000
1
Storylines
January
Albert Tatlock moves back to No.1.
Betty Turpin takes no notice of Annie Walker's apology and refuses to return to the Rovers, taking a job at The Flying Horse instead. The residents also start drinking there when Annie makes a resolution to only serve them if they're dressed smartly. Tommy Deakin puts Betty on the darts team against the Rovers, much to Albert's annoyance. She decides to play for the Rovers out of loyalty. The two pub teams compete in darts and dominoes. Everyone is amazed as Ray Langton stands to play darts but he faints afterwards and is taken to hospital where the doctor concludes he is slowly getting better. Betty and Emily Nugent both return to the Rovers where the takings are down £15 since the new rule, which is quickly dropped as a result.
Alan Howard goes to Leeds and returns a week later. He tells Elsie Tanner he stood her up because he doesn't want to get involved. She tells him they could just be friends and they get to know each other better. Alan takes Elsie to

Ashton-under-Lyne

to show her his garage. She watches him in a motor rally on TV and is horrified when his car goes out of control and crashes but he is unhurt.
February
Stan enjoys working nights as he can drink all day. Hilda discovers he is spending his nights at a working man's club instead of working. She phones the bakery and reports him. Stan is suspended for one night. He goes on the rampage to discover who shopped him but Hilda tells him she knows nothing about it.
Audrey and Sandra make up. Ray hears he can go to Buxton Recuperation Centre and celebrates with Sandra and the Flemings.
Emily tells Len she'll work on the estimate but he tells her he and Ray are working on it. Ernie and Ena suspect something is wrong with Emily. Emily finds out that the tender is £12,300 and tells Piggott. Emily agrees to be Ernie's partner in the camera shop. She is stunned when Len tells her he has been able to lower his tender to £11,700 after buying cheap materials. Piggott tells Emily his tender is £11,900. Emily confesses to Ray and an angry Len and is sure Piggott will cancel the lease when he discovers Len has got the contract however Roscoe & Pitts get the student hostel contract to Emily's relief. Ena discovers Len and Ray sold Roscoe their cheap material so that he could undercut them, saving the Studio and getting one up on Piggott.
The Victoria Street Mission opens. Ena starts to play the harmonium and Ernie preaches there.
Cyril Turpin gets sick of everyone having a go at him because he's a policeman. He considers leaving now that he's served his twenty five years.
Annoyed at the supposed treatment he gets from people, Albert decides to drop out of society and refuses to leave his house. While Ena and Minnie Caldwell try to get him out, Sandra allies herself with him and takes food in for him. At Ena and Minnie's request, Cyril breaks in and makes Albert realise people are worried about him.
Bill Gregory turns up after an eight-year absence. Finding out that Elsie is single, he determines to woo her this time. Bill tells Ena he's not leaving without Elsie. He tells her that Phyllis is dead and asks her to marry him and move to

Portugal

where he has opened a bar. The proposal stirs Alan into action and he asks Elsie to stay in Weatherfield with him. Elsie agrees and Bill leaves on his own.
Annie has a bad month: she has her hair done at the salon and is horrified when Alan reveals in the Rovers that she bleaches her hair. Then she is pleased to receive a Valentine's card but appalled when Tommy Deakin confesses he sent it in order to try and get free drinks. Finally, coming home from Gwen Fenton's at night she falls into a workman's hole in the street after Dickie and Ray remove the warning lamp as a joke. Annie blames Ben the nightwatchman but Cyril discovers who the real culprits were.
Stan hears one of Ena's original tunes and gets the idea of posing as its composer and selling it himself.
March
Alan shows Elsie a new house in Bramhall but he upsets her when he tells her that he doesn't want to marry her, just to live with her. She refuses to give him an answer and lets him walk away from her and out of her life.
Stan brings in singer Mickie Malone to hear Ena's songs. He thinks Stan's got talent as a song writer and buys the piece, wants more to purchase. Stan tells Ena no one was interested in her song and asks her for another. Hearing Len whistling one of her songs, Ena goes to the Robin Hood Club and discovers she's being conned. She sets a trap for Stan, giving him the score of another song which Stan gives to Mickie. It turns out to be Onward Christian Soldiers. Stan is forced to give Ena £10 for the song Dreaming Time.
Annie, Betty and Hilda go to the Better Homes exhibition where Hilda buys an inflatable chair.
Alan writes to his staff putting the salon up for sale and giving them first refusal. Ken thinks of buying it but the bank refuses him a loan. He asks Dave Smith for a loan and, tipped off, Dave buys it himself, re-employing Elsie but sacking Bernard. Val, Elsie and Sandra walk out in protest. On Albert's advice Bernard starts up his own business. Dave hastily employs two replacement staff but the takings are only 4/6 for the day.
A football bus starts in the Street. Football yobs descend on the Rovers, insulting Annie and graffiting the walls. Annie's starts a petition against the bus but the menfolk refuse to sign it. Annie gets the women to deny their husbands all services until they do so. The Men form a "Kibbutz" in retaliation but after a few weeks both the men and women begin to weaken. The situation is sorted when the bus is moved to Bessie Street because Coronation Street is too narrow.
Ray returns from Buxton, with the use of his legs and lodges at No. 3 again. Ray starts back at the Yard with Len. Audrey pampers him and cuts off Dickie more. He tries to believe Audrey and Ray are not going to have another fling while Sandra feels put out about Audrey's closeness to Ray.
Lucille Hewitt returns from Ireland, lodging at No.5 as her room at the Rovers is being decorated. She is jealous to discover that Ray is engaged to Sandra.
April
Dave takes Lucille back on at the Betting Shop.
Val misses being a hairdresser. Dave pleads with Elsie to return and agrees to take Bernard back. Val returns to the Salon on £15 a week plus commission. Bernard refuses to return until Dave takes Sandra back on and give them both a rise.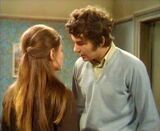 Audrey throws herself at Ray. He and Sandra set the date for 23rd May at St. Mary's Church. Audrey weakens Ray and they kiss, witnessed by Maggie. She tells Len who, in turn, informs Lucille. She tells Dickie about the kiss. He refuses to believe her so she tells him to ask Maggie what she saw. He does so and Maggie reluctantly confirms it. Audrey tells Dickie she loves Ray. Ray and Len go off to

Huddersfield

to help build a school. Maggie tells Lucille she's to blame for anything that happens to the Flemings. Ena tries to make Audrey see Ray is too flighty but Audrey is adamant that Dickie is too boring for her. Audrey breaks down when she discovers that Ray and Sandra have set the wedding date. She packs and leaves. Dickie grows desperate to find her and Mrs Bright turns up and tells Dickie that Audrey is with her. She promises Audrey's return but she is not on the

Preston

train when it arrives.
PC Conway tells Ken that the Barlows have been involved in a car accident in Australia and are in hospital. Ken breaks the news to the Ogdens and they wait for a booked phone call from the

Royal Adelaide Hospital

. When it comes through, they are told that David is dead, Irma is suffering from shock and Darren is critical. Dave Smith lends the Ogdens £600 so that Hilda can fly out to Australia. After she has gone, Stan gets a telegram saying Darren has also died. Although Ken is angry that Albert has talked to the press about David, it causes wellwishers to send money to the Ogdens and Stan gets £600 in all for his ticket to join Hilda. A flight is booked but before he can go, Hilda returns with Irma. Ena forces her to break down to bring her out of her daze. Dave tells Elsie that Stan signed over the deeds to No.13 for the £600. Irma tells Ken the crash was her fault and he rows with her. Stan decides to pay Dave back the £600 but changes his mind as he wants to help Irma with it.
May
Stan tells Maggie he's like to buy a part of the Corner Shop business for Irma. Maggie agrees to the deal as Gordon needs the £600 for an accountancy course. Irma is horrified to discover the deal; she doesn't want to return to the shop and tells Maggie that she hates it due to its past associations with David but Val advises her to take it on to pay Dave the money back. Irma agrees and starts work.
Audrey stays with her friend Lorna Smeaton who tells Dickie where he can find her. Ena tells Dickie to fetch his wife home. He tries but she refuses to return. Instead, she phones Ray and they plan a meeting where she is shattered to discover that he wants nothing to do with her. Dickie gets drunk in the Rovers while Sandra buys her wedding dress. Ray assures Sandra that he's not interested in Audrey but Dickie's had enough: he packs and leaves, telling Sandra all about the affair. She has a slanging match with Audrey while Bernard hits Ray in the Rovers and knocks him to the ground. Sandra lays on a romantic meal for Ray but it's an excuse for her to tell him that she's finished with him. Audrey leaves the street for good and returns to her mother in Preston.
Lucille's celebrates her 21st birthday and Annie prepares a party for her. She refuses to have Ernie playing the piano there because he's not a professional in her eyes. The residents gather in the select and Annie is forced to ask Ernie to play as everyone finds it dull. Lucille, Len, Irma, Dave and Bernard slip away from the party and have a private bash in the salon. Lucille returns and placates an upset Annie by making a speech, thanking her for all she's done for her.
Irma agrees to a date with Dave Smith, going dog-racing. A jealous Bernard asks her not but she doesn't listen. Hilda is ashamed that Irma is going out with one of Elsie's cast offs and rows with Annie when she feels that she's looking down on them. Stan wants to warn Dave off but can't because of the deeds. At a club after the dogs Dave and Irma bump into Bet Lynch. Irma assures Stan that Dave is just a bit of fun. Stan confesses to Hilda that the reason he can't tackle Dave is because he holds the deeds to their house. Hilda sees the benefits of having a bookie for a son-in-law.
Ken and Val try to organise a Bank Holiday trip out for Albert but he refuses to go when he won't tell them where they're going.
Rovers customer Keith Lucas takes an interest in Betty when he overhears her surname. He tells her that Cyril put him in prison three years ago and he wants his own back. With Cyril away on a course, Lucas begins to follow Betty, terrorising her and forcing her to pay for his drinks. Betty hits breaking point but Cyril returns early from the course and Betty tells him about Lucas. A livid Cyril goes to sort him out.
June
Note: Only two episodes were transmitted in this month due to strike action - see "Production" above
Cyril goes in search of Lucas, asking various people to keep their eye out for him. He finds him late at night and a fight breaks out. Len intervenes but Cyril has already beaten up Lucas badly. The day after, he feels ashamed of his actions and tells Len not to cover up for him
The Ogdens butter Dave up and invite him to tea but Dave says he's taking them out for a meal instead. Irma can't stand the thought of being married to Dave but thinks it'll be fun to kid her parents along. At the meal, Hilda gets drunk and Irma finds out about the deeds. Upset, she demands to be taken home.
Irma dashes Bernard's hopes for romance. He takes a job back in Saddleworth and leaves Weatherfield.
Susan Barlow has tummy ache but Doctor Crawford says it's nothing to worry about. However her pains continue and Val worries as she tries to get her to sleep.
July
Dr Crawford refuses to see Susan again and thinks Val is panicking. Ken calls in Doctor Owen who recognises acute appendicitis and rushes Susan into hospital where she undergoes an operation which is a success.
Cyril hands in his resignation which is accepted. He gets a job in a solicitor's office, with a flat.
Dave puts the Ogdens off thoughts of being their son-in-law by telling them they'd have to pay for the wedding reception.
Alan returns to Weatherfield from London. He is horrified to find Elsie has let herself go. She accuses him of coming back thinking she'd jump at the chance to go out with him again. He asks Elsie to marry him so that they can never get away from each other but she doesn't believe him and refuses, asking Len to sort Alan out. Len warns Alan off and he decides to leave. Elsie admits to Val that she's kidding herself and that she wants Alan. She tells Alan she loves him and he proposes again - this time she accepts. They are married at a registry office with Len and Bet as witnesses. The residents throw a surprise party for the Howards before they leave for honeymoon in

Paris

but in their absence, Len and Ray discover Alan has money problems.
Maggie agrees to let Bet and Irma move into the shop flat at £4 a week. Irma is disturbed by the wedding into thinking of David and Darren. A baby,

Anthony Lock

, is stolen from outside

Hopwood Street

post office. Emily and Bet find Irma with Anthony but she is confused and thinks the baby is Darren. She lets Bet return him.
Annie goes to Derby when news reaches the Street that Jack has died while staying at Joan's. After several weeks, Annie returns but finds it hard to adjust to having to run the Rovers on her own.
Ex-borstal boys Frank Bradley and Judd Johnson turn up looking for Ray. He is none too pleased to see them. They tell him they're going straight and he reluctantly takes them on to make some cabinets for the camera shop but a £30 camera soon goes missing. Ray confronts Frank and Judd who refuse to admit they took it and then threaten to tell Emily that Ray set them up to nick the camera unless he goes in with them on one job - doing over an electrical shop. Emily tells Ray she's calling in the police if she doesn't get the camera back. Ray agrees to help on the job if they give the camera back. Ray returns the camera to Emily and tells her he's moving on. Emily and Ken rally round Ray and Ken pretends to be a policeman to scare Frank and Judd off.
Ex-Weatherfield resident Handel Gartside returns 33 years after emigrating to Canada and re-starts his friendship with Ena and Minnie. Handel takes Minnie out but she worries that Ena'll be jealous so he arranges a blind date for her.
August
Emily thinks Irma needs psychiatric help and asks Ken to help her. Bet manages to bring Irma out of herself.
Emily takes Stan on as temporary barman in the Rovers but he gets drunk and ends up owing more to the till than he earns. He loses badly in "double or quits" gambling to Albert but declares the debt void when Annie declares that gambling in the Rovers is against the terms of her licence.
Ena agrees to meet Handle's friend. Ena, Minnie, Handel and George Mulliner form a foursome and Ena hits it off with Handel.
The Howards return in Alan's new white Mercedes. Ray pressures Alan into writing a cheque which subsequently bounces. Willie Piggott, who is also owed money, wants Len and the other creditors to gang up on Alan and bankrupt him. Alan is forced to give his car as a settlement to a creditor. Piggott, Sid Lambert, Joe Makinson, Ray, Irma and Annie tell Alan he's got seven days to settle their debts or they will sue him. Alan is forced to attend a meeting of creditors. Alan's accountant, Mr Vine explains that he is insolvent, he owes £5,132 and his assets amount to £2,350 if he's given three months. The creditors don't petition and Alan celebrates, but Elsie tells him she won't let it happen again. The Howards put on a brave face to the residents.
Ena discovers young Tony Parsons breaking into the Mission to play the harmonium and realises he has talent. She gives him lessons and arranges for him to see a music teacher,

Mr Telford

, at the college of music where she discovers there is a chance of a scholarship. Tony's mother, Mrs Parsons, objects but Ena talks her round.
Alan thinks Sandra is in the way at No.11 and Elsie tells her to leave. Bet takes Lucille and Sandra to a party where they meet Frank and Judd. Judd takes a fancy to Sandra and invites her on a trip to London. Elsie tries to stop her but she leaves with him in the middle of the night.
Annie puts up for the licence of the Rovers. Billy Walker returns to start afresh in Weatherfield. Alan tells Billy he'll show him around his garage with a view to selling it. Alan asks too much for it from Billy and he looks over the Canal Garage instead however he asks Alan to work for him as a mechanic.
Maggie from Les's brother that he is drinking again and is in hospital critically ill. She goes to Birmingham to see him.
September
Billy buys the Canal Garage and Alan agrees to be his mechanic. Under pressure from Val, Ken buys a mini which promptly goes wrong. Alan mends it as a favour, which annoys Billy causing Alan to walk out. After Alan and Elsie row about his pride, Alan realises he is no longer a boss and he and Billy reconcile their differences.
Tommy Deakin lodges his greyhound

Duke

at No.13. Hilda feeds him up with stew before discovering he won't run if he's full. Duke is too ill to run and Len kids Stan that some threatening men are after him for nobbling the dog.
Elsie goes job hunting and gets taken on by door-to-door sales company Charm Cosmetics
Bet takes up with Frank Bradley and lies to Irma up to go out with him. Tipped off by Ena, Irma interrupts Frank and Bet in the flat. Irma and Bet have a argument and Irma tells Bet she doesn't know what it is to lose a husband and a baby. Bet breaks down and tells Irma that she had a baby when she was sixteen and he was taken off her.
Bet decides not to go on holiday with Irma to

Torquay

to keep close to Frank. She worries about the age difference between them. Bet joins Frank on a trip to Skipton for work and gets jealous of Judy Cookson, a waitress in a

Elm Cafe

who he knows. Ena thinks Frank will hurt Bet who is annoyed when Judd returns. Frank steals a car to take Bet out. She is shocked when she finds out.
Annie goes to court to see about transferring the licence to her name and comes back as the new landlady of the Rovers. Ray puts Annie's name up above the door. Annie is not sure she can cope with the pub.
Having seen The War Cry sold in the Rovers, Ray plans a trip to a Salvation Army meeting for a laugh. Lucille gets annoyed when Frank, Bet and Ray have a free laugh there. Having been moved by a bereaved young man's address, Lucille wants to become a helper at the Salvation Army herself. They take her on and give her cantankerous and ungrateful pensioner Arthur Noblett to look after. Lucille takes his broken radio to be fixed by Billy but he wrecks it. He gets Noblett a TV but he wants his radio. Ena gives him her old radio and scolds him for his ingratitude.
Irma goes on holiday alone and has to find someone to look after the shop for her since Betty cannot get away from the Rovers. She decides to ask Hilda who is delighted with the thought. All goes well until she starts to run out of stock and ends up ordering up-market items from

Unifoods

rep Walter Gilfeather.
Minnie is upset when Ena forgets her 70th birthday. Albert reminds Ena and she buys Minnie a hotpot pot. The Barlow twins sing Happy Birthday to her.
October
No one wants Hilda's fancy goods and she realises she's ruining the business as she doesn't have any basic food in the shop however she refuses to back down and let Betty take over the shop. She decides to hold a bargain sale which attracts a lot of custom however she sells things at less than cost and Stan thinks they're £20 down. Irma returns and is horrified to discover the shop is empty and a loss has been made of £7, 2/9. She also discovers her mum sold Stan cigarettes at cut price. She tells him to pay the rest. Irma lets Hilda clean the shop as a penance.
Frank promises Bet he won't steal any more cars. However he plans with Judd to steal a car, fix it with a false log book at the Canal Garage and sell it. Unwittingly Billy tells Frank he can work on his car at the garage but soon realises they're ringing the car with false plates and a paint job. He throws them out. Ken advises Billy to go to the police but he refuses. Val tells Bet about the incident. Bet tells him the police are onto him and hides him in the flat. Billy agrees not to tell the police when Bet tells him she'll keep Frank straight but Frank is annoyed that Bet is trying reform him and finishes with her.
Ken is given a grant to visit New York and study technical education, leaving with only a week's notice. Val is annoyed the he didn't tell her and considers learning to drive whilst Ken is away.
Gypsies camp on a slum clearance site. Reuben Ward and John Smith collect junk in the Street, annoying Tommy. When he argues with them Rovers, Billy shocks Annie by threatening to bar him and not the gypsies. The Street splits on the gypsies with Annie, Ray and Tommy against them and Lucille, Ena and the Ogdens for them. Annie forbids Lucille to go to their camp and she stays out for the night. Ray suspects the gypsies of stealing the scrap from the yard and gets together some heavies to get the scrap back from the gypsies. Lucille tries to stop the fight that ensues. The police break it up the fight and move the gypsies on. When Lucille hears Annie led the petition that caused the eviction, she throws a brick through a police car window, is arrested and released with a caution.
Elsie is stunned when her stepson Mark Howard arrives as she knew nothing of his existence. Alan is also surprised to see him. Elsie agrees to let Mark stay at No.11 until he can find somewhere else but she is uneasy when Mark pointedly tells her that Alan really loved his mother.
Irma and Hilda ask Elsie to get them jobs as Charm Cosmetic girls but puts them off with talk of references, medicals and the rough estates they'll have to visit.
Irma is tired of doing all the work with Maggie away. Billy advises her to buy Maggie out.
Handel returns from visiting his cousin in Whaley Bridge and gives Minnie a brooch from the Blue John Mines. He asks her if he can be her lodger.
November
Ena feels put out with Handel hanging around No.5 but Minnie is disappointed when he tells her his intentions are honourable. Albert doesn't like Handel hanging around Minnie as he's a stranger and is shocked to discover Handel was a conscientious objector in the First World War. Albert tells Minnie she's been deceived by him but Minnie tells him she admires Handel for his courage of conviction. Albert gives Handel a white feather so when Minnie throws a birthday party for Ena, she refuses to invite Albert. Handel returns to Whaley Bridge, upsetting Minnie.
While his Rovers room is decorated, Billy moves in with Minnie. He starts to see Irma, alarming Annie who has his room finished quickly so that he can move back in. Annie tells Irma to keep away from Billy and, annoyed, he kids Annie that Irma is pregnant. She summons Irma and Stan to tea to sort things out. When Irma backs out, Billy tells Annie she jumped to the wrong conclusion. Stan can't understand why Annie has cancelled their tea and Hilda thinks Annie wanted to warn Stan from being amorous with Betty. Bet tells her the truth. Hilda and Stan are upset that people think they're a joke.
Irma decides to buy Maggie out with borrowed money. Warned by Ena, Maggie tackles Irma about her plans. She agrees to let her buy more of the business to make them 50-50 partners in the enterprise. Billy gets

Bill Sweeney

to lend Irma enough money to buy more of the shop and pay back Dave's £600.
Annie thinks Mark is a nice young man and Lucille agrees to go out with Mark to spite Ray. Initially, she is impressed by him as he treats her like a lady but suddenly changes her mind and warns Elsie that Mark is dangerous. When questioned Mark tells Elsie that he just didn't get on with Lucille. Elsie is also worried that Mark is trying to lure Alan back to his mother but Alan tells her how he hates Laura. Lucille tells Elsie that Mark asked her point blank to sleep with him and his language was offensive. Mark overhears Elsie and Len flirting in No.11 and tells his dad. Alan tells Elsie that Mark found it embarrassing to be in the house with Elsie and Len together. Elsie is angry at Mark's allegations and gets Len to tells Alan that nothing went on between them. Alan is angry when Elsie calls Mark a liar. She confronts the lad who tells her he just wants Alan to be happy. She walks out. Alan accuses Mark of being jealous of Elsie and tells him he will not let him turn him against Elsie. He makes his son leave.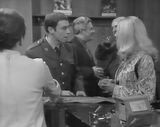 Joe Donelli returns, saying he's been demobbed and Minnie takes him in. Irma starts to go out with him. Gregg Flint and Gary Strauss also turn up, after Joe who has in reality deserted. He refuses to return to the Army. Bet moves the last of her stuff into her new flat at

44 Victoria Street

, packs up the Laundryer and throws herself at Gary. Gregg tells Elsie he's lonely and she introduces him to Maggie. The Ogdens like Joe but he starts to unnerve Irma. One night, drunk, he confesses that he killed Steve Tanner two years before.
Ena suspects that Ray may make a play for Val with Ken away and Emily chaperones her on Ena's instructions. Val tells her to leave; if she wants Ray around he shall be around. Ray agrees to teach her to drive and gives Val her first driving lesson but she's hopeless. Elsie warns Ray off Val. Val realises she's a hopeless driver. Ken phones Val from New York and tells her he's had an anonymous letter warning him about her and Ray.
Annie decides to take on a hostess' role in the pub and leave the work to her employees. Ernie tells Emily the Mission people are talking about her working in the Rovers so she upsets Annie's plans by saying she won't work the bar anymore so the pub is now short-staffed.
December
Billy tells Annie he'll get her a new barmaid and Bet agrees to fill the role. Annie isn't pleased and tells Billy to get rid of her as she's lowering the tone but the custom increases from the menfolk and she agrees to let her stay. Betty is made senior barmaid but is still annoyed when Annie gives Bet a holiday over Christmas. Annie wins her round by telling her she'll call her Elizabeth from now on whilst Bet will remain "common" Bet.
Val tells Ray about Ken's phone call. Albert, Elsie and Ena are suspected of writing the letter before Emily confesses as she realises she was completely wrong in her assumptions. Ken returns from New York and Val invites Ray and Emily to tea with him and tells them to prove to Ken that she was not unfaithful.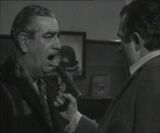 Irma undergoes a nightmare few weeks, terrified of Joe and withholding the knowledge that he's a murderer from everyone. Gregg and Gary hear of two separate incidents where he beat up women, one of them being hospitalised for three weeks as a result, and they start to doubt their friend. Irma manages to tell Gregg about the confession but he's doubtful as Gary gave Joe an alibi for the night of the murder however Gary confesses that it was false. They alert the US military authorities and entice Joe to the Rovers from the flat to try and hold him there until the MP's arrive. Joe however, smells a rat and escapes through the back and into No.5 where he holds Minnie at gunpoint. Police and MP's hold the street in a state of siege. Stan is livid at Irma's ordeal and makes his way past the police to No.5. Minnie is released and Stan is held in her place. Joe sees that the game is up and kills himself. Stan is proclaimed a hero. The police reopen the investigation on Steve while Gregg and Gary fly to

Germany

after a farewell party in the Rovers.
Albert takes Minnie in when she doesn't want to stay in No.5 after Joe's death but they soon start to clash over the running of the house.
Emily organises a Christmas trip to see a panto. Everyone except Albert cancels because of Joe's death and the tickets are given to underprivileged children. They turn out to be completely wild and Emily and Albert have to look after them but Albert turns out to be a bigger handful than the children.
Billy finds two boxes of bitter lemon bottles short on the drayman's delivery. He realises drayman Arthur Burrows is trying to rob them and forces him to make good the discrepancy. Elsie is surprised to find the gin has been watered down and soon after sampling officers from the Health Department arrive following an anonymous complaint. Annie fears she could lose the licence. The report shows the gin was watered down. Annie reads it out and tells the regulars she was not responsible but they stay away from the Rovers anyway.
Ray has trouble cooking so Hilda lends him a hand. Hilda offers her services to him and Len as a housekeeper. Len agrees but then he and Ray realise they need someone else however Hilda gives her job up at the Rovers on the promise of the new position.
Who lives where
Coronation Street
44 Victoria Street

- Bet Lynch (from November onwards)