This wiki was created on 21st May 2008, and currently has 25,013 articles.
If you wish to contribute, please read our manual of style first.
Pages which need creating are listed as "wanted pages" below
Overview | Browse | Categories | Wanted pages | Users | Discussion | To do list | Random page
Delighted to have been able to assist with the tribute programme broadcast on 19th April to William Roache!!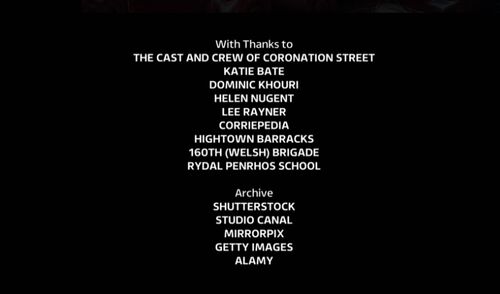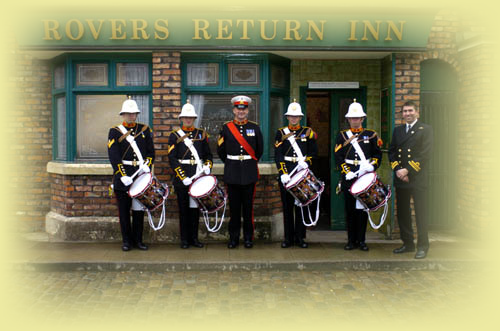 Coronation Street is a British soap opera which chronicles the lives of the residents of a backstreet terrace in Weatherfield, a fictional town in the north of England. Created by Tony Warren and produced by Granada Television and then ITV plc for the country's main commercial network, it was first transmitted on 9th December 1960 and is the world's longest-running television drama series.


25th May 1983: In one of their many marriage squabbles, Vera Duckworth was poised to exact revenge on husband Jack after finding out he was a client of Bill & Co Video Dating Agency despite being married to her. Playing Jack at his own game, Vera signed up with the agency and arranged to go on a date with "Vince St. Clair" (Jack). Jack agreed to meet "Carole Munro" in the Rovers, unaware until his date turned out that it was Vera. Jack was the laughing stock of the regulars as Vera chased him out of the pub while hitting him with her handbag.
Ivy Brennan
Ivy Brennan was the God-fearing mother of Brian Tilsley and mother-in-law of Gail. A long-term employee at Baldwin's Casuals, Ivy was a resident of 5 Coronation Street from 1979 to 1994. Prior to living in the Street, Ivy had been employed at the Mark Brittain Warehouse and between 1976 and 1989 she was a machinist at Baldwin's denim factory, also serving as shop steward and supervisor at various times. She was never afraid to speak her mind and frequently stood up to Mike on behalf of her colleagues, including Ida Clough and best friend Vera Duckworth. 1979 saw Ivy, her husband Bert and 20-year-old son Brian move into No.5 and Brian fly the nest to marry Gail Potter. As a widow, Ivy's attentions were focused on Brian's family, including her grandchildren Nicky and Sarah Louise who Ivy doted on. A staunch Catholic, Ivy disapproved of Brian and Gail's decision to separate and ultimately divorce. After Brian was killed in a stabbing in 1989, Ivy continued to meddle under the guise of protecting his memory, notably attempting to thwart Gail's second husband Martin Platt's plans to adopt Brian's children.
Previous featured characters: Oliver Battersby, Summer Spellman, Amy Barlow; Bethany Platt; Mavis Wilton; Billy Walker.


"D'ya know, I remember when me and our Jack first got wed. He couldn't wait to spend time wi' me... you know? Now it's 'Ooh I've got headache', 'Ooh I'm watchin' snooker', 'Got a pint in?'. Makes yer flamin' sick!"
Vera Duckworth
Refresh for another quote

Current week
Mon 23rd May (20.00)
Wed 25th May (20.00)
Fri 27th May (20.00)
This week on
:
Episode 4921 (1st November 2000) - Episode 4930 (17th November 2000)
Coronation Street transmission patterns by country:
United Kingdom