Wiki Targeted (Entertainment)
Play Sound
Clara Midgeley was the caretaker employed at the Glad Tidings Mission Hall in the absence of regular employee Ena Sharples from June to October 1965.
On her arrival in the Street, Clara got straight to work and nearly made an enemy of Ena's best friend Minnie Caldwell when Minnie caught her using Ena's china, but once they got to know each other any animosity was forgotten. Once Ena returned to her job, Clara remained in the area and drank with the pair in the Rovers snug, occupying Martha Longhurst's old chair. She later took on jobs as temporary cleaner at the Rovers and housekeeper at No.1 while Albert Tatlock was away.
The lonely pensioner soon started pursuing Albert, much to his horror. She began by putting her stamp on No.1 by moving the furniture around, thinking it lacked a woman's touch. Albert agreed to holiday with her in Cleveleys to help run her niece's hotel, but things became awkward when Albert realised Clara was serious about him and he avoided her on their return. Lovestruck Clara managed to corner him and pop the question, but Albert turned her down, reasoning that he was far too set in his ways to ever marry again.
In January 1966, Clara and Ena were at loggerheads when they blamed each other for Minnie wasting her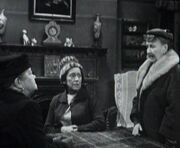 money on gambling and leaving herself without any money to heat her home. Ena accused Clara of starting Minnie's betting mania.
Clara left the area in April when Hilda Ogden took back her cleaning job at the Rovers. Coupled with her recent heartbreak over Albert, Clara saw little reason to stay around.
List of appearances