Line 1:
Line 1:
−

'''Catherine Tyldesley''' was born in [[Salford]] in [[1983]]. After leaving school, she trained as an actress and singer at the [[Birmingham]] School of Acting during which she played stage parts in ''Little Me'', ''Blood Wedding'', ''The Guid Sisters'' and ''Half a Sixpence''. After graduating, she gained parts in ''Holby City'' and ''Sorted'' before gaining the leading role in the short-lived BBC serial ''Lillies''. Since then she has played in a variety of series including ''Emmerdale'' (as Abi Peterson for two months in [[2010]]), ''Shameless'', ''Two Pints of Lager and a Packet of Crisps'' and ''Drop Dead Gorgeous''. Her film roles are in ''Human Nature'' and ''The Book Collector''. As well as being an actress, she is an accomplished singer and has been a model.

+

'''Catherine Tyldesley''' was born in [[Salford]] in [[1983]]. After leaving school, she trained as an actress and singer at the [[Birmingham]] School of Acting during which she played stage parts in ''Little Me'', ''Blood Wedding'', ''The Guid Sisters'' and ''Half a Sixpence''. After graduating, she gained parts in ''Holby City'' and ''Sorted'' before gaining the leading role in the short-lived BBC serial ''Lillies''. Since then she has played in a variety of series including ''Emmerdale'' (as Abi Peterson for two months in [[2010]]), ''Shameless'', ''Two Pints of Lager and a Packet of Crisps'' and ''Drop Dead Gorgeous''. Her film roles are in ''Human Nature'' and ''The Book Collector''. As well as being an actress, she is an accomplished singer and has been a model.

 
 
−

She joined ''[[Coronation Street]]'' in [[June 2011]] as [[Eva Price]], daughter of new [[Rovers]] landlady [[Stella Price |Stella]] after previously appearing in the programme as a [[Midwife 2 (Episode 6205)|Midwife]] in [[January 2006]].

+

She joined ''[[Coronation Street]]'' in [[June 2011]] as [[Eva Price]], daughter of new [[Rovers]] landlady [[Stella Price |Stella]] after previously appearing in the programme as a [[Midwife 2 (Episode 6205)|Midwife]] in [[January 2006]].

 
 
 

==External link==

 

==External link==
---
Revision as of 21:31, 7 April 2013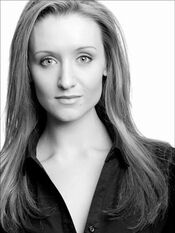 Catherine Tyldesley was born in Salford in 1983. After leaving school, she trained as an actress and singer at the Birmingham School of Acting during which she played stage parts in Little Me, Blood Wedding, The Guid Sisters and Half a Sixpence. After graduating, she gained parts in Holby City and Sorted before gaining the leading role in the short-lived BBC serial Lillies. Since then she has played in a variety of series including Emmerdale (as Abi Peterson for two months in 2010), Shameless, Two Pints of Lager and a Packet of Crisps and Drop Dead Gorgeous. Her film roles are in Human Nature and The Book Collector. As well as being an actress, she is an accomplished singer and has been a model.
She joined Coronation Street in June 2011 as Eva Price, daughter of new Rovers landlady Stella after previously appearing in the programme as a Midwife in January 2006.
External link
*Disclosure: Some of the links above are affiliate links, meaning, at no additional cost to you, Fandom will earn a commission if you click through and make a purchase. Community content is available under
CC-BY-SA
unless otherwise noted.