Jurassic World: Dominion Dominates Fandom Wikis - The Loop
Play Sound
Carla Barlow (née Donovan, previously Connor and Gordon) is the manager and majority shareholder of Underworld lingerie factory in Coronation Street, and wife of Peter Barlow. Born in 1975, she was the result of a one-night stand between her mother Sharon Donovan and Johnny Connor, a married man who didn't acknowledge her as his daughter until 2015.
From a poor start in life, Carla inherited her husband Paul's share of the factory after he died in a car crash in 2007. Carla then fell for her brother-in-law Liam, but married Tony Gordon instead after Liam spurned her in favour of Maria Sutherland. In 2009, Tony confessed that he'd had Liam killed in a hit-and-run to get his love rival out of the way. Carla almost died when he escaped from prison and set the factory alight, perishing in the fire.
After her showdown with Tony, Carla bonded with Peter Barlow while they helped each other beat the bottle. When Peter married Leanne Battersby, Carla found herself a substitute in Frank Foster. They'd just got engaged when Carla realised she was making a big mistake and broke it off, after which he raped her. Carla and Peter then started an affair which was exposed in court, helping Frank get acquitted although soon after his release he was murdered by his mother Anne. Carla married Peter in 2013 and they were expecting a baby when Tina McIntyre was outed as his mistress. After the stress caused Carla to miscarry, Carla cut Peter out of her life.
Seeking a more stable relationship, Carla moved in on Nick Tilsley. Their wedding day in 2016 was ruined when Tracy Barlow blew Carla's secret one-night stand with Robert Preston, leading Nick to annul the union. Carla went ahead with their planned move to Devon, returning in 2017 to help her cousin Aidan Connor get the ailing factory back up and running. She later ran Underworld alone following Aidan's suicide until the factory roof collapsed in 2019, killing Rana Habeeb. Carla had prior knowledge that the roof was dangerous and was blamed for the tragedy, which badly affected her mental health to the extent she was held in a psychiatric hospital. To make amends, Carla distributed her shares in the factory among her employees and now works there as manager. Helping Carla through the ordeal was Peter, who she re-married in 2021. They now live together at 15a Victoria Street.
Carla projects an icy exterior to most people, letting few people know the real her. She is a mother hen to her machinists, but the factory is frequently affected by her personal issues, including her problems with drinking, gambling and poor taste in men. Her other family and close friends include her brother Rob Donovan, and Roy Cropper, widower of her late employee Hayley to whom she has become close since Hayley's death from cancer.
Biography
1975-1999: Birth and upbringing
Carla was born on 3rd January 1975. She was the result of a one-night stand between her mother Sharon and Johnny Connor, a married man who lived close by. Johnny knew that Carla was probably his daughter but for the sake of his marriage he buried the memory of his liaison with Sharon. He did however make child support payments to Sharon whenever she had nowhere else to turn, which he managed to keep hidden from his wife Louisa.
Sharon lived in poverty on a run-down council estate. Carla was born into a world of alcohol and drugs, which her mother sold from her daughter's pram. Sharon had plenty of boyfriends and, a few years after Carla was born, she gave birth to her second misbegotten child, Rob. She went on to marry George, who mistreated Carla and Rob and was hated by them.
Carla's best friends growing up were Michelle, Paul and Liam Connor who lived in the nicer part of the estate. Michelle and her siblings were second cousins (once removed) of Johnny Connor and third cousins of Johnny's children Aidan and Kate, with whom Carla was also friendly despite them being a decade younger than her. In 1993, Sharon told Louisa about her affair with Johnny, leading Louisa to run out of the house in the course of rowing with Johnny and be fatally struck by drunk driver.
As a teenager, Carla worked Saturdays in a shoe shop and on her birthday in 1997 she began a relationship with her future husband Paul Connor, who she married on 26th January 1999 at age 24. With Paul earning good money, Carla's lifestyle changed for the better. For a while she maintained regular visits to the family home but soon stopped as Rob constantly got at her for leaving him to deal with their mother's troubles by himself. To ease her conscience, Carla sent her mum expensive gifts, but because of where she lived Sharon was afraid they would be stolen and kept them under lock and key.
1999-2007: Marriage to Paul
Carla and Paul lived at 4 Drapers Mill Apartments, Weatherfield Quays. They got on well enough but their marriage was often clinical and they once considered seeking marriage guidance. Carla had no desire to become a mother and, though Paul was content to have a glamorous wife to show off, Carla wanted to be successful in her own right and in 2006 they put aside £12,000 for her to start her own children's clothing business.
In September 2006, Liam Connor bought Adam Barlow's 40% share of Underworld knicker factory in Coronation Street, with Paul helping him run the business after majority shareholder Danny Baldwin disappeared in November. Carla first set foot in the factory on 1st December when she gatecrashed the staff's Christmas party carrying a bottle of wine in each hand after walking out of a different party. The girls thought they had an ally against Paul when Carla got chummy with them, but at dinner afterwards she adopted a "them and us" attitude, making it clear to the staff that she wasn't one of them.
In the New Year, Paul brokered a deal with Danny to buy the rest of the factory, using all of their savings to buy Danny out. Meanwhile, Carla landed an order for fifty kids' dungarees. After Liam dropped the bombshell on Carla that there was no money left for her business, Carla employed Underworld machinist Kelly Crabtree to make up the dungarees for her after hours, asserting that as her money had been used to buy the factory she was entitled to use the premises. Carla's lack of experience showed when she messed up the accounts and had to cut her machinists' pay by £2 an hour to stay in business, paying them less than the minimum wage. After landing more orders, Carla took on Polish workers from the Mittle Street Hostel where Becky Granger lived.
Carla's cheap operation ran smoothly until April when, in order to meet a deadline, she got her staff to work through the night, having already put in full shifts that day. As they were preparing to load the dungarees into the van, machinist Kasia Barowicz tripped and fell down a flight of stairs and was killed instantly. Kasia had been working illegal hours for Carla with no insurance, making Carla liable for criminal charges should the police find out the circumstances of Kasia's death, so for his wife's sake Paul waited until 8.00am to clock Kasia into work so that he could tell the police that she was working for Underworld. Liam, Carla and machinist Wiki Dankowska were complicit in the lie, with a guilty Carla winning Wiki's silence by telling her that Kasia's family would receive an insurance payout this way. However, Liam insisted that Carla could no longer use the factory.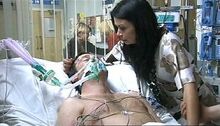 The following month, Carla became friends with Liam's girlfriend Leanne Battersby and, at Carla's suggestion, they went into business together by buying Italian restaurant Valandro's; Leanne had the money to invest as she'd just left a well-paid job selling Spanish properties. While out for a celebratory drink with Leanne, Carla was taken for a prostitute by businessman Frank Taylor; Leanne's job in property was a cover story and she was actually on the game, Frank a former client. Suspecting that Paul had used her services (as it would explain his dislike of her), Carla called the escort agency pretending to be Leanne and confronted Paul when the agency rang his phone. Despite Paul's protests, Carla refused to believe that he hadn't had sex with Leanne and vowed to divorce him. Paul hit back by making a date with "Rachel" (Leanne) and locking her in his boot, intending to take her to Liam. However, Paul was distracted on the journey and the car was hit by a truck at a junction. He died in hospital from his injuries.
After Paul's funeral in Ireland, Carla returned to Weatherfield to face Leanne, who had survived the crash and was pressing Carla regarding Valandro's. Calling Leanne a whore who'd helped kill her husband, Carla reneged on their deal. In his will, Paul had left everything to Carla, making her the majority owner of Underworld. She swiftly took charge of the factory, putting an end to Hayley Cropper's disastrous spell as manager and made sure that the workers knew she was no soft touch by clocking them out as they sauntered back to work from a sneaky drinking session at the Rovers Return.
2007-2009: Tony Gordon's rise and fall
In September, Carla was pursued by Scottish factory client Tony Gordon. Flattered, she went to dinner with him a few times and was open to the idea of a relationship. Liam objected to her dating so soon after Paul's death but while he argued with Carla about it, they suddenly kissed each other passionately. Carla and Liam had grown closer in recent months but due to Liam being Paul's brother they were afraid to act on their feelings and agreed to ignore the kiss. Carla continued to see Tony, eventually going to bed with him, while Liam began a relationship with Maria Sutherland.
Tony was a divorcee and in November his ex-wife Lindsey showed up to warn Carla that Tony was a control freak and to stay away from him. Carla brushed it off as bitterness and when Liam secretly met with Lindsey to find out more and reported to Carla that Tony was still in love with Lindsey, she was equally dismissive and accused Liam of being jealous. In an attempt to prove her wrong, Liam immediately proposed to Maria. The announcement of their engagement and Maria's subsequent pregnancy upset Carla and over the following months she obsessively tried to wreck their relationship. She believed that Liam loved her, not Maria, and this was apparently confirmed when Michelle reported that Liam, half-conscious after a fall in the Lake District, had called out her name. The night before the wedding, Carla told Liam this and begged him not to marry Maria. Liam refused to admit his true feelings and, as a final attempt to stop the wedding, Carla kissed Liam on the cheek in full view of Maria. This caused Maria to have last-minute doubts and with the ceremony at the Douglas Hall Hotel due to begin, Liam had to convince Maria that he loved her. After they were married, Carla went to the toilets to cry, where Maria confronted and slapped her.
Just before the wedding, Carla had told Tony that she no longer wanted to be with him but they reconciled when he let himself into her flat, cooked them a meal and seduced her. Carla found Tony's persistence attractive and was glad to have something to take her mind off Liam. In March 2008, Tony invited the Connors to dinner at Carla's flat, where he presented Carla with a huge diamond engagement ring and proposed. Under pressure, Carla said yes, but to make Liam jealous she maintained the pretence that she wanted to marry Tony.
In May, Maria gave birth to a stillborn son, whom they named Paul. In her grief, Maria told Liam that he was now free to be with Carla and, when he remained by her side, she accused him of only staying with her out of guilt and walked out on him. Liam blamed Carla for wrecking his marriage and went to her flat to row, but ended up admitting his true feelings for her and the two finally slept together. After a few days, Maria returned to Liam, leaving Carla devastated. Their affair was known only to the pair of them and Rosie Webster, Carla's assistant at the factory who saw them kissing outside Carla's flat and secretly filmed it on her mobile phone. Bitter at the way Liam had treated her, Carla decided she could no longer work with him and forced him to sell his 40% share of the factory to Tony by threatening to tell all to Maria.
Carla soon softened towards Liam and in September that year, Liam's cousin Tom Kerrigan let her buy 25% of their new T-shirt business, Lad Rags, for £50,000. Liam didn't want Carla involved as it was another thing he had to hide from Maria but went along with it as they needed the money to get the business up and running. Through their secret business meetings Liam and Carla became very close again until eventually Carla kissed Liam on the lips. The kiss was seen from a distance by Tony, who had recently been shown the video of their earlier kiss by Rosie and was gathering evidence of an affair before acting. They slept together again when Liam went to see Carla at her wedding dress fitting, and on the day of the stag and hen dos Liam urged Carla to leave Tony and run away with him. In turmoil, Carla had a rotten hen night and admitted to Leanne that she was in love with Liam. With Leanne's encouragement, she decided to follow her heart but before she could get to Liam she heard from Michelle that Maria was pregnant again. Rather than break up the family, Carla told Liam that she didn't love him after all and he was just a replacement for Paul. Later that night, Liam was killed in a hit-and-run outside a bar in Manchester.
After Liam's death, Carla was too shell-shocked to think about her wedding and she decided to postpone it and stay for a few weeks with her friend Suzie in LA; a place where she didn't have to hide the extent of her grief and could properly mourn Liam. Towards the end of November, she returned as her old self and their wedding was quickly arranged for the following week. In an elaborate ceremony, Carla and Tony were married although the moment was ruined when Kevin Webster drunkenly tipped guacamole down Carla's new dress. Carla accused the Websters of having no class, much to Sally's fury. Sally got revenge by showing Maria the video of Liam and Carla kissing, although she was too late to confront Carla as she and Tony had already left for their honeymoon. Through this and other evidence, Maria correctly worked out that Tony had arranged Liam's murder to get him out of the way. Upon their return, Carla was shocked to realise that Tony knew about the affair but rubbished Maria's allegations that he was a killer.
Maria also claimed that Tony had killed pensioner Jed Stone, who had been hounding Tony for causing him to lose his home in Nightingale Terrace. Tony proved his innocence by bringing Jed to the Rovers, although Carla's suspicions were aroused when she saw Tony bundling Jed into a taxi and telling him never to set foot in Weatherfield again. Carla visited Jed in Wigan and discovered strangulation marks on his neck caused by Tony. Tony explained the marks as resulting from a suicide attempt. Carla demanded the truth from Tony and he admitted his guilt, promising to confess all if she stood by him. Fearful for her own life, Carla kneed Tony in the groin and fled from the factory into the pouring rain, managing to escape the scene in her car. Carla sought refuge with Suzie in LA, sold her share of the factory to Paul's friend Luke Strong and signed her 25% of Lad Rags over to Maria.
While Carla was in LA, Leanne kept her informed of Tony's activities and in October 2009 she relayed the troubling news that Tony had proposed to Maria and wanted to adopt her baby, Liam. Meanwhile, Luke defaulted on his payment to Carla, causing his factory shares to revert to her. Returning to the UK to the face the music, Carla met Tony at Liam's grave and demanded that he sign over his share of Underworld and leave Weatherfield or she would tell the police everything. Instead, Tony sent Jimmy Dockerson - who had carried out the hit-and-run on Liam - to kill Carla. Jimmy physically attacked Carla in her flat but she defended herself by hitting him round the head with a candlestick, striking a seemingly fatal blow. In exchange for her silence over Liam, Tony offered to dispose of Jimmy's body. Carla agreed and once again disappeared from Weatherfield, unaware that Jimmy had survived the hit.
A month later, when Tony confessed his crimes rather than allow Roy Cropper to drown in Weatherfield Canal, Carla returned permanently and retook control of her factory. To protect herself, Carla stuck to her cover story that she was in the dark about Tony and had left in February after realising that she didn't love him. However, when Jimmy was taken into custody, she revised her statement to the police, admitting that Tony had confessed. The police didn't pursue the matter further but when her friends and colleagues learned that she had run away instead of reporting Tony she became ostracised. When visiting Tony in prison, Carla learned how Tony had tricked her into thinking she'd killed Jimmy and, finally able to tell him what she thought of him, she told Tony to burn in eternity.
2010-2011: Back in business
In 2010, to get some money flowing into the factory Carla agreed to sell 40% of the business to Nick Tilsley. Kelly had supplied Nick with information on the factory's accounts to get a better deal out of Carla - a fact which became obvious when Carla was negotiating with Nick. On Nick's first day, Carla made him fire Kelly.
Meanwhile, Carla began a relationship with bin man Trevor Dean. Trevor mistook her for Underworld's cleaner when he found her hard at work on the floor, the regular cleaner not having turned up. Carla carried on the joke for a while and, after coming clean, they carried on seeing each other.
In May, Tony escaped from prison and took Carla and Hayley hostage in the factory, with the intention of setting the factory alight and killing them both. Before Tony could carry out his plan, Maria interrupted them, and unable to bring himself to kill her too he allowed her to escape. Tony had included Hayley in order to give Roy a taste of the loss he suffered when Maria turned her back on him, but he released her when Carla appealed to what little humanity he had left. By this time, the police had arrived outside but wouldn't enter as Tony had a gun, with which he'd shot dead his accomplice Robbie Sloane. Tony doused the factory with petrol and set the building alight, by which time Carla had managed to work her way free of her bonds. After a struggle with Tony, she got hold of the gun, shot him in the arm and ran out of the factory. Tony remained behind and perished in the explosion.
Afterwards, Nick was keen to begin rebuilding Underworld but Carla no longer cared about the factory and went to South Africa with Trev to see the World Cup. Upon their return, Carla found Nick running the business, now named Nick's Knicks, in temporary premises in Turners Joinery underneath the viaduct. Feeling bad for abandoning him, Carla decided to return but Nick refused to allow her to be a part of his venture. Carla responded by hiring Owen Armstrong to restore the factory's old site, stole Nick's only client Paul Stokes, and convinced her workers to return to her. Carla later invited Trev to become a trainee manager in the factory. Trev was initially enthusiastic but he was highly unsuited to the job and Carla often had to make up for his mistakes. After Trev thumped him for calling him a moron, Nick decided he'd had enough of Underworld and made Carla pay £125,000 to buy his shares back (remortgaging her flat to raise the cash), while Trev called time both on his job and his relationship, feeling that Carla viewed him as an unworthy substitute for Liam.
Carla had begun drinking heavily and in October she joined an Alcoholics Anonymous meeting, to the surprise of Peter Barlow who was a regular. Shocked to see someone she knew there, Carla pretended that she was in the building for a Spanish class and had taken a wrong turn. Peter encouraged her to face her drinking problem, but Carla remained in denial. A friendship was formed, with Peter looking out for Carla and a grateful Carla secretly hoping that it would evolve into something more. Having fallen in love with Peter, Carla's drinking became a means to lure him to her side.
In November, after being charged with drink driving, Carla told Peter how she felt about him, but he turned her down as he was engaged to Leanne. Peter later supported Carla in court, where she was given a twelve month driving ban. When Leanne confided in Carla that she was having an affair with Nick, Carla tried to push her towards Nick, but when Peter was seriously injured in an explosion at The Joinery bar and the following tram crash, Leanne regretted her infidelity and married Peter on his deathbed. Peter survived, but while he was touch-and-go Carla had a confrontation with Leanne, revealing that Peter was helping her through a drinking problem and that she'd offered herself to him. Leanne ended their friendship although, much to her disgust, Peter and Carla continued to turn to each other in times of difficulty.
2011-2012: The depravities of Frank Foster
In February 2011 Carla hired Maria as her PA at the factory. One of her first tasks was to clinch a crucial deal with client Frank Foster in a meeting between the pair of them at his home. Frank signed the contract but the day after the meeting Maria told Carla that he'd tried to rape her. Carla prepared to ditch Frank and call the police but when he apologised for misreading Maria's signals, Carla assumed that Maria had overreacted and continued to work with Frank.
After Underworld completed the order, Carla asked Frank to place another but instead he offered to buy 40% of the factory. Carla accepted but, holding to her belief that Frank was a rapist, Maria resigned as PA and also reported him to the police for attempted rape. Frank briefly pulled out of his deal with Carla but changed his mind when the charges against him were dropped due to lack of evidence.
In June, Rob called Carla to inform her that their mother had died. As they weren't close, Carla didn't plan to attend her funeral but Frank persuaded her to go and went to her mother's will reading with her as support.
On one drunken evening at Frank's house, a drunken Carla made a pass at Frank, which he turned down, but they had undeniably grown closer in recent weeks and, gutted after hearing that Leanne was pregnant, Carla made a second play for Frank, and this time they went to bed. Days later, when Leanne had a miscarriage, Carla told Peter she was in love with him and kissed him passionately, but Peter again rejected her.
Carla tried to push Peter to the back of her mind by concentrating on her budding romance with Frank. However, she had no real love for him and when Frank suddenly proposed to her in the Rovers in August, she turned him down flat, claiming that she never wanted to marry again after Tony. Frank was worried that she was still in love with Peter, and when he accused her of this Carla changed her mind and told him she would marry him, and as soon as possible. Frank booked the registry office for three weeks' time and they had an engagement party at Nick's Bistro, where Frank introduced Carla to his parents, Sam and Anne Foster. As she didn't really want to marry Frank, Carla drank heavily at the party and walked out when Frank mentioned the possibility of grandchildren to his parents. Although Frank tried to stop her, Carla got in the car and drove off, hitting Stella Price and crashing into Barlow's Bookies. Frank quickly switched seats with Carla and told the police that he'd been driving the car. Both Carla and Stella made a full recovery, while Frank was charged with driving without due care but got off with a fine.
Carla hoped that the crash would delay the wedding but Frank pressed on and bought a detached house in Wilmslow as a surprise for her. Carla thwarted him by refusing to sign for the house, explaining that she didn't like surprises. The night before the wedding, she bit the bullet and finally told Frank that she wouldn't marry him and that she didn't love him. Frank desperately tried to convince her that it was just pre-wedding nerves so Carla admitted that it was Peter she really loved. His emotions overwhelming him, Frank shoved Carla against a wall and raped her. Carla realised that Maria had been right about Frank all along and was persuaded by her to report Frank to the police. While maintaining his innocence, Frank offered to sell his factory shares to Carla in return for her dropping the charges, but she held firm and to her relief he was subsequently charged and denied bail.
Following the rape, Carla leaned on Peter more heavily, angering Leanne. After a row with Leanne, alone in her flat Carla downed a bottle of vodka and swallowed an entire box full of sleeping pills. As she lost consciousness, she called Peter to say goodbye. Peter realised that she was attempting suicide and called an ambulance, who managed to get to her before it was too late. With Peter backing off to mollify Leanne, Carla moved in with Maria for a while. She was just getting back on her feet when Frank was granted his appeal for bail. Frank sent his mother Anne to look after his interests at the factory, as due to his bail conditions he wasn't allowed near Carla.
Carla was also finding it hard to get back into her stride in attracting new clients, as it usually entailed some flirting; when Carla's odd behaviour put off Rory, a buyer for Macnee's, Anne removed 40% of the machines and stock from Underworld, announcing that Frank was setting up somewhere else. Carla was then forced to lay off several staff, most of whom went to work at Frank's factory Foster's. In November, with no work for her staff Carla had to close Underworld. Michelle persuaded her to go to LA for a break to recharge her batteries, and in her absence Michelle got the factory going again. Upon her return, a grateful Carla made Michelle office manager and together they prepared to take down Frank and his mother.
The following month, Carla supported Peter when he fell off the wagon and, declaring their love for each other, they finally had sex. Peter promised to finish with Leanne, but when faced with it he chickened out and instead they embarked on an affair, agreeing not to go public until after Frank's trial for fear of jeopardizing her case. Upon hearing that Carla and Peter were seeing a lot of each other, Frank hired private investigator Trish Davidson, who followed Peter to the Chester Parkway Hotel and photographed him kissing Carla in the car park. During the trial, just after Peter told the jury that he wasn't having an affair with Carla, Anne showed the incriminating photo to Leanne, resulting in Leanne forcing a confession out of Peter in front of the court. The prosecution case weakened, Frank was found not guilty of rape.
His name cleared, Frank returned to Underworld and offered Carla a paltry sum for her share. Carla refused at first, but when an old client Jenny Sumner offered to put a big order her way if she were to set up on her own, Carla decided to accept. However, Jenny was actually Frank's lover and Jenny's offer to Carla was a set-up. Michelle and Sally tried to warn Carla before she signed her shares over, but they were a moment too late. Alone with Carla, Frank showed his true colours; gloating about having beaten her, he threatened to rape her a second time. Later that day, Sally found Frank dead in the factory. Carla and Peter were the prime suspects in the ensuing murder investigation, and to get Carla off the hook Peter confessed to killing Frank.
Carla became suspicious of Anne when, at Frank's funeral, Anne apologised to her on Frank's behalf. Carla wondered if Anne knew that Frank had in fact raped her but when she paid her a visit to question her, she saw Sally knocked out inside the house. Anne broke down in front of Carla and confessed to killing her own son in a moment of rage after overhearing his last conversation with Carla. Anne handed herself in to the police, allowing Peter to withdraw his confession and return home. Meanwhile, Carla burned the only copy of the new factory contract which Michelle had retrieved from Frank's briefcase. Sally expressed an interest in buying Frank's share but to Carla's relief, Frank had left it to her in his will; she was once again the factory's full owner.
2012-2013: A doomed relationship
After the trial, Leanne and Peter separated and Carla moved into 19a Rosamund Street with Peter and his son Simon. Peter hoped that Simon would come to see Carla as a mother figure but Simon resented her for driving Leanne away and this together with Carla's lack of maternal instincts meant that they never made a connection.
In June, with no improvement on that front Peter dropped his custody battle with Leanne and sent Simon to live with her. However, after seeing how good Leanne's partner Nick was with Simon, Peter decided to flee the country with his son and Carla, out of loyalty, gave him her support. On the day they were due to set off for Southampton from Victoria Station, Carla plucked up the courage to betray Peter and warned Leanne, who confronted Peter at the station. Carla was able to make Peter see how ridiculous his plan was and a reasonable Leanne let Simon choose whether to go or stay, with Simon opting to remain in Weatherfield. Peter and Carla then set off on their own, with no firm plans to return. Underworld was left in the charge of Michelle and Carla's brother Rob, recently released from prison.
Carla and Peter toured the Caribbean islands and ending up living in Carla's usual retreat, LA. Away from the environs and pressures of Weatherfield, they joined a programme and successfully beat the booze. Carla would have preferred to never return, but Peter insisted on visiting Simon over Christmas and so in December, after a five month absence, they flew back to the UK. As Carla feared, seeing his son again made Peter take stock of things and decide to move back permanently. The progress Carla had made was then immediately wiped out as she again hit the bottle. After being picked up by the police for being drunk and disorderly, Carla told Peter that she couldn't bear to live in Weatherfield and was going to return to LA even if it meant leaving him. Peter agreed to go with her but after an emotional goodbye to Simon at Manchester Airport, Peter realised he couldn't live apart from his son and let Carla go on her own. Carla planned to sell the factory, annoying Rob and Michelle who had run it for her for months, but once back in LA she had a change of heart about the factory and Peter and on Christmas Eve she returned to Weatherfield for good.
The first battle Carla fought upon her return was with Rob. After Carla fired her brother for cooking the books to cheat her out of getting a fair price for the factory, Rob set up on his own and started sabotaging her business meetings. As a peace offering, Carla gave Rob 30% of the business, and he agreed to drop his campaign against her. In April, Carla sold her flat in the Quays and used the money to buy Leanne's share of the bookies. Peter wasn't happy at her involvement in his business, especially when she placed Rob there to work with Peter to get him off her back. After a few weeks, Peter convinced Carla to take Rob back at the factory, although she stuck him in the lowly position of Head of Packing. Angered, Rob decided to get back at Carla by staging a robbery of £20,000 worth of silk, using his girlfriend Tracy Barlow as an accomplice. Carla rumbled the scheme and in exchange for not going to the police, she reclaimed Rob's 30% share of Underworld.
In July, Rob had a big win of £35,190 at the bookies and to settle with him Peter let the premises to Rob and Tracy rent-free for their new cash converters, Barlow's Buys. To show Peter that she hadn't lost faith in him, Carla asked him to run Underworld with her and marry her, although she had to partly pay for the £4,500 engagement ring she picked out.
With the wedding set for 4th December, Carla hired Hayley Cropper to make her dress; once a mere employee, Hayley had become Carla's friend during Hayley's battle with pancreatic cancer. The night before the wedding, Peter admitted to Carla that he'd been tempted to have a drink, but the wedding itself went without a hitch. They had their honeymoon in Bali. On Christmas Day, happier than she'd been for a while Carla gave Peter 1% of the factory, making them equal partners.
2013-2014: Tina is killed
The following February, Carla spent a few weeks in Paris helping a friend run their factory. She dragged Peter along with her but he returned home early; unbeknown to Carla, he was having an affair with Simon's baby-sitter Tina McIntyre, although he had no intention of leaving Carla for her. To explain his disappearing acts to have sex with Tina, Peter told Carla that he had to support an alcoholic friend - the same line he'd fed Leanne when he was carrying on with Carla. Muddying the waters further, in March Carla discovered that she was pregnant with a baby she didn't want. She booked a termination but at the abortion clinic she got cold feet. Carla then told Peter about the baby. Despite having doubts about being a father at his age, Peter promised to do his best.
The pressures of covering up his affair, Carla's pregnancy and the possibility of Tina also being pregnant caused Peter to fall off the wagon. Fearing he would drink himself to death, Carla made Peter spend a few weeks in a rehab clinic, but this failed to make a difference and after being stood up by Peter at her baby scan, Carla found him drunk and kicked him to the floor. Carla thought a fresh start would be good for both of them and looked into buying a house in Chorlton for them.
At Rob and Tracy's engagement party, Carla told Tracy that she was pregnant, who then announced the news to everyone. Tina was most upset by the news as Peter had let her believe that he was going to run off with her. Anticipating that Tina would tell Carla about their affair, Peter took his wife aside in the Rovers' back room and made a full confession. Carla showed Peter no empathy, taking the view that she'd only ever been a convenience to him, and went off to have it out with Tina. However, just before Carla got to Tina's flat in Victoria Street the young woman had been brutally attacked and she was now lying unconscious on the road; as the first on the scene, Carla was arrested by the police. Tina died in hospital from her injuries, leaving Carla facing a murder charge.
A few days before the attack on Tina, Carla had experienced stomach pains which the hospital couldn't explain. The day after her death, the pains returned and Carla lost the baby, who would have been a girl. After a few weeks of asking Carla the same questions at the police station, the police moved onto other avenues but Peter's betrayal and the miscarriage continued to affect Carla deeply. During a manic shopping spree with Eva Price, Carla broke down in tears in the changing rooms and later at the Rovers she consumed wine by the glassful. Peter helped her home to the flat, hoping to worm his way back into her affections, but she promptly summoned Rob to bodily throw him out. To enable herself to move on from Peter, Carla moved out of the flat and into 12 Victoria Court, bought Peter out of the factory and proved that she was over him by inviting young Luke Britton over to her flat. After Luke proved himself a good listener, Carla leaned in for a kiss, but Luke refused to take advantage of her in her vulnerable state.
In July, Peter was charged with murdering Tina. Carla believed that he'd done it but when she saw him in hospital two months later when he was being treated for alcohol poisoning, thinking he was going to die Peter assured Carla that her secret would die with him. Carla realised that Peter was in fact innocent, a belief she stated on the stand during Peter's trial in October. However, the evidence against Peter was enough to secure a guilty verdict and he was sentenced to life imprisonment.
Doing some detective work herself, Carla realised that Rob and Tracy's alibis for the night Tina was attacked didn't match and interrogated Rob. Rob had been a supportive brother to Carla throughout the investigation and had been convinced of Peter's guilt from the word go, but as Carla wondered if Rob had another motive to want Peter convicted of the crime, and talked about how terrified Tina must have been when her attacker finished her off, his haunted look revealed his guilt and he confessed.
Though she hated Peter, Carla couldn't allow him to serve life for a crime he didn't commit and reported Rob to the police. During Rob and Tracy's wedding at Farnhaven Hall Hotel, Carla told Rob what she'd done. Rob fled the scene before the police got there but he was apprehended when Tracy lured him to an abandoned warehouse having tipped off the law. With Rob in custody, Peter's conviction was overturned and he was released from prison. Inevitably, one of his first acts after being given his freedom was to beg Carla to take him back, inferring from her helping put Rob away that she was still in love with him. Carla told him that this wasn't so and for once, he accepted this as the truth. A few days later, Peter moved permanently to Portsmouth, allowing both Carla and himself to move on with the next phase of their lives.
2014-2015: Victoria Court fire
In April 2015, now a "Connor" again, Carla had had a business meeting with factory customer Dave Hanlon at Nick's Bistro. Carla told Hanlon to stick his deal "somewhere painful" due to his rudeness towards Nick, but this amused the notoriously difficult client so much that he went ahead and placed an order.
Now Carla's neighbour at the Victoria Court flats, Nick came to see Carla as a friend and started calling on her for various reasons, such as fixing her laptop. Their bond was cemented when, over a bottle of wine, they shared their past relationship mistakes. Carla hoped for something more but she settled for friendship when Nick's partner Erica Holroyd announced her pregnancy and Nick, despite caring for Carla more, did the honourable thing by supporting Erica.
Tracy blamed Carla for putting Rob in prison but she hadn't got even with her yet. In May, on Michelle and Steve McDonald's wedding day, anticipating a row with her boyfriend Tony Stewart over his affair with Tracy Liz McDonald got Carla to look after Amy for the night. On the same evening, an oblivious Tracy let herself into Carla's flat planning to hit Carla over the head with an ornament, having rowed with her earlier that day. When she heard someone else in the flat, Tracy got cold feet and left, but a candle she lit caused a lampshade to catch fire and the flat was soon engulfed in flames. Leanne was first on the scene and rescued Carla before going back in with Kal Nazir for Amy. Last to leave, Kal was caught in a gas canister explosion and killed instantly. A second explosion, caused by the first, of canisters in the builder's yard claimed another victim in teenager Maddie Heath.
Tracy had managed to keep anyone from finding out that she'd been at Carla's and so when the cause of the fire was determined, everyone, including Carla, assumed that she'd forgotten to blow out the candle when she went to sleep. Carla hated herself for causing two deaths and, wanting to punish herself, started gambling with Underworld's money online, at The Sunset Casino and at poker matches with the neighbours. Michelle convinced her to go away on holiday for a few weeks and try to get over her guilt but while Carla said she was going to Madrid, she actually went to Las Vegas to gamble in its casinos; when she returned to Weatherfield, the factory's account was £31,000 overdrawn. In August, she announced that she was selling Underworld and her flat and leaving Weatherfield.
One of the few people to show her sympathy was Nick. Sensing that she didn't really want to give up her business, Nick got in touch with Michelle's cousin Aidan and convinced him to invest in Underworld, despite great reluctance on his part after seeing the company's accounts. Carla signed over 40% of the business but, the cause of her problems still unaddressed, she continued to torture herself by getting drunk at a charity auction held in Maddie's memory. Meanwhile, grateful for his support Carla slept with Nick, whose relationship with Erica had hit the skids following her miscarriage. Accepting that his heart lay with Carla - though unaware that he's cheated on her - Erica finished with Nick, who then made his relationship with Carla official.
In September, Tracy confessed to her boyfriend Robert Preston that she caused the fire at Victoria Court, and an appalled Robert appealed to her to set Carla straight to end her self-loathing. Tracy finally told Carla the truth when a suicidal Carla drove them to the edge of a quarry and decided, on a coin toss, to jump down the precipice. Carla was unsure whether to report Tracy to the police, as it was unlikely to lead to any charges, but Nick did so anyway and, as Carla predicted, Tracy told the police that she'd lied to stop Carla from committing suicide. However, Carla no longer had Kal and Maddie's deaths on her conscience and she could now put the fire behind her.
2015-2017: A costly mistake
The following month, Johnny Connor turned up and revealed to Carla that the money Aidan had used to buy into the factory was his, moved to Aidan's bank account as a tax dodge. Johnny laid claim to the share and agreed to remain an investor if his daughter Kate was given a job. Aidan and Johnny helped Carla run the factory and with three managers, Underworld had a revival of fortunes. Carla enjoyed having "family" around her and, not wanting to lose her newfound happiness, asked Nick to marry her; Nick, of course, accepted.
Just after Christmas, Johnny broke the news to Carla that he was actually her father, having confirmed it by having a DNA test done without her consent. Johnny explained that he'd always known deep down that she was his but had never been able to acknowledge it as he'd been unfaithful to his wife Louisa. The final part of Johnny's bombshell was that Rob had been blackmailing him over the affair, hence him coming clean now. Johnny's words - and the realisation that she'd married her cousin when she wed Paul - knocked Carla for six and, questioning everything including her future with Nick, she ended up at the casino again where she ran into Robert who was out to have a good time after dumping Tracy. After a big win, Robert and Carla celebrated with champagne and sex in a hotel bedroom.
Carla immediately regretted betraying Nick and, though she didn't tell her fiancé that she'd cheated on him, she swiftly removed the other weight on her mind by telling Aidan and Kate about Johnny being her father, ignoring Johnny's pleas. Afterwards, Carla was able to build good relationships with them and, given time, with Johnny. She hoped that Robert would leave the area, having no reason to stick around, but instead he bought 20% of the bistro and reconciled with Tracy.
In February, at a wedding fayre Tracy told Carla that she knew about her one-night-stand and threatened to reveal all to Nick unless she left the area and got Nick to sell the bistro to Robert. Though she would normally fight back, Carla viewed it as an opportunity for a fresh start and went along with Tracy's demands, talking Nick into moving away with ease. However, the condition that Robert buy the bistro forced her to resort to more underhanded methods; with Nick about to sell to Leanne, Carla took £10,000 from Underworld's account and gave it to Tracy, who added it to the £90,000 which Robert had offered. Meanwhile, Carla and Nick settled on Devon as the setting of their new lives together and Carla got Johnny and Aidan to buy her out of the factory.
The wedding was set for Sunday 22nd May at the bistro. Nothing was going to deter Carla from marrying Nick, whether an ingratiating Gail Rodwell throwing Carla an awkward pamper party, David Platt telling her that Nick was still affected by the brain damage he suffered in a car crash in 2013 and was prone to random bursts of anger, or Nick calling off the wedding for the same reason, afraid that he would hurt Carla. On Carla's hen night, the hens donned black wigs and invaded a nightclub where Kate and Gail fought over the microphone. They ended up at the police station when Gail took the police officers called to eject them from the club for strippers.
On the day of the wedding, Tracy started spinning her web by redirecting Carla's wedding flowers to Crewe. Johnny, who was aware of Tracy's grudge against Carla, made sure that Tracy couldn't spoil the wedding by locking her in a cupboard in the factory, getting Jenny Bradley to take over so that he could give Carla away, although he was already too late to fulfill that honour and Roy was drafted in. As she and Nick were about to say their vows, Carla had a pang of guilt and, taking Nick aside in the kitchen, confessed to sleeping with Robert.
After a talk with David, Nick decided to forgive and marry Carla, but the delay had given Tracy enough time to set off the smoke alarm in the factory and make her escape. She then interrupted the service as the bride and groom were giving their vows and announced to the congregation the details of Carla's infidelity and her manipulation of Nick into selling the bistro to Robert. Not wanting to let Tracy win, Nick still married Carla, but at the reception he wondered aloud how deeply Carla's betrayal ran, including whether Carla slept with Robert before she proposed to him. Carla truthfully denied the allegation but it didn't matter; Nick knew that he could never trust Carla and walked out on her, deciding to have the marriage annulled.
As the guests reacted to the turn of events, Carla decided that going to Devon alone was the best way forward for her. Waiting for Roy to drive her to the station in his Woody, Carla got in her car and, seeing Tracy standing victoriously in the street, vengefully drove at her, swerving only at the last second. However, she hit Roy's partner Cathy Matthews as the car slammed into the postbox. Miraculously, both Carla and Cathy escaped the collision relatively unscathed, but her reckless behaviour caused Roy to fall out with her. The following day, Carla parted from the Connors as Johnny drove her to the station. Roy arrived in the street to say goodbye at the last second. Having watched her throw away her happiness so many times, Roy asked Carla to learn to love herself. Carla kissed Roy goodbye and, taking what was left of her self-respect, left the street.
2017-2018: Return to form
In December 2017 Aidan met up with Carla to ask for her help setting the factory back up following its closure a few months prior. Carla turned him down flat, but on Christmas Day she made an unannounced appearance at a Connor family dinner party where she agreed to help Aidan out by investing in Underworld again, strictly as a sleeping partner.
Having recently been diagnosed with kidney failure, Carla did not plan to tell her family and friends except for Roy. A wake up call soon came after Carla collapsed outside the bistro and was told she needed a course of dialysis and an urgent transplant. Carla then opened up to her family who underwent tests to see if they were a donor match.
In the meantime Carla was looking for a distraction and began a whirlwind romance with Peter's half brother Daniel Osbourne. Both Johnny and Peter objected to this relationship with Peter convinced that Carla was only doing it to get back at him. On the day that her siblings got their test results, Carla collapsed in the Rovers and an accusation of drunkenness from Peter lead Roy to reveal the truth about her kidney failure. Daniel promised to stick by Carla but Carla realised that he was still in love with Sinead Tinker and ended the brief relationship by engineering a reconciliation between Daniel and Sinead. With Aidan having passed all of the necessary tests, the kidney donation went ahead and was successful. After this, Carla decided to sell her house in Devon and remain in Weatherfield indefinitely. As a thank-you to Aidan for saving her life, on his birthday Carla signed her share of the factory over to him.
In May, Johnny found Aidan dead after he committed suicide at his flat. Carla was devastated by her brother's death but did her best to support Johnny and Kate. Carla rallied the Underworld staff to keep the factory running but soon discovered that as per Aidan's will, the rightful owner of the factory was now Alya Nazir. As the will was dated before Carla gave Aidan her share of the factory, the Connors didn't believe that Alya was entitled to the entire factory and Carla and Michelle conspired to conceal the will with the assistance of Adam Barlow. Imran Habeeb discovered the will and handed a copy to Alya, who confronted an oblivious Johnny. Johnny felt that Aidan's wishes should be respected and forbade the family from challenging it on the grounds that Aidan was of unsound mind. Alya was offended when Carla offered her Aidan's original 18% share of the factory and took over the business, with assistance from Sarah Platt, pushing Carla out.
Having been forced to give up on Underworld, Carla began looking for another investment and considered being a sleeping partner with Maria who planned to open a new salon. In August however, Alya changed her mind about the factory after viewing an old video of Aidan and offered Carla back the entire business in exchange for the price of Aidan's original share of 18%. Carla pulled out of the investment with Maria but still could not raise the necessary funds in time until Peter stepped in as Carla's business partner. Carla was initially hesitant, believing Peter was only attempting to get back into her bed but ultimately went into partnership with Peter as equals at the factory.
Things remained tense between Peter and Carla at the factory and Carla began looking for ways to buy Peter out of the business. When Peter discovered this he retaliated by selling his share to Nick Tilsley behind Carla's back, knowing how much she would hate it.
2019-2020: The roof collapse
In January 2019, Carla bought a boat for Peter after the pair agreed to move forward as friends. The following month the boat, which Peter was keeping in the forecourt outside Underworld, mysteriously caught fire during the night while Simon was on board, causing him to be hospitalised with smoke inhalation. Carla examined the Underworld CCTV and discovered that a sleepwalking Roy had accidentally knocked over a paraffin lamp that had caused the fire and deleted the incriminating footage. Roy was furious when he discovered what Carla had done and came clean to Peter himself. Furthermore, when Carla employed Gary Windass to repair minor fire damage done to the factory by the boat fire, he discovered that the roof was structurally unsafe as Pat Phelan had done a botched job when he replaced it the previous year. Gary recommended major repairs to Carla but, concerned about the cost, she insisted that he only go ahead with repairing the fire damage.
In March, with business still struggling, Carla privately planned to outsource production abroad while keeping the Weatherfield factory as a base for packing. After abandoning the option of China, Carla settled on moving business to Milton Keynes, behind the backs of the factory workers and Nick. Nick was furious when he discovered Carla's plans and wasted no time in informing the machinists. The following week, the factory staff decided to protest against Carla and locked themselves in Underworld to begin a sit-in while she was absent. Whilst Sally and Gina were rowing on the balcony, the roof suddenly collapsed and took Sally with it, trapping the staff in the factory below. Although all of the workers were eventually rescued from the factory without serious injuries, Rana Habeeb remained trapped having returned to the factory to retrieve her bag which contained her wedding vows. After a second collapse, Rana died in the arms of her bride to be Kate.
Carla was inconsolable when she discovered that Rana was dead, confessing to Peter that she knew the roof was dangerous and did nothing about it. Carla wanted to go to the police and confess but Peter quickly took control of the situation and blackmailed Gary with £10,000 in order to buy his silence over knowing that the roof was unsafe. With this problem sorted, Peter convinced Carla to lie to the police when she was interviewed. Despite this, Carla continued to struggle with the guilt of what had happened and when Kate expressed her gratitude towards Carla at a memorial for Rana in Victoria Gardens, Robert accused Carla of knowing the roof was unsafe and Carla admitted that she did. Kate and Imran, Rana's brother, were aghast and accused Carla of being responsible for Rana's death.
Carla was arrested on suspicion of gross negligence manslaughter but released later the same day. Roy was ashamed of Carla's behaviour and demanded she move out of the flat, with only Peter continuing to stand by her. Carla moved into No.1 with Peter however her mental health continued to deteriorate, especially after Alya sent her abusive messages using Rana's social media account. Suffering from psychosis, Carla believed that Rana was still alive and left dozens of voicemail messages on her phone begging for forgiveness. Peter realised that Carla was seriously unwell but when he tried to coax her to the medical centre she gave him the slip and disappeared.
After spending time in a squat on her childhood estate and staying at the Riverlands Hotel, Carla returned to Roy's flat, now believing that Kate was deliberately hiding Rana and the rest of her family and friends were out to get her. When Roy called an ambulance and had Carla taken to hospital, she turned on him too and claimed Peter was the only one she trusted. Following an assessment by a psychiatrist and a social worker, Carla was given antipsychotic medication and discharged from hospital. As Carla was still wary of Roy, he moved out of the cafe flat and allowed Peter to move in to help look after Carla. Secretly, Carla stopped taking her medication and her paranoia increased coupled with hallucinations. After attempting to jump from the top of a fire escape in Victoria Street, Carla was taken back to hospital and sectioned.
Personality
Carla grew up on a rough estate, raised by an alcoholic mother and abusive stepfather. When she grew up, Carla eschewed that lifestyle, marrying Paul Connor and all but cutting her family out of her life. She alleviated her guilt by sending her mum expensive gifts.
When she first appeared in Coronation Street in 2006, Carla was Paul's WAG-type wife; dressed in the latest designer gear, she was kept in relative luxury by Paul in their modern apartment in Weatherfield Quays. However, she was a bright woman and aspired to succeed as a businesswoman, leading her to start her own firm making childrenswear, which served as a stepping stone to her taking over Underworld.
As a factory boss in the rag trade, Carla's strengths are her no-nonsense but approachable management style, and her dab handling of prospective customers, especially of the male variety. Her combination of wining and dining the client and flirting while projecting confidence in her business and products have kept the factory alive in difficult times, and two men she agreed to marry, Tony Gordon and Frank Foster, started out as Underworld customers. However, as those examples prove, when she mixes business with pleasure the factory always suffers; she also trained her boyfriends Trevor Dean and Peter Barlow as managers despite their lack of experience, with neither appointment bearing fruit. Although she is a tough boss, Carla cares about her work force and has always been there for her machinists during times of need. She supported Sally Webster when she confided in Carla that she had breast cancer in 2010 and has since helped Hayley and Sinead Tinker through their own illnesses.
With her raspy voice and jet-black hair, Carla is an attractive woman who has had many husbands but she counts few people as friends and forges a lonely life. She is led by her heart and doesn't consider married men out of bounds if she can convince herself that their love is greater. Her attempts to lure Liam Connor and Peter Barlow away from their wives demonstrate her bitchy side. When her heart is broken, Carla falls apart and self-pity takes over. Her usual method of coping with grief, emotional or otherwise, is by downing the nearest bottle of red wine.
Carla has no maternal side to her and has never wanted children. One of her biggest challenges was acting as a mother figure to Simon Barlow; on Simon's birthday, she laid on an adult buffet for the party, much to Peter's embarrassment. Despite this her relationship with Simon improved over time and she remained close to him even after her and Peter separated.
Relationships
Johnny Connor
Carla knew Johnny Connor when she was growing up, as she was friendly with his children and especially the children of his cousin Barry who lived near Johnny on the nicer part of the estate. Carla wasn't particularly close to Johnny and had no idea that he was her biological father following an affair with her mother Sharon. Carla lost contact with Johnny and his children after she married Paul and moved away from the estate.
Johnny came into Carla's life again in October 2015 after his son Aidan stole money from him to buy into Underworld. Johnny demanded his money back and when Aidan was unable to pay him, he laid claim to Aidan's share of the factory and took on a share of the hands on day to day running, bringing him closer to Carla. When Carla's imprisoned brother Rob became aware of this, he attempted to blackmail Johnny with the knowledge that he was Carla's biological father. Johnny conducted a formal DNA test and in order to avoid Rob's blackmail, told Carla the truth himself.
Johnny regretted not being a part of Carla's life sooner as he always suspected she could be his daughter but had never known for certain. Carla and Johnny slowly built a relationship although Carla continues to refer to him by his first name and has an equally close relationship with Roy Cropper who had already grown into a father figure for Carla before she was reunited with Johnny. Regardless, Carla and Johnny lean on each other in times of trouble, such as in the aftermath of Aidan's suicide.
Rob Donovan
Growing up in a rough estate, Carla was very close to her brother Rob Donovan. They loved their mother Sharon, hated their stepfather George, and looked out for each other. As a teenager, Carla got on with Rob's girlfriends and consoled them when he broke their hearts.
Rob turned bitter towards Carla when she married Paul Connor and left the family home, never looking back. Rob was left to cope with their mother and her problems by himself and whenever he saw Carla he would get at her for not doing her share. In 2004, when Sharon was at risk of losing her home, Rob volunteered to be a getaway driver on a robbery in exchange for £5,000 which would be enough to save the house, but he was caught and sent to Strangeways for eight years.
When he got out in July 2012, Rob turned up at Underworld to surprise Carla. He announced his arrival by breaking up a row between Carla and Peter Barlow and pinning Peter against a wall. Carla didn't want Rob around as she was bored of his sob stories but when he showed her the business qualification he obtained in prison, she was persuaded to give him a managerial job at the factory.
Rob always felt that he was owed something by Carla and resented her success. In December 2013, after spending a year trying to score points off her, Rob gave his blessing to Carla marrying Peter, apologised for his past transgressions, and agreed to give her away. During Carla's rocky marriage to Peter, Rob had Carla's back, though their newfound closeness was destroyed completely when Carla shopped Rob to the police for murdering Tina McIntyre. Carla first visited Rob in prison in January 2016, just after she had found out that Johnny Connor was her real father and that Rob had been blackmailing him. Rob tried to use Carla to get to Johnny but, sickened by his attempt to blame her for him being in prison, Carla told her brother not to look her up this time when he got out, and walked off.
Aidan and Kate Connor
Aidan and Kate were shocked to discover Carla was their sister in 2015 and both were horrified given the betrayal of their mother Louisa and the relation to the circumstances of her death. Most of their anger was directed towards Johnny and over the next couple of years they were able to move past this and accepted Carla as a sister. When Carla revealed she was suffering from kidney failure and needed a transplant in January 2018 both Aidan and Kate immediately got tested to see if they were a match and Aidan went ahead and donated a kidney to Carla. Carla often acted as a confidante for her younger siblings with Kate confiding in her about her secret affair with Rana Habeeb.
With the family apparently closer than ever, Carla was devastated when Aidan committed suicide in May 2018 and threw herself into work at the factory because she believed she owed it to Aidan to make a success of it.
Kate was quicker to accept that Johnny was Carla's father than Aidan and soon built a close relationship with her sister. They were a source of comfort and support to each other after Aidan's death. Kate and Carla's relationship was changed drastically when Rana, now engaged to be married to Kate, was killed in the factory roof collapse in March 2019. Kate leaned on Carla for support and instantly forgave her for being absent during Rana's funeral, defending her sister against Imran Habeeb who was pointing the finger of blame at her. Kate was then devastated when Carla admitted that she had known the roof was unsafe and turned against her, reporting her to the police.
For some time, Kate remained consumed with anger towards Carla and cut her out of her life. When Carla went missing, Kate conceded that she hoped she was safe and after seeing Carla's psychotic state close up, she softened towards her further.
Michelle Connor
Michelle Connor was Carla's best friend, sister-in-law from Carla's first marriage, and her third cousin. While living in Weatherfield, they managed to avoid any lasting fall-outs and often gave each other pragmatic advice on their love lives.
In April 2007, Carla let slip to Michelle that Paul and Liam were hiding something from her. Michelle got it out of Liam that in 2002 Paul had been DUI, causing the crash in which her husband Dean died, and that Paul and Liam had moved Dean into the driver's seat so that the police would think he'd been driving. Michelle fell out with her brothers for a while and was also disappointed in Carla for being party to the secret, even though she'd only found out herself a few weeks earlier.
Michelle disapproved when Carla set her cap at Liam and warned her to stay away from Liam's fiancée Maria Sutherland when Carla wound Maria up with her bitchy comments, although she convinced Carla that her feelings for Liam were reciprocated by informing her that Liam had called her name when he was delirious. After Tony Gordon went to prison, Carla admitted to Michelle that she'd known for months that he'd killed Liam, leading Michelle to call her a bitch and brawl with her in the Street.
Carla took Michelle on at Underworld in 2010 as a trainee manager when her idea for a T-shirt line went down well with customer Paul Stokes. Carla was looking for someone to help her out in the office after she bought out Nick Tilsley's share of the factory. Michelle soon learned that this entailed being frequently left in the lurch while Carla dealt with her personal problems. When she discovered that Carla had been making calls to Peter Barlow from the office phone, Michelle thought they were having an affair and confronted them in Carla's flat although she was sympathetic when they told her that Peter was actually helping Carla through a drinking problem. Michelle left the factory in 2013 when Peter started working there; she'd lost her temper with Peter's officious attitude and resigned. Michelle felt that Carla didn't value their friendship although they did make up.
In 2015, Carla was Matron of Honour at Michelle and Steve McDonald's wedding. When Steve sold his share of the Rovers to Travis Limited to pay off his debts, and Liz too made plans to sell up and move to Spain with Tony Stewart, Carla offered to buy Liz's share so that Steve and Michelle could stay on as managers. Carla was granted a loan but before she signed, Liz split from Tony and decided to remain.
Michelle and Carla remained close and Michelle visited Carla in Devon in March 2017 following her split from Steve. In 2018, Carla attempted to mediate between Michelle and her estranged biological son Ali Neeson but ended up spending the night with Ali after inviting him back to her flat to discuss Michelle. When Carla rightly suspected that Robert Preston was taking steroids, she enlisted Ali's help in discovering the truth but this brought the pair closer together again and Michelle saw them kissing, uncovering their secret. Michelle was horrified and turned against Carla, leading Carla to tell Ali that there was no future between them. After Aidan committed suicide, Carla rung Michelle who was in Birmingham. The pair were reconciled by the tragedy and Michelle told Carla that she loved her.
Peter Barlow
Carla and Peter Barlow were two addictive personalities who were both at the mercy of their vices. When Carla started going to the AA meetings, Peter had been on the wagon for a while and saw an opportunity to provide Carla with support and understanding from someone who had been through it all. From an honourable beginning, their friendship turned seedy when they fell for each other and their shared alcoholism became an excuse to see each other, although for a while Peter was in denial about his feelings for Carla and appeared oblivious to Carla's clear love for him.
In times of crisis Peter went to Carla's side but, knowing how Leanne would react, he didn't tell his wife. In July 2011, Peter told Carla about Leanne's pregnancy, despite Leanne wanting to keep it a secret. A few months later, after Carla was raped by Frank Foster, Peter flew into a rage against Frank at Nick's Bistro, belying his devotion to Carla. In July 2012, now with Peter, Carla found him drunk and wallowing in self-pity - a common occurrence with Peter - and dumped him. Peter immediately asked Leanne to take him back, and after being rejected by her too, he went missing. When she received a voicemail from Peter in which he sounded suicidal, Carla was concerned however he soon turned up, begging her to forgive him.
Despite their undeniable connection, Carla's life with Peter was an endless cycle of self-destruction, self-pity and lies on Peter's part but despite many blazing rows, he was always able to worm his way back into Carla's affections, and they would always find their way back to each other. The night before their wedding in December 2013, Carla kept Peter in her sights as she didn't trust him. After his affair with Tina McIntyre, Carla rejected Peter's pleas for forgiveness. He even got down on his knees and begged her for another chance but after trying to let him down gently, as best as she could, she told him they would never be getting back together. Realising that Carla no longer believed in him, and finally accepting that he had lost her for good, Peter decided that it would be best for everyone if he moved away for a fresh start. Simon reacted badly to his father's news. Carla saw them arguing on Maxine's bench so she approached them and ultimately, tried her best to help Simon understand why his father had to leave for everyone's sake. She helped Peter reassure his son that they would still see each other. Carla watched as Peter left in a taxi and the two of them exchanged a gaze that was loaded with meaning.
When Peter returned for Deirdre Barlow's funeral in July 2015, he saw Carla very briefly who was walking back to Underworld, but it was long enough to suggest that there was still something there for both of them. By the time Peter returned to Weatherfield on a permanent basis in October 2016, Carla had already left for Devon and they did not see each other again until Carla's return in December 2017. By this point Peter had moved on and started a relationship with Toyah Battersby and Carla was adamant that she wanted nothing to do with Peter romantically ever again, something she reiterated when confronted by Toyah. Carla and Peter only became close again when Peter bought into the factory as her business partner after she struggled to get it back from Alya Nazir. Carla was uncomfortable with the working relationship, in light of her and Peter's self destructive history and wanted him out of the business but was even more frustrated when he sold his share to Nick.
Carla and Peter have now reunited, following the factory roof collapse and Peter has been one of the few people to stand by Carla and support her after her involvement was revealed.
Leanne Battersby
Carla and Leanne Battersby started out as friends through Leanne being Liam's girlfriend. Carla soured towards Leanne when she learned about Paul's passion for prostitutes and that he was one of Leanne's clients. She had already decided to divorce Paul when he was killed in a car crash, but she still cared about him and the suspicious presence of Leanne in Paul's boot and her escaping unscathed made her the most convenient person for Carla to blame.
By 2008, Carla's anger had subsided and she became close enough to Leanne to confess her feelings for Liam. This truce continued for a few years, but Carla's appetite for men was stronger than any friendship. In 2010 Leanne confided in Carla that she was having an affair with Nick. Desiring a relationship with Leanne's fiancé Peter, Carla told Ken Barlow that Peter was at The Joinery bar, knowing that he would catch Leanne and Nick in a clinch. Peter stayed faithful to Leanne and they eventually married but Leanne was paranoid that Carla was plotting to steal Peter from her and tried to keep them apart. When Peter was critically ill in hospital following the Tram Crash in December 2010, a drunken Carla admitted to Leanne that she loved Peter but he had turned down an affair with her, leaving Leanne gobsmacked and furious with Carla.
They made up in September 2011 when Leanne helped Carla pick her dress for her wedding to Frank Foster, but hostilities resumed when Frank revealed to Leanne that Carla had been behind the wheel when her mother Stella Price was hit by a car, and not him.
When Peter and Carla's affair was exposed at Frank's rape trial, Leanne finished with Peter and Carla moved in with Peter and his son Simon. Simon wasn't Leanne's biological son but she'd raised him and he resented Carla for pushing her away. Additionally, as Carla and Peter were both recovering alcoholics Leanne viewed their relationship as a recipe for disaster. In February 2012, Simon accused Carla of hitting him in order to stop Leanne from leaving Weatherfield. He soon admitted that she hadn't, but Leanne decided to apply for custody of Simon. Peter agreed to send Simon to live with her after Simon was found drunk and unconscious in the flat next to Carla's empty wine bottle. A full-on fight between the pair occurred later that year, when Carla collected Simon from Bessie Street School while drunk.
After Carla had also split from Peter, Leanne started being civil to her again. A few weeks before Carla was set to marry Nick, the former Leanne Tilsley gave Carla tips on coping with Gail Rodwell as a mother-in-law. `With Peter and Carla separated, Leanne and Carla remained on more amicable terms after Carla returned from Devon. Despite this they were still prone to arguments given their history and the fact that Leanne's sister Toyah had begun a relationship with Peter. While Leanne herself was initially horrified by the relationship, she stepped in to defend Toyah against Carla and Michelle when they came to blows in the Rovers and ended up throwing drinks over each other.
Tracy Barlow
Tracy Barlow made a living out of selling second-hand gear at Barlow's Buys but what really drove her was in pursuing petty vendettas. Carla first crossed paths with Tracy in 2011, when she hired her as a machinist at the factory. After hearing her reputation, Carla gave the job to Eileen Grimshaw instead.
Tracy targeted Carla in November 2014 after Carla reported Rob to the police for Tina's murder on their wedding day. When she found Rob's keys to the factory, Tracy trashed the place to get back at Carla but when Carla caught her and threatened to call the police, Tracy backed down and, in a rare moment of humanity, told Carla that she was upset at losing Rob as he was the one man who still loved her despite knowing her faults.
In desperate circumstances, even Tracy was capable of forgetting her prejudices. In January 2015, Carla won a North West fashion trade award. On its way to Cheshire, the bus carrying the factory crew, and Tracy who was taking Izzy Armstrong's place, was run off the road by a pair of boy racers, causing it to flip over and land on its side. Everyone managed to get off the bus before it slid down a bank into a quarry, with Tracy putting her life on the line to help Carla free.
In January 2016, while in the bistro's kitchen Tracy overheard Carla and Robert Preston, Tracy's current partner, in the restaurant discussing their regrets over having slept together a few weeks previously. After Robert left, Tracy waited in the kitchen while she made up her mind whether to confront Carla. At that moment Jamie Bowman and his mate Lee entered the bistro planning to rob it, despite the restaurant being closed. This time, Tracy did not help Carla and slipped out through the back door to protect herself. Jamie and Lee ended up snatching Carla's handbag and making a run for it. Furious, Carla gave chase and tried to grab the bag as the men drove off. She ended up falling out of the car and was badly hurt.
The following month, when accompanying Michelle to a wedding fayre Carla had a run-in with Tracy, who was there running a Preston's Petals stall. When Carla felt unwell and went up to her hotel room for a lie down, Tracy followed her, hoping to catch her meeting Robert for a secret liaison. Thwarted, Tracy revealed to Carla that she'd heard them talking the bistro and knew about her and Robert. Tracy thought that Carla was as vindictive as her, and had slept with Robert to spite her, but in fact Carla had been unfaithful to Nick in a moment of madness and didn't care about Tracy. Tracy then began her blackmail campaign against Carla which eventually drove her nemesis out of Weatherfield.
Carla declared the feud with Tracy over just before she left and since she returned to Weatherfield in December 2017, has mostly stayed out of Tracy's orbit. Carla and Tracy continue to dislike each other but have chosen to avoid each other rather than continue fighting. Tracy has even shown concern for Carla on occasion. She was visibly shocked when she discovered Carla had kidney failure, reflecting on her own experience and visited her in hospital with Peter after her transplant operation in February 2018, although she insisted she was only helping deliver flowers.
Roy and Hayley Cropper
During Carla's first few years at Underworld, staff supervisor Hayley Cropper was either insufferably chirpy or a much appreciated hard worker, depending on Carla's mood. Homely, plain and happily married, Hayley was the employee who would have seemed least likely to be friends with Carla outside work. When Carla and Liam both abandoned the factory during their grief over Paul's death in June 2007, it was Hayley who stepped in and did her best to keep the business running, but controlling the staff and attempting to manage the business proved very difficult for Hayley and she struggled to keep control. Despite this, Carla was grateful to Hayley and the pair became firm friends.
In 2009, Hayley and Roy's lives became intertwined with Carla's when Tony Gordon confessed to Roy on his deathbed that he'd had Liam killed. Tony made a full recovery and then tried to silence Roy by pushing him into the canal, but he couldn't bring himself to let Roy drown and dived in to rescue him. Upon Carla's return to Weatherfield from Los Angeles, Hayley judged her for running away from Tony as her actions had nearly resulted in Roy's death, but she soon forgave her boss. Hayley was later taken hostage by Tony, along with Carla, during the siege at Underworld in 2010.
In 2013, after a slip-up at work Hayley admitted to Carla that she was awaiting the results of a CT scan. Carla insisted on taking her to the hospital, where it was confirmed that she had pancreatic cancer. As her condition was terminal, Hayley decided to end her life on her own terms in January 2014. In her final months, Carla did everything she could for Hayley, including letting her work on at the factory to give her a sense of normality. Unlike Roy who wanted his wife to do everything she could to prolong her life, Carla encouraged Hayley to stay active and enjoy what time she had left. They came to mean so much to each other that Hayley asked Carla to look after Roy after she'd gone.
When she spoke to Carla for the last time, Hayley thanked her for saving her from Tony and allowing her to live three years she wouldn't otherwise have had. Carla didn't like the finality of Hayley's words and went to see her at the cafe flat, where she and Anna Windass happened upon Roy cradling a lifeless Hayley, who had just taken her own life. Carla had been unaware that Hayley planned to commit suicide but when she realised she had done so, she respected her friend's choice not to share her plans with her.
Carla made sure that a grieving Roy attended Hayley's funeral, thrusting his suit at him and telling him that he was going whether he liked it or not. At the funeral, she read out the poem Do Not Stand at My Grave and Weep.
Carla intended to fulfil her pledge to Hayley but making headway with Roy was difficult due to their vastly different personalities. Carla appreciated Roy's quiet wisdom and the fact that he didn't judge her and she came to value his advice. After she had a miscarriage, Roy was the only person Carla would see.
When Roy became friends with Cathy Matthews, Carla was broadly supportive but had qualms that Cathy was good enough to follow in Hayley's footsteps. After a big loss at The Sunset Casino, Carla vented her anger on Roy and Cathy, calling Cathy a gold digger, but a few weeks later in a better frame of mind she persuaded Roy to show Cathy his true feelings for her. This resulted in Roy and Cathy beginning a romance but, embarrassingly, as Roy was clueless about dating he came to Carla to ask her for advice on the subject. When Carla was planning her wedding to Nick, Carla asked Roy to give her away as she had come to see him as a father figure. Roy graciously accepted, and although he later stepped aside in favour of her real father Johnny Connor, he ended up carrying out the honour anyway due to Johnny going missing before the wedding. In 2016, due to leave Weatherfield for Devon, Carla told Cathy about the promise she made to Hayley and Cathy agreed to take on that responsibility.
Roy's fatherly bond with Carla remained strong, despite her forging a relationship with her biological father, and he was often the first person she would lean on in times of trouble. When Carla was diagnosed with kidney failure in late 2017, Roy was the first person she confided in and Roy began researching into kidney donation, hoping that he would be a successful donor. Believing that Carla wasn't facing up to the reality of her diagnosis, Roy encouraged her to move back in with him in the flat above Roy's Rolls. Noticing that she was becoming increasingly ill and knowing that a family member was the best option for a donor kidney, Roy urged Carla to tell her family the truth. Carla ignored Roy's wishes and instead acted as a confidante to Kate and Michelle over their own recent problems.
Carla was protective of Roy and took her pledge to Hayley to look after him very seriously. In 2019, Roy's problems with sleepwalking returned following the death of his mother and he inadvertently knocked over a lamp and set fire to Peter's boat, putting Simon in grave danger. Acting hastily, Carla discovered incriminating CCTV of Roy and deleted it. When Roy later discovered what he had done, he was angry at Carla for attempting to cover it up and allowing Abi Franklin to face the finger of blame. Roy was so offended by Carla's actions that he asked her to leave the flat.
When the factory collapsed weeks later, Roy tried to support Carla again and took back his demand that she find alternative accommodation. However Roy was put in a difficult position when it transpired that Wayne Hayes who had been a foster child of Roy and Hayley's years before, was leading the investigation into the roof collapse. After Roy discovered that Carla knew the roof was unsafe and did nothing about it, the relationship was further strained and he again asked her to leave the flat and this time wanted her out immediately.
Despite his anger, Roy's concern for Carla never wavered and when he was alerted to the extent of her mental illness and her absconding from the medical centre, he did all he could to assist in finding her. Reflecting their strong bond, Carla trusted Roy enough to eventually return to him for help even in her psychotic state. Roy was subsequently agonised when Carla reacted with fury to him calling Johnny and an ambulance for her and claimed she would never forgive him. Putting Carla's feelings above his own again, Roy agreed to move out of his flat when Carla was released from hospital, as she still felt uncomfortable around him, leaving Peter to move in to look after her in his place.
Background information
Character creation and role
Carla first appeared in Episode 6437 in December 2006. Alison King's casting was announced on 20th September, two weeks after the debut of Carla's husband Paul [1]. She was the last of the initial batch of Connors to arrive after Paul, siblings Liam and Michelle, and Michelle's son Ryan. King was born in Leicester and worked as a dental nurse before receiving her acting training at the North Cheshire Theatre School where she enrolled aged 22. While at theatre school, King made her television debut in Brookside, playing a minor role for two episodes. King had previously appeared in Coronation Street as Mrs Fanshaw in 2004. The new Connor family were quickly established as the new dynasty at factory Underworld following the departure of the last of the Baldwin family and were involved in several major storylines over the following months.
In February 2007, Coronation Street announced that Paul Connor actor Sean Gallagher had quit the series. The rest of the family, including Carla, were to continue and so Paul was killed off in a dramatic car crash. Carla inherited his 60% share in Underworld and became the main factory boss, a position in which she remained until Alison King left the programme in 2016. Gallagher's departure took King by surprise and for a while she was unsure whether Carla would be written out with Paul. King: "Sean's departure was a shock but I'd been in the business for 10 years and you learn to write these things off as being out of your hands. I didn't expect to stay and I didn't expect to go." [2]
Liam and Tony
The next phase in Carla's life was her relationship with ruthless Scot Tony Gordon, played by Gray O'Brien, and her affair with brother-in-law Liam. Despite being in love, Carla and Liam never became a couple, which King believed was the correct choice: "Carla and Liam have this spiky on-off relationship and that's what she loves. I don't think they would ever work as a couple because Liam is the exact opposite of everything Carla goes for. But there's a definite sexual attraction there." [3] The storyline cast Carla as a scarlet woman, a role with which King had reservations: "I was uncomfortable playing a constant bitch at first. I'm getting into it now but I'm not as nasty or as cocky as Carla. She's bloody horrible to anyone she perceives to be a rival." [4]
As the storyline developed, Liam was killed in a hit-and-run and Carla went on to marry Tony. On Carla's relationships with both men, King: "I don't think she does love Tony in the same way as she did Liam. Liam was somebody who she fell deeply in love with. Her first true love was Paul, Liam's brother, and that was a commitment which came to her quite easily. Paul worshipped her. With Liam, though, it was a forbidden love. I think Carla feels safe with Tony, she just doesn't know him as well. Carla loves him, but it's more security. They spark together quite nicely, too."[5]
In 2008, Alison King fell pregnant with her first child. The planned end of the Tony Gordon storyline was postponed, with Tony remaining in Coronation Street after confessing to Carla that he orchestrated Liam's hit-and-run, causing her to flee to Los Angeles. King was heavily pregnant when recording Carla and Tony's wedding and her departure scenes in Episode 7007, where Carla kneed Tony in the groin and made her escape on foot.
King returned for a week in October before coming back full-time on Episode 7214 shown on 23rd November 2009. Speaking to Digital Spy at the time of her first return, she indicated that Carla had no residual feelings for Tony and was determined to bring him down: "She's really got it in for him and what's even more sick and twisted is the fact he's with Maria. It just makes Carla feel a little bit sick. I suppose she's a little bit jealous because Carla wouldn't be Carla unless she had all the attention, would she?" [6]
Tony appeared again in May 2010, once Samia Smith was back from maternity leave. In episodes intended to be shown across the week in 9pm slots between episodes of Britain's Got Talent, Tony had a showdown with Carla in the factory and started a fire, planning to kill them both. King performed her own stunts during the climax episode, with one exception: "I was falling on the floor and fighting and at one point I had to dive on the floor to try to get the gun. There was only one bit where they used a stunt double because they wouldn't actually allow me to jump off a balcony myself... I was covered in bruises, all over both legs and arms, everywhere. I had padding, but it was so physical." [7] Most of the episodes were delayed until the following week after ITV decided not to broadcast the factory siege storyline so soon after the Cumbria shootings, which occurred on 2nd June. Special episodes of Coronation Street aired in those slots in subsequent years, with Carla featuring prominently in 2014, 2015 and 2016's weeks.
Carla's next love was binman Trevor Dean, played by Steve Jackson. King believed that the somewhat unlikely pairing made sense for Carla after her disastrous relationship with Tony, stating on ITV's This Morning: "It's anybody's guess how long it will last, but he's a good-looking guy, a nice guy and he's uncomplicated - which, let's face it, after everything's she's been through is kind of what she needs. How long that will last, who knows, and also she might try and spruce him up or something. He'd look pretty good in a tux, I think!" [8]
Peter, Frank and the rape
After Phil Collinson became Coronation Street 's producer, Trevor was written out and Carla fell for Peter Barlow. Speaking to Inside Soap, King expressed her hope for Carla and Peter to get together: "I think she should definitely gets her claws into Peter. They've got a nice friendship and some good banter going on. They're equals, and I think it's the first time Carla's felt that way with someone since Liam died. They could be a great coupling - but it would turn into a nightmare if they both fell off the wagon." [9]. Carla and Peter resisted temptation and Peter married Leanne Battersby instead.
In 2011, Carla got engaged to Frank Foster, played by Andrew Lancel. Alison King believed that Carla's heart lay with Peter but that she wasn't willing to have another affair after what happened with Liam. King: "It didn't make her feel good when it was her and Liam Connor. With Peter, she'd want a relationship - it'd be all or nothing. He's chosen Leanne - but Carla is always going to hold a torch for Peter." [10]
After breaking the engagement, Carla was raped by Frank and subsequently attempted suicide by swallowing a load of sleeping pills. King referred to the rape as one of the most mentally challenging storylines she'd ever done and that recording the scenes had left her "absolutely drained" [11]. Carla remained at the forefront through 2012 as she testified against Frank in court, was a suspect in his subsequent murder and finally got together with Peter. On the pay-off to Carla and Peter, Phil Collinson: "It's been a long story and I think we owe it to the audience to see them together." [12] During the summer, Alison King and Chris Gascoyne took a five-month break from the programme. King: "It's three years since I had a baby and I've been working for all of that time so I haven't been able to spend too much time with my family. I plan to have a nice holiday and spend time at home getting jobs done on the house, all very normal stuff." [13]
Carla gets a family
In 2012, Marc Baylis joined the cast as Carla's brother Rob Donovan. Carla had previously referred to a brother called Darren, although Phil Collinson stated that they were the same character and that he was Carla's only sibling [14]. King had been appealing for Carla's own family to be introduced since 2008 [15]. On Carla's relationship with Rob, King told the Radio Times: "It's so childlike. They argue like cat and dog, going right back to their childhood where their brother-sister fighting is raw and horrid and totally runs on adrenaline." [16]
Carla and Peter were married in December 2013, on the same day that Peter kissed Tina McIntyre. In the first half of 2014, Carla became pregnant but lost the baby after finding out about Peter and Tina's affair. King hadn't wanted Carla to have the baby, telling TV Times: "Alex Bain who plays Simon is enough to work with. Personally, for me as an actress, it is better if she doesn't have a baby. When you are carrying a baby around, it slows you down and scenes take longer. You are not really being yourself as you are concentrating on a little bundle. I do that at home, so I don't want to do it at work too." [17]
Carla was involved as one of the four suspects in the subsequent "Who Kills Tina?" campaign and a video showing a confrontation between Carla and Tina was filmed and released a month prior to Tina's death in May 2014 in order to keep fans guessing. [18] When the episode aired, Rob was revealed to be the one who murdered Tina, although Carla came under suspicion within the show, mirroring the publicity campaign.
Chris Gascoyne quit Coronation Street towards the end of 2014. Some of Peter's last scenes saw him ask Carla to take him back after being acquitted of Tina's murder. Alison King explained Carla's reasoning for turning down Peter to Digital Spy: "He thinks that she still loves him, and I think somewhere deep down she always will love him, but he took that out of her hands. She's somehow managed to scrape herself off the floor and she's never, ever going to let those barriers down with him again - she just can't because he's the only person who can hurt her like that." [19]
As Gascoyne and Marc Baylis had both left the programme, writers developed Carla's feud with Tracy Barlow before introducing a new branch of Connors in Aidan and Kate, distant cousins of Michelle, and their father Johnny who confessed to being Carla's father.
Departure
On 1st May 2015, Coronation Street announced that Alison King would be taking a sabbatical in 2016 for "creative reasons" [20]. King indicated to TV Times that she would be returning: "I haven't even started thinking about leaving yet - it's still a whole year away and that's a long time in this job. I only intend to take a break - I definitely want to come back." However, in a January 2016 interview with Metro, she claimed otherwise: "It's not actually a break – I'm actually leaving. Because they're leaving the door open, I think people originally called it a break and people are asking 'When are you coming back?' and I'm like 'I'm not'. I'm looking forward to going back to doing different things and being versatile. I was meant to give myself four years at the most and I've done an amazing ten years but it's knackering. I need to creatively be a few other people now and see my daughter a bit more." Her final scenes were recorded on 28th April 2016.
Return
In July 2016, King stated that would "never say never" to returning to the show, only a month following the character's departure.[21] In August 2017, it was reported that Carla would be returning to the show, with the scenes expected to air around the Christmas time later that year. King returned to filming on 10th October, with the scenes airing on 22nd December.
Carla's first major storyline upon her return was her diagnosis of kidney failure and subsequent transplant. Coronation Street discussed the storyline with charity Kidney Care UK to improve accuracy. Members of the production team visited the Manchester Royal Infirmary to learn more about kidney disease and living donation and the charity's website recorded record amounts of traffic after the story aired. Speaking about the story, Alison King said "When I found out about Carla having kidney failure I wanted to make sure I portrayed that as accurately as I could because so many people are affected." She also added that it was "nice to be able to show Carla's more vulnerable side and see a positive outcome that I know not every person with kidney disease is guaranteed to have. It's shocking that people still die every day waiting for a transplant so I'm pleased that we were able to help raise awareness of kidney disease and organ donation." [22]
In 2019, it was announced that Coronation Street would be covering the topic of psychosis with Carla following a major storyline centred around the roof collapse at Underworld. Speaking about the background to the storyline, incumbent producer Iain MacLeod said: "It comes from a workaholism story for Carla. She makes the decision that her life's priority is her work. She wants to turn the factory into a world-beating business. But that leads to her making mistakes in both her personal and professional life. She ends up getting on the wrong side of a lot of people. And by the time of the collapse, many of them will wish her ill." [23]
For Alison King it was her most challenging story to date as she told Digital Spy: "The rape storyline was emotionally tough, but this has been a real challenge every day being in different sorts of mania from 7.30 in the morning... It must be doubly tough going through this in real life as people do, and I'm really grateful for the help we've had from Mind[24] and a lady who's suffered from psychosis herself."[25]
Reception
For her role of Carla, Alison King was voted "Best Actress" at the 2012 British Soap Awards and was nominated again in 2019. She was also nominated for "Serial Drama Performance" at the National Television Awards in 2012 and 2016. In an online poll conducted by MSN Entertainment, Carla was voted as "Soapland's Sexiest Female of 2008", with more than 31% of votes [26], and on Digital Spy's 2012 end of year reader poll, King was nominated for "Best Female Soap Actor", and came fifth with 97% of the vote [27]. Her other awards include Best "Bitch" at the Inside Soap Awards in 2008 and "Sexiest Female" in the TV Times awards in 2008 and 2009.
King has been praised for her performances, although Radio Times soap columnist David Brown criticised the amount of misery in Carla's storylines. After seeing Carla raped by Frank Foster, Brown commented: "By having Carla undergo a vicious violation like rape, it begins to feel that she's being systematically targeted by the storyliners. There's no denying that the scenes in this evening's double bill are powerfully acted by Alison King, but there seems to be an underlying mission to crack open Carla's carapace and expose her vulnerability." [28]. The episode resulted in an increase in the number of people reporting rapes, as King told The Sun: "The reaction from fans has been immense. I have had a lot of letters from women who have come forward since that episode. There was an 800% increase in the number of people reporting rapes after we did the story, mainly those who had been raped by someone they knew." [29]
Carla emerged as one of Coronation Street's most popular modern characters. When asked why she thought fans loved Carla, King stated: "I think a lot of women like her ego and she's quite real. She's quite gobby but also quite driven. Everyone would like to be a bit like that - to be able to say exactly what they want, when they want and walk with their heads held high and their high heels on down the street jangling their keys and going, 'Oh, get lost - I don't care what you think!' I had a woman come up to me once who said, 'I like Carla, she keeps it real!'" In another interview, King suggested a different reason: "She's pretty damaged and she's not the most cuddly or warm person either, but she's a survivor and people do love a survivor." (Fifty Years of Coronation Street, Headline Publishing Group, 2010)
First and last lines
"Looks like I'm in the very nick then! Ker-flamin'-ching! Enter Chrimbo drinks fairy!" (First line).
Appendices
List of addresses
Employment history
See also