Jurassic World: Dominion Dominates Fandom Wikis - The Loop
Play Sound
The COVID-19 pandemic is an ongoing global pandemic of the coronavirus disease. Originating in China in December 2019, lockdowns of Wuhan and other cities in the country failed to stop the virus and it spread around the world, becoming one of the deadliest pandemics in history.
The pandemic, and measures taken to limit the spread of the virus as much as possible, has led to ongoing TV programmes such as Coronation Street being severely impacted. On 22nd March 2020, the day before the UK's Prime Minister Boris Johnson announced a country-wide lockdown in an address to the nation, filming was suspended taking effect from the next day. As the programme is filmed several weeks in advance, the supply of episodes in the can meant it was able to stay on air; however, the rate of episodes per week was quickly halved from six to three in order to make this last as long as possible. This took effect starting with Episode 10042 (30th March 2020).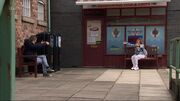 Filming finally resumed eleven weeks later, but the process of creating a Coronation Street episode was now different. Social distancing rules were now in place across all scenes, meaning all actors were required to film interactions at a two-metre distance from their co-stars, even if the characters were related or shared residences.
The last episode in which every scene was filmed before production was suspended was Episode 10083 (3rd July 2020). For a short period thereafter, episodes contained a mix of scenes recorded before and after filming ceased. This lasted until Episode 10092 (24th July 2020), after which every scene was filmed post-lockdown. Finally, from Episode 10113/4 (11th September 2020) the broadcast schedule returned to six episodes a week.
The resumption of filming in the July meant the programme became able to mention the pandemic and show its impacts on-screen, having been stuck in the "near past" up to that point; signs, sanitisers, masks and gloves became visible in establishments like the Rovers, The Kabin, Roy's Rolls and, further afield, Norcross Prison. Occasional references were also made to the pandemic in the script.
Another change to production is that due to shielding rules, some actors (mostly those aged 70+ or under-18) were required to shield. This meant that they were seen either extremely infrequently or not at all. For example, Charlie Wrenshall who plays Liam Connor was absent on-screen between March 2020 and August 2021 - a 17-month period. Izzy Armstrong and Beth Sutherland were also absent for an extended period due to Cherylee Houston's Ehler-Danlos syndrome and Lisa George's diabetes respectively. The absence of the missing characters was typically not explained on-screen; they were still living in their respective residences, but were just elsewhere during scenes.
Filming on location was also severely cut back due to the COVID restrictions - in fact, for several months post-lockdown, all scenes were recorded either within the studio complex or a few hundred yards of it. Where it has been necessary, parts of the Coronation Street set at MediaCity was disguised as taking place outside of the local area. For example a scene in Episode 10370 (6th July 2021), which was supposedly set in the yard of 28 Grayling Street, was actually the redressed yard of the corner shop. To hide this, the scene was also filmed at a tight angle, while no attempt was made to dress the set to resemble its previous appearance in Episode 7654 (25th July 2011).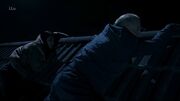 Another infrequent occurrence was the social distancing rules being relaxed for certain scenes in which it was important to the scene for characters to be shown closer together. This required the actors involved to "bubble up" prior to the scene being filmed, self-isolating and regularly being tested for the virus. Examples include Geoff and Yasmeen Metcalfe and Alya Nazir's rooftop showdown in Episode 10189/90 (9th December 2020), broadcast on Coronation Street's 60th anniversary, the flashback scenes of the assault on Nina Lucas and Seb Franklin shown in Episode 10416 (30th August 2021).
Another exception worth noting was a scene between Hope Stape and Joseph Brown in Episode 10170 (16th November 2020) - the two characters are played by twin siblings Isabella and William Flanagan, share a household, and therefore did not have to distance.
As restrictions eased this practice became utilised more, and the "Super Soap Week" episodes in October 2021 (starting with Episode 10458) employed over 70 "bubbles" by the cast and crew. Many of the week's scenes involved several characters being trapped in sinkholes which opened up across the street, and the new rules allowed them to interact far closer, something crucial to the story (for example, Johnny Connor and Shona Platt coming to the aid of his wife Jenny).
Another technique to allow the filming of characters interacting closer than two metres without periods of self-isolation first was to bring in real-life family members of the cast members. The biggest example was scenes between Izzy Armstrong and her neighbour Fergus Dunford. Fergus was portrayed by Cherylee Houston's real-life partner, Toby Hadoke. In all of Izzy's scenes she was seen only via video call; the Coronation Street crew sent filming equipment to the couple in order to allow them to film their scenes from home.
Other examples of social distancing being disguised or ditched include Tyrone Dobbs and Alina Pop sharing a kiss in Episode 10277/8 (19th March 2021), in which real-life couple Alex and Hannah Mulvaney were hired to double for Alan Halsall and Ruxandra Porojnicu. In the shot itself, both the character's faces were obscured, while earlier in the scene footage of Alan and Ruxandra both sitting on a bench by themselves was later spliced together to make it look like they were sitting next to each other. Also, after Seb Franklin's death in Episode 10320 (7th May 2021), his distraught mother Abi was seen stroking his face with her hand in a close-up shot. The hand actually belonged to actor Harry Visinoni's girlfriend Ellie Isaacs, with the shot being edited into a scene in which Abi weeps over her son's body.
The pandemic continued to affect the programme behind the camera as well as in front. In September 2020, the shooting schedule was adjusted after an unidentified actor tested positive for Covid. Then in January 2021, after the UK had gone back into lockdown, production was temporarily "paused" to allow writers to change some future storylines and scripts to ensure it was feasible to film them within current restrictions. Filming resumed after a fortnight and the broadcast schedule was unaffected.