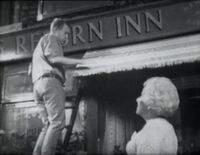 The Best Kept Street was a competition set up by Weatherfield County Borough Council in June 1967 to beautify as much as they could the terraced streets of the town. The winners would be granted a plaque on the walls of the chosen street and £100 to be shared out among the residents as a prize.
Although they had Councillor Len Fairclough living in their midst, the residents initially showed no interest. Things changed though when Ena Sharples squabbled with Nellie Underwood of Victoria Street who thought they had the best chance of winning. As a result, Ena entered Coronation Street in the competition without telling anyone else but gained the support of Annie Walker who until then had not heard about the £100 prize on offer. The ladies then prepared for the competition with their usual gusto: Ena bullied landlord Mr Wormold into giving her £25 to help do up the street while Annie had the less-achievable idea of dragooning the residents into scrubbing the Edwardian soot-covered brickwork by hand. Wanting to give the doors and window-sills a fresh coat of paint, the residents met to decide on a colour scheme for the street. Annie wanted white and yellow but Ena's choice was light oak and they ignored Albert Tatlock's request for bottle green. When it was put to a democratic vote, Ena won.
As the day of the judging drew nearer, Annie put up a striped canopy over the door of the Rovers and the entire street looked the best it had probably been since it was built in 1902. However disaster struck when the judges, including Mrs Delamere and Councillor Wilson, came round the assess the candidates just after the police, health department and children's department came to evict squatters Betty Lawson and her family from No. 3. Not having created the most favourable impression, Inkerman Street were given the prize.
*Disclosure: Some of the links above are affiliate links, meaning, at no additional cost to you, Fandom will earn a commission if you click through and make a purchase. Community content is available under
CC-BY-SA
unless otherwise noted.