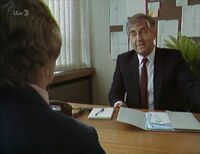 Barkers was a stationery wholesaler. Based in a Weatherfield office block, Barkers was managed by enigmatic tycoon DP, with Ray Griffiths in charge of Personnel.
In August 1988, Mavis Riley decided to leave The Kabin after 15 years and secured an interview for the position of Head of Distribution. Arriving there, she was stunned to be interviewed by her former fiancé Derek Wilton, who had worked there in a high-level position in the sales department, with his own office and secretary, since selling his Cornwall stationery outlet to Barkers earlier that year. Mavis's joy at her stroke of luck turned to humiliation when Derek passed her over, and revealed that he had only given her an interview as a means of affecting a reconciliation. Derek then proposed and, much to her friends' surprise, Mavis accepted.
The following April, Derek was accepted into an executive pension scheme, pending the results of a medical. Ray Griffiths summoned Derek to his office to discuss the results, revealing that Derek had high blood pressure and hypertension. Citing management concerns over his ability to cope with stress, Ray told Derek he was being moved two floors down to despatch effective immediately - a move Derek opposed. The following day, Derek tried to take the matter up with DP and waited outside DP's office all day for him to become available, but DP spent the entire day in his office dealing with matters of greater importance. To force the issue, Derek sent a memo through to DP's office threatening to resign if he didn't remain in his current position in sales. This failed to elicit an immediate response from DP, but after missing DP leaving the building, Derek was seen by Ray Griffiths, who told him that accepting his resignation was the last thing DP did before leaving.
For Derek, leaving Barkers was a blow from which he would never recover, and he spent the rest of his days repping.
Staff
List of appearances
1988
1989
*Disclosure: Some of the links above are affiliate links, meaning, at no additional cost to you, Fandom will earn a commission if you click through and make a purchase. Community content is available under
CC-BY-SA
unless otherwise noted.