Anne Cunningham was born on 1st March 1937 in Leeds. She is an English actress who played Linda Cheveski in Coronation Street occasionally for nearly twenty-four years, making her final appearance on 20th June 1984 (although she reprised the part three years later for the VHS Special The Life and Loves of Elsie Tanner). Appearing as one of the original cast members, Cunningham appeared as a regular for twelve months before deciding to leave the show in December 1961, with co-star Ernst Walder (who played on-screen husband Ivan Cheveski) departing alongside her. The pair continued to appear on a recurring basis throughout the 1960s, with Cunningham last appearing in 1968 during that decade. She reprised the part for 11 episodes in 1984, before departing the show for good.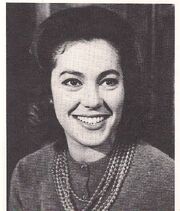 The daughter of a travel agent, she was educated at a private school in South Africa and initially trained as a teacher of speech and drama and worked at a secondary modern school in Kent. She continued to act after leaving the programme and co-starred in two series of World of his Own with Roy Kinnear, as well as guest starring in numerous other shows. Her first daughter Philippa from her 1965 marriage to future Street director Darrol Blake is named after her co-star from the programme, Philip Lowrie who was also her godfather. In films Anne has played Ella in Bitter Harvest, Judith in This Sporting Life, and Mam in Man At The Top. She also appeared in Doctor In Clover. On television, she has made appearances in The Avengers and The Fall And Rise Of Reginald Perrin.
She contributed to the documentary Coronation Street: 50 Years, 50 Moments for the show's 50th anniversary celebrations in 2010. During an interview with the Coronation Street Blog in 2017 she ruled out the possibility of ever returning to the show, citing Philip Lowrie's bad experience of it during his 2011-2014 stint as a reason.[1]