Amy Katherine Barlow (formerly Patience Cropper) is the daughter of Steve McDonald and Tracy Barlow, and half-sister to Emma Brooker and Oliver Battersby.
As a newborn in 2004, Amy was sold to Roy and Hayley Cropper, who had been fooled by Tracy into believing that Roy was her biological father. However, after handing the baby over Tracy had a change of heart and exposed Steve as the real father at his and Karen McDonald's wedding. Patience Cropper was then re-named Amy Barlow and Tracy spent the next couple of years pursuing Steve, using Amy as a pawn to sabotage his other relationships. Her efforts never bore fruit, as Steve was not interested in her, only Amy.
In 2007, Tracy was convicted of murdering her boyfriend Charlie Stubbs and sentenced to life in prison, and Steve became Amy's sole guardian. This period of stability ended in 2010 when Tracy was released on bail, and her conviction later quashed. Tracy was able to regain custody of her daughter with ease after threatening to expose the fact that Amy's stepmother Becky McDonald had bought her nephew Max Turner. Ultimately Tracy managed to worm her way back into Steve's life. When they became a couple again in 2017, Amy found it hard to get used to them not being at each other's throats.
In recent years, Amy has been impregnated at fourteen by Tyler Jefferies, had an abortion, and dated reformed drug dealer Jacob Hay. Like her mother, Amy doesn't suffer fools gladly, though she is kinder and more sensitive than Tracy. Currently attending Weatherfield High, she is friends with Asha Alahan and Summer Spellman and plays the violin. She lives at 1 Coronation Street with Tracy, Steve, and her grandad Ken.
Biography
2004: A turbulent first year
Amy Katherine Barlow was born on 9th February 2004, the daughter of 27-year-old Tracy Barlow, then recently divorced from Robert Preston. At the time, it was commonly believed that Roy Cropper was Amy's father, after Tracy drugged and (seemingly) bedded him at Peter Barlow and Shelley Unwin's wedding in order to win a bet with Bev Unwin. After Amy was born, Tracy sold her daughter to the Croppers for £25,000, with the understanding that they would raise her. The baby was then named Patience by her new parents.
It was only after she gave Patience up that Tracy's maternal instincts kicked in and she decided that she wanted the baby after all. She'd set her cap at Patience's real father - Steve McDonald - but he wanted nothing to do with Tracy or his child as he was due to re-marry Karen. At their wedding, Tracy interrupted the proceedings to demand Patience back from the Croppers, revealing the true identity of the baby's father to the congregation when Steve and Andy McDonald tried to eject her from the church. Though the Croppers tried to put up a fight for Patience, Patience's granddad Ken Barlow persuaded Roy that the baby belonged with her mother and he went alone to hand her back.
Tracy's first acts as Patience's mother were to change her name by deed poll to Amy Katherine and obtain a new birth certificate. Her long-term goal was to split up Steve and Karen so that Amy could be raised by both her parents. However, at that time Steve was barely acknowledging Amy as his daughter and failed to attend her christening, putting Karen first. Tracy was living at 7 Coronation Street, which her grandmother Blanche Hunt had bought for her and the baby, but she and Amy had to move back to her parents' home at No.1 when Blanche rented the house out to Danny Baldwin while they were in Portsmouth.
In the following months, Steve began paying maintenance and even minded Amy on occasion, putting strain on his marriage. When Karen miscarried her and Steve's baby just before Christmas, she had a breakdown and stole Tracy's car, not realising that Amy was in the back seat. She torched the car and made Tracy believe that Amy was still inside, leading Tracy to go on a murderous rampage against Karen. Amy was located safe and sound with Roy but Steve, furious that Karen had let him think his daughter had been burned alive just to get at Tracy, told her to leave and never return.
2005-2010: Pillar to post
In 2005, Steve started a relationship with Tracy for the sole purpose of gaining partial custody of Amy. When Tracy realised that it was a ploy, she went to war with Steve. At one point, she nearly landed him in prison by telling him that Amy had a fascination with planes in order to trick him into taking her to the airport to watch them take off, and then reporting him to the police for kidnapping. Steve continued to fight for parental rights through the courts. At a custody hearing in September of that year, after a slanging match between Amy's parents in the courtroom, the judge ruled that Steve would be granted parental responsibility.
Steve was now an active father to Amy, but Tracy remained her full-time guardian. In 2006, Tracy started a relationship with builder Charlie Stubbs. Charlie let Tracy move in with him at 19a Victoria Street, but he didn't want Amy around. Tracy eventually got her way by lying about becoming pregnant and having an abortion, causing Charlie to back down out of sympathy.
Used to treating relationships like a battle for supremacy, Tracy was humiliated by Charlie when he slept with Shelley Unwin and had an affair with Maria Sutherland. In 2007, she took her revenge by killing Charlie and claiming that it was self-defence. Her lies failed to convince a jury and in April of that year she was found guilty of first-degree murder and given a life sentence, serving at least fifteen years. An immediate result of the sentence was that Amy moved in full-time with her father and paternal grandmother, Liz McDonald, at the Rovers Return Inn, which they owned. Steve told Amy that her mum was going away for a long time, but not why.
For the next three years, Amy saw little to nothing of Tracy. Liz doted on her granddaughter, but the true mother figures to Amy during this period were Steve's partner Michelle Connor and later his wife Becky. Becky was a rough and tumble girl with a genuine side who saw Amy as her own daughter. When in 2009 Amy began to be picked on by a boy at school over Tracy being a murderer, Becky told her the truth, which didn't go down well with Steve. Steve eventually saw that she'd just done what he was afraid to and allowed Amy to visit Tracy.
In 2010, Amy's great-grandmother Blanche passed away and to cheer her up on the morning of the funeral, Steve told her that they would change her surname to McDonald. One of the mourners at the funeral was Tracy, who had been granted compassionate leave from Redford Prison to attend. Amy was initially frightened and wary of her relatively unfamiliar mother. When Amy told her that she was changing her name, Tracy exploded at Becky and had to be ushered away from the crematorium by police officers. The idea of Amy becoming a McDonald went no further, as Steve and Becky were counting on Tracy to give them a good reference in their application to adopt a child and did not want to upset her.
2010-2012: Tracy comes home
Tracy was unexpectedly released from prison just before Christmas, when the forensics investigator on her case was discovered to have fabricated evidence. A hearing was later held in February 2011 at which Tracy's conviction was quashed.
Tracy fully expected to raise Amy now that she was free. Amy unwittingly gave her mother the means to blackmail the McDonalds by telling her that the young boy who was living with them - Max Turner, son of Becky's half-sister Kylie - had been sold to Becky and Steve. Tracy threatened to shop them to the authorities if they didn't hand Amy over to her, giving them no choice but to comply. Amy then moved back in with the Barlows at No.1. The changes upset and confused Amy, who was again used as a pawn by her parents for the next few months.
It wasn't long before Tracy started plotting to lure Steve away from Becky. In April 2011, she pressurised Steve to take her and Amy out to Blackpool for the day. There, the couple was so busy arguing amongst themselves that they didn't notice Amy wander off. The girl was found safe and well on the south pier by the police. The following month, Amy began to drink milk in secret, which made her ill due to her lactose intolerance. The seven-year-old had noticed that her parents only stopped arguing when they were worried about her. Her deception was uncovered when Tracy caught her downing an entire carton. The incident gave Steve the wake-up call he needed to begin putting his daughter first. After reporting himself and Becky to social services for buying Max - so that Tracy couldn't retaliate - he applied for a prohibitive steps order to stop Tracy from moving to London with Amy, which turned out to be the death knell for his marriage.
Tracy signed a custody agreement with Steve and once he and Becky had split up they started to see a lot of each other. In July, Tracy and Amy spent some time in London before returning when Tracy discovered she was pregnant with twins from a one-night stand with Steve. She and Steve then became a proper couple and got engaged, despite Tracy miscarrying the twins. In 2012, Steve married Tracy, with Amy as a bridesmaid. He dumped her on their wedding day when Tracy tried to blame her miscarriage on Becky pushing down a flight of stairs.
Amy continued to be uprooted as Tracy moved from house to house, burning bridges as she went. Tracy had no permanent job and yet refused to allow Amy to live with Steve, who was now back with Michelle. After living at No.13 for a while, Tracy and Amy were taken in by Emily Bishop at No.3 for a month, and then Beth Tinker at 9a Rosamund Street for one week before Ken and Deirdre let them move back to No.1. After two years, Amy finally had a sense of stability.
2013-2017: Adolescence
In 2013, Tracy had a new boyfriend in Rob Donovan and began neglecting Amy again. In order to live with Rob, Tracy temporarily relinquished care of Amy, with majority custody given to Steve and Amy living with Deirdre for the rest of the time. Rob was a part of Amy's life for a year, until he went to prison for murdering Tina McIntyre.
Amy graduated from Bessie Street School in 2015 and started attending Weatherfield High. Tracy was now in a relationship with her ex-husband Robert Preston, who was the only one of Tracy's partners (other than Steve) to give Amy the time of day. When in May 2016 Tracy spitefully ruined the wedding of Nick Tilsley and Carla Connor to get back at Carla for leading the police to Rob back in 2014, Robert was so disgusted that he finished with her. Amy was so sick of her mother's wicked ways that she disowned Tracy and moved in full-time with Steve. She decided to forgive her and move back into No.1 on the anniversary of Deirdre's death in July when she saw how much Tracy missed her own mother, but on the condition that some of her demands were met with one of them being a raise in pocket money.
2016 was also the year when Amy had her first boyfriend. Sam Trenton was a boy from music class at Jamila House, where Amy was learning the violin. Sam dumped Amy after a couple of months because of her nasty personality.
Amy gained two half-brothers in 2017 - Ruairi, son of Steve and Michelle, and Oliver, the product of a one-night-stand between her dad and Leanne Battersby. Unfortunately, Ruairi was stillborn at 23 weeks in January. The revelation of Oliver's paternity ended Steve and Michelle's marriage. Angry at Steve for losing her yet another stepmum, Amy told him how disgusted she was by his philandering.
In March of that year, Rob Donovan escaped from prison and Tracy helped him hide from the police without anyone knowing. The following month, Tracy took Amy on the run in the Peak District with Rob, hiding in a cottage together. A missing persons appeal for Tracy and Amy went out on the national news as a means of flushing Rob out, although Amy was oblivious to this as Tracy had taken away her phone and iPad. Suspicious of her mother's strange behaviour, Amy walked to a phone box and called Steve, unwittingly allowing the police to trace their location. Rob turned himself in and returned to prison with Tracy receiving a suspended sentence for perverting the course of justice.
2017-2019: Steve and Tracy reunited and pregnancy
At Christmas, Amy's worst nightmare happened - Tracy and Steve got back together. After they spent the night together, Steve received a text message from Tracy claiming that it had all been a mistake - although, Amy later admitted that she had sent the message from Tracy's phone as she dreaded her parents reuniting due to the fact that it always ended disastrously. Amy also attempted to make Tracy angry with Steve by taking Eccles and making her believe that Steve had left the door open and allowed the dog to escape. Despite her attempts, Steve and Tracy saw through her plan and decided to make their relationship official.
Eventually, Amy began to warm to the idea of her parents being back together. In June 2018, they got engaged and Tracy and Amy moved in with Steve and Liz at the Street Cars flat. Steve had, in fact, only proposed to Tracy as he thought it was what Amy wanted. The wedding was plagued by trouble, including Amy being unable to attend having slipped at a spa and broken her arm two weeks earlier. More seriously, Steve had another one-night-stand with Leanne a week before marrying Tracy. Although it didn't split them up, Tracy got her own back by stealing Steve's wallet and passport and abandoning him in a desert in Morocco while they were on their honeymoon - Amy accused them of acting like toddlers.
Amy had at first been enraged that her mother had even considered taking Steve back, but later plotted with Adam Barlow to create a legally binding contract for them both to sign in order to receive her blessing. The contract contained edicts designed to make the trio a better family, such as scheduled family time and fines for name calling. Steve and Tracy both signed without thoroughly reading the papers and didn't notice Amy's rules. Despite at first allowing the contract to control their lives, Steve and Tracy later found a way to outsmart Amy by organising "family time" when she wanted to hang around with her friends.
In November, Amy attended a party where she got chatting to Tyler Jefferies, a seventeen-year-old ne'er-do-well recently released from prison. Tyler had previously been a friend of Amy's cousin Simon, until Simon dobbed him into the police for breaking and entering. Amy had sex with Tyler at the party, losing her virginity.
Two months later, Amy discovered she was pregnant and decided to have a termination. She did not plan to tell her family and only shared her secret with Liz because the clinic nurse had told her to come back with an adult. With Liz's encouragement, Amy broke the news to her parents - though the cat was already out of the bag as they had found the pregnancy test in the bin. Not unsurprisingly, Steve and Tracy went ballistic, and gave Amy little emotional support as they were more interested in castigating the father - who Amy refused to name. Amy was humiliated when Steve convinced himself that Aadi Alahan was the offending male and made a public accusation in the Corner Shop while brandishing a poker.
A few days later, Amy secretly met with Tyler at Victoria Gardens and told him she was pregnant with his baby. Because Amy was fourteen, Tyler didn't want anyone to know he'd had sex with her and even threatened to kick Simon's head in unless he took the rap. The identity of the father came out anyway when Tracy saw Amy and Tyler talking in the street and put two and two together. Steve then came up with a suggestion to satisfy everyone: if Amy was not ready to be a mother, he and Tracy would adopt the child and raise it as their own. The idea met with Amy's approval and she prepared to carry the baby to term.
A complication then arose in the form of Vicky Jefferies, Tyler's mother. Vicky was upset by the prospect of not being part of her grandchild's life and attempted to befriend Amy. When she got Tyler a job at the Viaduct Bistro, Tracy tried to bribe him to leave the area and when that failed, she contacted the police about his sexual activity with her daughter. Nothing came of this as Amy made clear that she wouldn't testify against Tyler, but it caused her to doubt the adoption scenario. After speaking to Bethany Platt, who was able to sympathise with Amy's situation as her mother Sarah had been a teen mother too, Amy went with her gut instinct and aborted the child after all, with Bethany accompanying her to the clinic. Tracy and Steve were deeply disappointed by her decision but ultimately supported their daughter.
2019 to present: Coming of age
In August 2019, Amy learned that her 20-year-old neighbour Emma Brooker was actually Steve's daughter and her half-sister - a fact unknown to Steve himself until very recently. Amy bonded with Emma and was instrumental in convincing her to remain in Weatherfield.
At Christmas, two months away from turning sixteen, Amy started thinking about what she wanted to do when she left school. With Tracy's help, she applied for work experience at Barlow Legal Services and was given a placement at the solicitors office by Paula Martin, mostly helping with paperwork. Days later, Amy was shaken by the discovery that her mum had cheated on Steve with Paula. She was so disgusted by Tracy's actions that she moved out of the flat and in with Emma at 2a Coronation Street. Steve eventually found out about his wife's infidelity without Amy's help and he and Tracy began seeing a marriage counsellor to sort out their problems.
Personality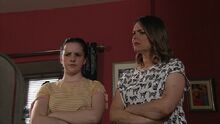 Amy grew up in Coronation Street, raised by her mother Tracy except for a four-year period when she lived with her dad Steve McDonald and Grandma Liz. Tracy was one of the most hated residents in the street due to her acrimonious attitude and some such as Amy's uncle Peter feared that Amy would turn out just like her. Fortunately, though Tracy has undoubtably had the biggest influence on her personality, Amy was raised with all her family around her, including grandparents and stepmothers, so had a multitude of better role models to choose from. Amy came to see Tracy for the vindictive, petty woman she was and in 2016 she went as far as disowning her over her revenge campaign against Carla Connor.
Amy never had much stability growing up, living in twelve different homes before she was sixteen owing to Tracy's tendency to burn bridges wherever she went. This meant that Amy became very attached to the people in her life, as shown by the way she fought to stop her newly discovered sister Emma Brooker from leaving Weatherfield in 2019 when everybody else was prepared to let her go.
Being raised in a broken home meant that Amy got used to being showered with gifts and attention by those around her. She expected money to be spent on her and was jealous whenever someone else got it instead, usually her cousin Simon. While kinder than Tracy, Amy had picked up a few tricks from her mother and would gently blackmail people to get something she wanted in exchange for her silence, usually either pocket money or a present.
Much like Tracy and her great-grandmother Blanche Hunt, Amy speaks her mind, and doesn't sugar-coat her words. At school, she is protective of her friends but some outside her social circle find her boorish and rude, as Summer Spellman did when they first met.
Traits
Amy is allergic to dairy. In May 2011, she made herself ill by drinking milk in order to stop Tracy and Steve from bickering.
Relationships
Tracy Barlow
From almost the minute she was conceived, Amy was used as a pawn by her mother Tracy Barlow. While pregnant, Tracy conned Roy and Hayley Cropper into believing that Roy was her baby's father and extorted a sum of £25,000 from the couple by allowing them to raise "Patience" as their own daughter. No one was more surprised than Tracy when, after giving birth, she felt a motherly bond with the child and realised that she couldn't give her up after all.
Once Amy had been returned to her mother, Tracy's energies mostly went towards ensnaring Amy's actual father Steve McDonald. She had fought bitterly to keep Amy with her, but frequently treated her more like a prize to be won, having little interest in actually bringing up the child. In the early years, Tracy had a horde of willing babysitters - Deirdre, Ken, Blanche Hunt, Emily Bishop, Liz McDonald, and the Croppers - and took full advantage of that fact. She also used Amy as a device to drive Steve and his wife Karen apart, putting Steve in situations where he had to be around her. Steve had recently re-married Karen and wanted nothing to do with his daughter. In one instance, Tracy left Amy on Steve's doorstep forcing him to have her overnight. She only went back for Amy when Karen outmaneouvered her by threatening to go for custody of the girl.
Once her battles with Steve died down, Tracy did develop a strong attachment to Amy and, to her credit, she made it clear to any men wanting to be with her that Amy was part of the package. This required some cunning on Tracy's part when it came to the more reluctant stepdads such as Charlie Stubbs.
When released from prison in 2010 after serving three years of a life sentence for murdering Charlie, Tracy had to rebuild her relationship with six-year-old Amy who now looked upon Steve's wife Becky McDonald as her mother. She managed to get Amy back under her roof by blackmailing the McDonalds, having learned that their nephew Max Turner was living with them behind social services' back. This blunt force approach returned Amy to Tracy in a physical sense, but Amy remained cold towards her mother, continuing to view the Rovers Return as her home. On one occasion, Amy locked herself in the back room of the Rovers and refused to leave, requiring Steve and Tracy to coax her out.
As Amy grew up, she matured into an assertive young woman, more than willing to stand up to Tracy. Amy saw how Tracy neglected her, prioritising her petty squabbles with Becky and Carla Connor, and demanded she pull her socks up or she was done with her. In 2016, when Tracy's scheming caused Robert Preston to leave her, Amy reached the end her tether and disowned her mum. In trying to win her daughter back, Tracy showed how little she understood her; when she gatecrashed a music recital at Weatherfield High despite Amy making it clear that she wasn't welcome, Amy lost concentration and rushed from the stage humiliated. Tracy compounded the mistake by making bitchy comments about Amy's lack of talent with the violin, not realising that Amy could hear her. Later, on Simon's birthday, Tracy tried to buy Amy back with presents, but Amy saw that she was being manipulated and held firm. It was only on the anniversary of Deirdre's death that Amy thought about how much Tracy missed her own mum and forgave her - in exchange for a list of her own demands being met, including more pocket money.
On one occasion, Tracy's scheming almost killed Amy. In May 2015, Amy and Carla became trapped inside 12 Victoria Court after Tracy unintentionally started a fire there after leaving a lit candle near a lampshade. Both Amy and Carla were saved, but at the cost of their rescuer Kal Nazir's life. Amy was deeply traumatised by the event, not realising that Tracy had been the one who put her in danger. Although Tracy was publicly accused of the crime several months later, nothing was ever proven, and Amy carried on believing her mother was innocent.
Amy and Tracy's relationship wasn't always adversarial. Tracy's efforts to change her ways after being shamed by Amy were genuine, and after her failed wedding to Rob Donovan, Tracy was comforted by Amy. After Rob, Amy began vetting Tracy's boyfriends, questioning Luke Britton intensely to make sure that he was made of strong stuff, as he would have to be to go out with Tracy. When Tracy married Steve in 2018, Amy had deep reservations, having been let down so often, and as she had no brothers or sisters, it was up to her to keep them in check. This meant that she had to be the parent on occasion. In 2020, when Amy discovered that Tracy had cheated on Steve with Paula Martin, she moved out of the flat in disgust and got at Tracy continually until she told Steve.
Steve McDonald
Tracy told Steve McDonald that he was the father of her unborn baby on Christmas Day 2003. Two months away from re-marrying Karen in a lavish ceremony at Walcot Manor, Steve fully supported her plan to let the Croppers adopt the child and told Tracy that if she ever told Karen the truth, he would kill her.
Steve did not attend the birth of his daughter, nor the christening in March 2004. He was outed as the father by Tracy at his wedding, but Karen still married him as they had been separated when Amy was conceived. In the early months of Amy's life, Steve let his dislike of Tracy keep him estranged from his daughter. The fact that it also kept Karen sweet made it an easy decision for Steve to stay away. His first taste of fatherhood came when Tracy left Amy with him overnight. Steve took Amy to the swing park and sang to her. Once he had acknowledged Amy as his daughter, he started taking his responsibilities more seriously and paid Tracy £50 a week maintenance without Karen's knowledge. Hostilities between Tracy and Karen grew over the course of 2004 until Christmas when Karen torched the Barlows' car. Steve realised that either Karen or Amy would have to go and so he threw Karen out of their flat, their marriage at an end.
Steve could now be a proper dad to Amy. However, obtaining parental rights and getting his name on Amy's birth certificate was a long and bitterly fought battle as Tracy was spitefully doing everything she could to block it. Eventually he was successful, though Tracy remained Amy's full-time guardian. When Tracy went to prison for murdering Charlie Stubbs in 2007, it fell to Steve to take Amy in and break the news that her mum was going away for a long time. However, he did not tell her why.
Between 2007 and 2010, Steve provided Amy with a stable home, and she had close relationships with stepmothers Michelle Connor and Becky Granger. This period ended with Tracy's release from prison at Christmas 2010. When Amy let slip to Tracy that the McDonalds had bought Kylie's nephew Max Turner, it provided Tracy with the leverage she needed to snatch Amy back with no opposition. It took Steve several months to realise how he had failed his daughter and reported himself and Becky to social services so that he could begin to fight back against Tracy, sacrificing another marriage for Amy.
In 2012, Tracy and Steve got married only for Steve to dump Tracy on their wedding day. Steve had already bought 13 Coronation Street for the family, and so he divided the house into two flats so that he could live under the same roof as his daughter while avoiding Tracy. The arrangement lasted a month until Steve, realising that it was an unhealthy environment for Amy to live in, restored the house and gave his room to his irritating ex-girlfriend Beth Tinker, who moved in along with her young son Craig and his rat Darryl. Tracy observed that, even while taking the moral high ground, Steve had let his daughter live with strangers just to get his own back on her.
Amy nearly always had a harmonious relationship with Steve and his home was her sanctuary whenever she fell out with Tracy. In 2015, Steve told an understanding Amy about his depression, as he felt she was mature enough to handle it.
Amy's respect for her father took a knock first when he cheated on Michelle with Leanne Battersby, and then he had a one-night-stand with Leanne before his wedding to Tracy. Living with both of her parents again, Amy soon realised that Steve was the weaker of the two when it came to giving in to her. In 2018, Steve bet Amy that he could go longer without his phone than she could, and promised that if she beat him he would buy Amy the new handset she wanted. Over the next week and a half, Steve began to cheat and secretly use his phone while nobody was around but Amy eventually got her revenge by going to a house party instead of the cinema one night in February. As a result of not having a phone, Steve was unable to contact Amy - but he and Tracy eventually located her, humiliating her in front of her friends and crush Matthew Begley, and Tracy ordered Steve to buy his daughter a new phone so that incidents of the same nature wouldn't arise again.
As Amy got older, she bickered with Steve more and more. In 2019, they went along with Emma Brooker's idea of taking turns to select an activity to do together in order to bond. Amy used it to fleece Steve when it came to her turn, choosing a Little Mix concert at £70 a ticket, even though it meant enduring a Weatherfield County football match first.
Ken and Deirdre Barlow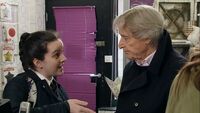 Amy's maternal grandparents, Ken and Deirdre Barlow loved Amy dearly. In 2004, Ken was the one who persuaded Roy Cropper to give Tracy her baby back after the Croppers paid her £25,000 to adopt "Roy's" daughter, his diplomatic approach having more impact than Tracy's all-guns-blazing method.
As Tracy couldn't support herself and Amy, the pair lived with Ken and Deirdre for long periods in the late 2000s and early 2010s. Amy often felt that she came second in her grandparents' affections after Simon Barlow as so much of their time was taken up with Peter and Carla's dramas. In 2015, when Deirdre passed away, she left her £80k life insurance policy in trust for Amy and Simon until they were eighteen, showing how much her grandchildren meant to her.
As a former schoolteacher, Ken was best positioned to help Amy academically, and in 2015 it was with his encouragement that she took up the violin, and he gave Amy her first lesson on the instrument. Later that year, Amy took Ken's new partner Nessa Warner to one side and told her that if she hurt Ken, she wouldn't be held responsible for her actions.
In 2017, Amy conned money out of Ken by pretending that she needed it to buy a new violin for her upcoming recital. Amy was really giving the cash to Adam, who had been disowned by Ken for selling a package of drugs to notorious crime lord Ronan Truman. On the night of her recital Amy was able to sneak away from the concert in order to meet up with Adam. During the time of her disappearance, a mystery intruder left Ken seriously injured after hitting him on the head with an object and pushing him down the stairs of his own home. Amy later got Adam into trouble with the police by telling them that Adam's fingerprints would be on the new worktop which had been fitted on the night of the attack, but she was left flustered when they asked for the source of her information. Tracy, now believing that her daughter was the mystery assailant, formulated a plan to prevent Amy from going to prison by taking her on the run in the Peak District. When the police caught up with them, Tracy falsely admitted to having attacked Ken, in order to spare her daughter. Amy was troubled that anyone could have considered her a suspect in the attack on her grandad.
Liz and Jim McDonald
Amy's paternal grandmother Liz was the first McDonald to embrace Amy as a member of her family. Liz made her peace with Tracy before the christening in order to see her granddaughter, and Tracy returned the favour by giving Amy the middle name 'Katherine' - after Liz's daughter Katie McDonald who was born prematurely in 1992 and died after one day.
As Amy was Liz's only grandchild until 2017, she was heavily pampered. Liz attempted to pass on her unique sense of style to Amy, gluing sequins onto the girl's nails and then giving her a makeover in 2007, which led Michelle Connor to dryly observe that Amy looked ready for clown school. Later that year, Amy was a flower girl at Liz and Vernon Tomlin's wedding.
Liz was one of the few people who had never let Amy down and as the most open-minded member of the family, she was the one Amy turned to when she fell pregnant at fourteen in 2019. Four years before that, Amy met her first boyfriend Sam Trenton during a music lesson at which Liz fell for the boy's father, Chris. When Chris mistakenly thought that Liz was Amy's mum, Amy agreed to keep up the pretence in exchange for money and a new dress.
Liz's husband Jim was in prison for manslaughter when Amy was born. Steve took Amy to meet her grandad when he was released in 2007, but he did not make much of an impression the girl on that or any of his subsequent visits. Once he was imprisoned again for holding up a building society in 2011, Amy was just a means for Jim to re-kindle his relationship with Liz. In 2014, while trying to build bridges with his estranged family he sent a visiting order to Amy, the first time he had ever done so. Amy wanted to go, but as Jim had supplied the booze that nearly killed Peter, who was interred at the same prison, Tracy barred Steve from taking her.
Roy and Hayley Cropper
Roy and Hayley Cropper, a local eccentric couple, were Amy's first parents due to Tracy lying about the identity of her baby's father. The summer before Amy was born, Tracy had drugged Roy and lured him to bed in order to prove to Bev Unwin that she could have any man she wanted. Her actions nearly caused Roy to end his own life, but after a brief split Hayley returned to him and they accepted Tracy's proposition that they buy her and Roy's daughter for £25,000. The Croppers' joy at being parents was exacerbated by the fact that they couldn't have children of their own, due to Hayley being born a man.
In the end, Roy and Hayley had only eleven days with 'Patience' before Roy, now knowing that he wasn't the girl's father, gave the child back to her mother. Even then, the Croppers were not ready to give up as they felt that they would be better parents than Tracy. On the advice of their solicitor Dean Pomfrey, they dropped their case for custody, but some in Tracy's family were appalled at the way she had treated the Croppers and Ken persuaded her to make the couple Amy's godparents. After Tracy repaid the Croppers all but £8,000 of the money she extorted from them, Roy offered to write off the rest of the debt in exchange for occasional access to Amy, and Tracy agreed - though they were far down in the list of babysitters Tracy would turn to and in actuality they spent very little time with the child. Hayley went on to make Amy's christening gown and at the service Roy read a poem by Philip Larkin, Born Yesterday.
In 2020, when Amy turned sixteen, Roy handed her a birthday card written by Hayley before her death from cancer six years previously, showing that Amy was still important to her after all those years.
Michelle Connor
Michelle was Steve's fourth wife and Amy's stepmother. They first got together in 2007. Early on, Michelle's obsession with her true son Alex Neeson - recently discovered to have been swapped at birth with Ryan Connor, the boy she'd raised - had a damaging effect on her relationship with Steve as well as her efforts to be a mother to Amy. In 2008, Michelle missed Amy's birthday party after running to Alex, resulting in the cake not getting there in time. Later, Amy went missing while in Alex's care, causing a panic in the McDonald household until the girl was found with Norris Cole.
In 2012, Steve got back with Michelle, disappointing Amy at the time as he had looked set to reconcile with Tracy following her collapse from a kidney infection.
Amy and Michelle never formed a lasting bond but Amy considered her a good partner for Steve, and would chide her dad when he took her for granted. Michelle learned not to underestimate Amy either; when in 2016 Amy found out that Michelle was seeing her old boyfriend Will Chatterton behind Steve's back, she used it to blackmail her into letting her stay at the Rovers. Michelle backed out before her affair with Will got serious, but Steve had already found out from Saskia Larson that they'd been carrying on and dumped Michelle. Amy later played a part in getting the pair back together, acting as a go-between along with Maria Connor to make sure that Steve was there waiting for her when Michelle left Maria's with her bags.
The news later that year that Michelle was pregnant was greeted enthusiastically by Amy, who had always wanted a younger sibling. Amy subsequently found Michelle's browser open on abortion information when she went on her tablet to make up a classical music playlist for Ken, and confronted her stepmum. Michelle told her that Jim had Myotonic Dystrophy, a hereditary disease - at the time, Steve had not yet confirmed that the affliction hadn't been passed onto him. Once he was given the all-clear, Michelle went ahead with the pregnancy. Amy's younger brother Ruairi was stillborn 23 weeks into the pregnancy in January 2017. Amy was told the news a few days later and she printed a poem off the internet for Michelle. Steve and Michelle's marriage only lasted a few more weeks, as Michelle finished with Steve after discovering his one-night-stand with Leanne Battersby which had resulted in a son, Oliver.
Becky McDonald
Steve's third wife, Becky Granger became Amy's stepmother in 2009. Her rough background and record of petty crime meant that some people, mainly Liz, did not consider her a suitable role model for Amy.
Apart from her other failings, Becky didn't have any experience with children. When Joshua Peacock started swearing, Claire accused Amy of teaching him words she'd heard Becky use. This was confirmed when Amy, on stage in the Cinderella 2009 Christmas panto and about to sing a song, froze and came out with a choice word instead.
Steve was desperate to give Amy a little brother or sister and slowly convinced Becky to start trying for a child. After two miscarriages, they applied to adopt instead. Around this time, Amy's great-grandmother Blanche Hunt passed away, and Becky explained to Blanche's death in a loving and caring way which made Amy feel better. On the day of Blanche's funeral, Becky cheered Amy up by telling her that she would adopt her and change her name to McDonald so that they would all be one family. This led directly to a bust-up with Tracy at the graveyard, and the McDonalds' adoption plans gradually fell apart. Becky had to tell Amy that she wouldn't be getting an older sibling, having got her hopes up.
In 2011, at the height of their battle with a now-freed Tracy, Becky hatched a plan to run away with Steve, Amy and Max Turner. As he missed Amy so much, Steve let himself be talked into it and conned his daughter into retrieving her passport from No.1 by playing a game of pairs. Before they made their getaway, they were caught by Liz and the idea went no further. Steve and Becky split up not long afterwards when Steve betrayed his wife in order to break the deadlock between them and Tracy, allowing him to see Amy again.
Simon Barlow
Simon Barlow was Amy's cousin, the son of Tracy's adoptive brother Peter. They grew up in close proximity, ever since Peter returned to Weatherfield in 2008. For most of that time, Simon was in the care of Peter's wife (later ex-wife) Leanne Battersby in Victoria Street. Although Simon was only a year older than Amy, they didn't play together much and weren't friends as teenagers.
In August 2014, Amy had begun to grow bitter over Simon getting constant attention after Peter was wrongfully arrested for murdering Tina McIntyre. Whilst being babysat by Maddie Heath and Sophie Webster, Amy grew annoyed at their pandering to Simon and went out with the family dog Eccles to Barlow's Buys to tell her mother that Maddie had threatened to slap her. A few weeks later, in another cry for attention Amy claimed that Eccles had bit her. Eccles was later snatched by Maddie and Sophie after Simon was worried that Tracy was going to have her put down.
The following year, Simon showed signs of going off the rails, skipping school and becoming physically abusive towards Leanne. When Amy found Simon hiding out in her wardrobe, she took advantage of the situation by charging him for food before glibly announcing to the adults that he was in her room. A few months later, while staying at No.1 Simon struggled to control his temper around Amy as she practiced on her violin. When he threw her homework off the table, Amy went to call Tracy causing Simon to grab her. Leanne, who had suffered in silence so far, finally told the Barlows about the abuse Simon had subjected her to. Amy accepted Simon's forced apology for scaring her, even though Tracy didn't.
In 2019, when Amy fell pregnant Simon was suspected of being the father by Tracy and Steve. Amy confided in Simon that the real dad was Tyler Jefferies, a 17-year-old ex-convict with whom Simon used to hang about. Despite family pressure to name the baby's father, Simon refused to do so out of loyalty to Amy - and Tyler's threat to kick his head in. Once the truth had come out, Simon played no further part in the drama.
Emma Brooker
Emma Brooker was a bubbly twenty-year-old hairdresser at Audrey's salon. When her stepdad John Brooker passed away in 2019, Steve came to suspect that he was her biological father due to her mother being Fiona Middleton, an ex-girlfriend of his from the period when Emma would have been conceived. A DNA test confirmed this to be the case and Amy found out she had an older half-sibling shortly thereafter when she witnessed Tracy chase Steve out of Preston's Petals, having just been put in the picture.
The revelation of Emma's parentage was difficult for all concerned to swallow, not least Emma who struggled with her sense of identity and decided to leave Weatherfield for Liverpool. While Steve was content to let Emma go, Amy dragged Tracy and Emma's friends to the station to intercept her and convince her to stay.
Over the following months, Amy got to know her big sister. She particularly loved it when Emma moved into the flat for a while to recuperate after an operation to remove her appendix. When the time came for Emma to move back in with Maria, Amy feigned a twisted ankle so that Emma would stay and look after her. She was forced to come clean when Emma pointed out that she wouldn't be able to go to the Little Mix concert they were meant to attend together. The following month, Amy told another white lie when she said to Alina Pop that Emma was engaged to Seb Franklin in order to quash Alina's ideas about re-kindling her relationship with Seb, who was now with Emma.
Asha Alahan
Asha Alahan was a neighbour and schoolfriend of Amy's at Weatherfield High. Before they became friends, Amy was occasionally nasty towards Asha, such as in June 2013 when Amy bullied her over her late mother Sunita Alahan starting the fire at the Rovers Return.
More often, Amy and Asha were partners in crime. In October 2017, the girls went to war with Brian Packham after they were made to write him a letter of apology for knocking his coffee over him. Amy put a beer stock cube in the shower head at 1 Coronation Street after finding out that Brian was washing there, causing him to smell bad. Next the girls put blue in in the window-wash reservoir of Roy Cropper's woody, blinding Brian and Cathy Matthews when they switched the windscreen wipers on. Brian and Cathy had the last laugh when Amy and Asha were made to put on a private Boney M show for them to say sorry.
In May 2019, Asha developed a crush on a lad at school called Corey Brent and Amy arranged to meet him so that she could matchmake. However, Corey only had eyes for Amy and was oblivious to Asha's attentions. The incident made Asha feel ugly and while on a trip to India a few weeks later, she began using creams to lighten her skin pigmentation. Asha's family and friends didn't know what was going on, but Amy had noticed that she was beginning to isolate herself and put her name down for the school's Bugsy Malone auditions without her consent in order to bring her out of her shell. When Amy spotted a blood patch on Asha's sleeve, she feared that her friend was self-harming leading Asha to confide the truth in her. Asha agreed to give it up to stop Amy from telling Dev.
Summer Spellman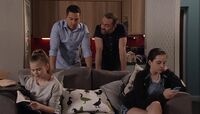 Summer Spellman was a young girl who moved to the area in 2017 when Billy Mayhew and Todd Grimshaw became her legal guardians. As she was in Amy's age group, Tracy brought her daughter round to the flower shop flat to give Summer a friend. The pair didn't get on, as Summer was a quiet and thoughtful girl who found Amy shallow, while Amy found Summer uptight. Summer ended up hitting Amy when she dissed her late adoptive father Drew Spellman.
Amy and Summer were able to move past this and become friends, although Summer was always an outlier in the group. In September 2017, Summer did homemade highlights for Amy which caused her hair to turn orange. A month later, Amy and Asha amused themselves by daring Summer to spray a penis in shaving foam onto a teacher's car. Later, the dares became more serious as Summer was told to smoke a strange looking cigarette Simon had found. The cigarette turned out to contain the drug spice and Summer collapsed. Amy and Simon found her in the ginnel and were able to get her some help but the pair along with Asha and Aadi Alahan were punished for putting Summer up to it.
In 2018, Amy agreed to help Summer track Billy down after he had went AWOL. Their attempts to find Billy proved futile and the girls were almost abducted by a man who had pretended to have information about Billy's whereabouts. Luckily, the pair were found by Peter, who was able to scare the man away before he could cause any harm.
Hobbies and interests
In her Bessie Street School days, Amy played the recorder. She upgraded to a violin in 2015 after Ken Barlow got her interested in taking up a musical instrument professionally, playing on a kit Ken won on eBay for her. Amy had lessons from a qualified teacher and practised at home, giving Norris Cole from No.3 cause to complain (over both the noise level and the quality). This paved the way for public performances, from large audiences (when Emily Bishop arranged for Amy to play at the church hall in December 2015) to small (fiddling for Steve McDonald and Michelle Connor during a romantic meal in May 2016).
Whether Amy had any discernible talent on the instrument, however, was open to debate. In 2019, when their new neighbours the Baileys started a noise war with the Barlows, Amy hit back by giving Claudia Colby violin "lessons" - enough that the Baileys admitted defeat.
In terms of physical activities, Amy won a race at the Bessie Street School sports day, and in 2012 she had soccer school at the Red Rec. She liked to dance, but when the school talent show came around in June 2014 she came second-last out of the seven contestants. On the stage, in 2009 she was meant to sing a song in the Rovers Christmas panto but got stage fright and forgot the words. More successfully, she narrated the nativity play at Weatherfield Community Hall in 2011 and played Fat Sam in Weatherfield High's production of Bugsy Malone in 2019.
Amy has shown the occasional interest in history. In July 2014, she expressed an interest in taking Albert Tatlock's Military Medal into school and the heirloom was later bequeathed to her in Ken's will. Earlier that year, Amy had dragged Steve and Tracy to Victorian Day at the Museum of Science and Industry and pulled a fast one by telling them that they had to dress up in Victorian regalia.
Background information
Amys one through seven
Amy was born on 9th February 2004 with babies Holly Bowyer and Rebecca Pike jointly playing the role. A third baby, Amber Chadwick, also appeared briefly in that month for three episodes. Bowyer departed at the end of March 2004, while Pike continued as Amy until June 2005.
Louisa Morris took over the part in the same month as Pike's departure. She would play Amy for three months until September 2005, although on 29th August and 7th September the role was instead played by Rachel and Sarah Corker.
Morris was replaced by Madison Hampson in late September. Hampson played the role until March 2006. Later that month it was reported in the news that her parents had taken her out of the part because they believed she was finding it "too harrowing", however Coronation Street bosses denied the claims, insisting that they followed "very strict guidelines" regarding child welfare and that Hampson was instead taken out because it was common for young child actors to be replaced [1].
Following Hampson's withdrawal, Amber Chadwick made a return to the role, becoming a regular cast member for the first time. She took over in late March 2006 and played Amy for four years until April 2010. Although Kate Ford who played Amy's mother Tracy left the show in 2007, Amy remained on the show in the care of her father Steve McDonald while Tracy was imprisoned. Shortly before Chadwick's final appearance, it was reported that Amy was to be recast as producers wanted an older and more capable actress to play the role in time for Tracy's return [2]. It was also revealed that producers had been planning to replace Chadwick for a while, but her parents had persuaded them not to [3].
Elle Mulvaney
Elle Mulvaney, a student of the Carol Godby Theatre Workshop, was announced to be the next actress to play Amy. Mulvaney was cast in March 2010 after believing she'd blown it at the audition, as she told Inside Soap: "I remember doing the audition and worrying that the other person was going to get the part. My cardigan was buttoned up wrong, and I had beans down my top. I even said my line wrong!" [4]. Mulvaney was seven years old when cast, playing six-year-old Amy. With her casting, Amy became the most recast character, with eight actresses playing the role. Her first storyline in the part was the death of Amy's great-grandmother Blanche Hunt.
Mulvaney has remained in the part until the present day, seeing Amy through to adulthood. In the 2010s, she developed into a character who spoke her mind, not unlike her mother Tracy. Mulvaney: "I think people can see how Amy has grown up to be like her mum. She can be quite nasty when she wants to be, but I love that she has a bit of spice to her." [5].
Amy was given her first major storyline in 2019 when she fell pregnant at 14. At the point of filming, Elle Mulvaney had just turned 16 and was able to work longer hours on the programme. According to producer Iain MacLeod, the story was as much about how Tracy and Steve dealt with the pregnancy, saying in an interview: "It becomes about family and Steve and Tracy's relationship – it forces them to instantly grow up and be parents for the first time in history." It was also a watershed moment for Amy: "It's really good – it gives a leading role to Elle Mulvaney, who deserves the chance to step up and do something a bit more grown up." [6].
Elle has been the most successful actress to play Amy, being nominated for "Best Young Actor" in the Inside Soap Awards three years' running. Mulvaney subsequently won the award for "Best Young Performance" at the British Soap Awards in 2017 and was nominated again in 2019.
First and last lines
"Mama!" (First line, to mum Tracy)
Appendices
List of addresses
See also