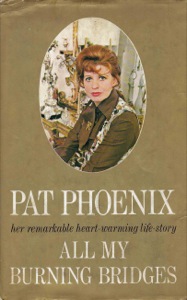 All My Burning Bridges is the first volume of Patricia Phoenix's autobiography, published by Arlington Books in 1974.
Within the narrative, Phoenix documents her Manchester birth and upbringing, her bigamist father, Tom Manfield and realisation of her illegitimate birth, followed by her difficult relationship with her step-father, Richard Pilkington. Her struggling time in repertory theatre and her first marriage to Peter Marsh are followed by several chapters in which she tells of her huge success as Elsie Tanner, including her famous trip to Australia in 1966 with Arthur Leslie and Doris Speed. The book's final chapters deal with meeting second husband Alan Browning and their wedding in December 1972. Yet-to-be third husband Anthony Booth gains a small mention with an anecdote from their time together on stage in the 1950s in the play A Girl Called Sadie.
Phoenix is honest up to a point in documenting the various sides of her character, both good and bad, but the latter side is excused as part of being a Sagittarian by birth-sign and that her temper was misunderstood. She speaks fondly of all of her fellow Coronation Street cast members, admitting that she had a difficult relationship with Jean Alexander. Even here though she writes…
"Jean and I simply did not hit it off. This is not her fault but mine. We are poles apart. She is a quiet, reserved person and I, in my big, noisy, overflowing way, am an irritant to her."
…thus avoiding admitting the rudeness she exhibited to Ms Alexander which has been documented by, among others, Bill Podmore.
The book finishes with her departure from the programme in October 1973 and the stage career she enjoyed for the year between that event and publication. She admits that the fact she left the first time was because…
"I was bored. Bored out of my mind. Going to the studios every day, hour after hour of waiting around to say four lines, getting home at the end of the day exhausted. Not because I was working hard but because I wasn't. And worse than that I began to lose the ability to criticise my own performances."
A second volume Love, Curiosity, Freckles and Doubt, named, like the first, after a line of verse from Dorothy Parker, was published in 1983.
*Disclosure: Some of the links above are affiliate links, meaning, at no additional cost to you, Fandom will earn a commission if you click through and make a purchase. Community content is available under
CC-BY-SA
unless otherwise noted.