Alfred Sidney "Alf" Roberts O.B.E. was an Independent Councillor in Weatherfield, husband of Audrey Roberts and longtime proprietor of the Corner Shop in Coronation Street.
Although he began his working life as a member of the sorting office staff at the GPO, Alf's life changed drastically when his wife Phyllis died of cancer in September 1972 and when he was chosen as Mayor of Weatherfield for a one year term in 1973, at the time intended to be the final person to hold the position.
In March 1978, Alf married Corner Shop owner Renee Bradshaw, and the following year left the GPO to help Renee at the shop. In 1980, the Roberts sold the shop in preparation for a move, but when Renee was killed in a car accident, Alf held onto the shop and ran it himself, putting his heart and soul into the place. His proudest achievement was the conversion of the shop into a mini-market in 1985.
Later that year, he married hairdresser Audrey Potter. While they loved each other, Alf and Audrey often clashed over money. Alf was always satisfied with the cheaper options and horrified Audrey by buying 11 Coronation Street - a mere terraced house - against her wishes. In 1990, Alf was pushed into buying a semi in Grasmere Drive, which was much more to Audrey's tastes. One matter where Alf refused to budge however was the shop, which he bought again at auction in 1993, after selling it earlier in the year, as he loved it so much. He sold it for good in 1994.
Alf served as councillor for over 30 years and was on the committee at the Community Centre. After losing his seat to Deirdre Barlow in 1987 Alf suffered a heart attack - the first of several health problems which afflicted Alf later in his life. In 1994, he was chosen as Mayor again, and in 1995 his community and charity work was recognised with the OBE. He died on New Year's Day 1999 when he suffered a stroke while attending Audrey's grandson Nick Tilsley's birthday party.
Biography
Edit
1926-1963: The making of a Mayor
Edit
Alfred Sidney Roberts, generally known as "Alf", was born to Sidney and Eileen Roberts on 7th October 1926, a month prematurely. As a boy, Alf looked up to his older brother Malcolm, his only sibling, and followed a similar career path at the GPO where Malcolm was accounts clerk.
For most of the war, Alf was too young to sign up and the conflict was in its final months when Alf joined the 7th Cheshire regiment in May 1945, serving as the unit maintenance man. When he was demobbed, Alf returned to his old job at the post office.
Malcolm was now married to Phyllis Plant and Alf was a frequent caller at their home in Omdurman Street, putting his technical knowledge to good use by helping out with odd jobs. The Roberts lived in a house bought for them by Phyllis's wealthy father, and as Phyllis had two eligible sisters, Laura and Maude, Alf's parents ordered him to pick one to court in the hope that it would lead to an equally prosperous marriage. Beholden to his parents, Alf forced himself to visit his brother's house on Sunday evenings, when Phyllis had her sisters over to listen to light opera around her radiogram. After enduring it for a few weeks, Alf eventually made his move and arranged a date with Laura - the least unattractive sister - to see a play at the Alhambra theatre the following Saturday.
Alf and Laura's date never took place as, hours before they were due to meet, Alf was out driving his brother's new Lanchester car with Malcolm in the passenger seat when he swerved into the path of a lorry in order to avoid a child crossing the road. Alf suffered a broken arm while Malcolm, who had been on the impact side, died from his injuries. Alf struggled to live with the guilt of sacrificing his brother to save the child and, out of a sense of duty to Malcolm, saw that Phyllis wanted for nothing. Months later, with Alf still making the effort for Phyllis, Sidney suggested that he marry her. Alf felt nothing for Phyllis romantically but felt morally obliged to offer her his hand in marriage. In 1950, one year after Malcolm's death, the couple were married and Alf moved into the Omdurman Street house.
Alf and Phyllis's marriage had begun on a loveless note and never grew into something more, but to renege on his wedding vows would have been considered by Alf as a betrayal of his brother and so he stuck by her. An honest and genial man, Alf was faithful to Phyllis, although they never had children and Alf never brought her along on social occasions, preferring the company of his colleagues from the sorting room at the GPO such as Frank Barlow, with whom he'd served in the signals. Through Frank, Alf became friendly with the Barlow clan of 3 Coronation Street and a regular at the Rovers Return, becoming enough of a fixture behind the bar to go along to the Rovers' coach trip to Blackpool for the illuminations in 1961 and the darts picnic in 1963. After Frank moved to Cheshire in 1964, Alf was seen less in the Coronation Street area.
1963-1972: Alf does his duty
Edit
In 1967, Alf successfully stood in the local council elections as an Independent and was elected councillor. Despite this appointment, Alf showed little passion for public service, having neither the stomach nor the inclination to fight the good fight. Nevertheless, his honesty, respectability and stainless record allowed him to forge a long and successful career.
In March, Alf crossed paths with the residents of Coronation Street again when he voted to block a student meeting at the Town Hall opposing the Vietnam War, which resulted in Ken Barlow pushing it through without police permission and attending the meeting himself. The protesters were reported to the police, leading to Ken being charged and spending a week in jail.
Alf became a permanent fixture in the area in 1971 when he was placed on the committee of Coronation Street's new Community Centre, built in the spot formerly occupied by the maisonettes alongside Mark Brittain's mail-order warehouse. The residents of Coronation Street were under the impression that the council was building flats but word got out about the centre when Alf blabbed to Ena Sharples, and the warehouse became common knowledge the moment that workman Fred Chapman let slip to Hilda Ogden, leading to Alf and fellow councillor Len Fairclough having to deal with a protest from the unhappy residents.
Upon her return, Ena secured Alf's backing for the position of Community Centre caretaker by threatening to tell his superiors that he'd let the cat out of the bag, but not only was Alf's vote not enough to get her the job, but Alf lost a coin toss with fellow committee member Ernest Bishop over who had to tell Ena. Ena was not beaten and, after getting it out of Alf that Hetty Thorpe had been offered the job, invited Hetty to tea and proceeded to scare her into turning down the role by making out that the area was rough and full of vandals. Having installed Ena in the Community Centre flat, Alf knew that he had to show her who was boss and so, during their next skirmish over an upcoming flower show which Ena tried to cancel on account of her "hayfever", Alf called her bluff by pretending that the council had arranged for her to see a specialist, winning one of his few victories against the pensioner.
Alf became friends with Corner Shop owner Maggie Clegg when he painted her ceiling for her and took her out to the pictures in August 1971. Alf came to care deeply about Maggie but the fact that he was married made him and Maggie wary about seeing too much of each other and so for a while friendly chats over the shop counter were as far as their relationship went.
In 1972, Phyllis became ill with cancer and in August of that year she was taken into Weatherfield General. After a week, she fell into a coma and on 18th September she passed away. Upon learning of his wife's death, Alf's first thought was to tell Maggie but instead he went over to 9 Coronation Street looking for Len, leading to a breakdown in front of Jerry Booth. Alf's grief was exacerbated by guilt over his feelings for Maggie, leading him to avoid her and keep Phyllis's funeral low-key. Maggie, who believed that they'd done nothing to be ashamed of, was angry at the way had Alf treated her and refused to have a collection box in the shop.
1972-1975: Going up in the world
Edit
Towards the end of 1972, Mayor of Weatherfield Harold Chapman and Alderman Charlie Rogers agreed to select an Independent as the next Mayor - the last of the borough - in order to avoid an argument over which party deserved the honour. The men decided that it would be either Alf or Len, with Rogers favouring Alf due to him being a union man. Alf gained an early advantage over Len when Len's girlfriend Rita Littlewood got into a fight on the opening night of The Capricorn club and ended up on Chapman's lap. Len dumped Rita in an attempt to regain his standing with Chapman, but it wasn't enough and in January, the council voted in favour of Alf.
Len graciously agreed to be Alf's Deputy Mayor but Alf's choice of lady Mayoress, Maggie, turned him down after spending weeks deliberating on the subject. As he'd been expecting her to accept, Alf hadn't considered anyone else and was forced to offer the position to Annie Walker, Rovers landlady, socialite and local snob who'd been dropping hints ever since Alf was declared.
In February, before taking office, Alf was giving barmaid Bet Lynch a lift home when he got lost and used a private driveway to turn around. The elderly owner, Mrs. Leach, walked into his bumper while looking for her cat. No harm came to her but her son, Norman Leach, demanded £200 compensation for her "injuries", securing Alf's compliance by threatening to tell the newspapers what the Mayor-elect had been up to. Bet managed to turn the tables on Norman by threatening to report him to the police for blackmail unless he returned the cheque, correctly guessing that he had a criminal record and had more to lose from the police being involved than Alf.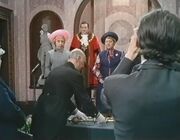 In May, Alf and Annie were installed as Mayor and Mayoress. Their first engagement was opening a jumble sale at St. Mary's Church Hall. A couple of months later, Alf's office was threatened when Norman Leach was implicated in the mugging of Bet Lynch. Alf told the police about the blackmail to get Leach put away, but the police wouldn't charge him as the courts would see the demand for money as an offer to settle out of court. Living in fear of Leach being found not guilty of assault and going to the papers, Alf decided to resign as Mayor, but on his day in court, Leach changed his plea to guilty and was sentenced to seven years in jail. The news reached Alf at the Town Hall just in time.
Once the Leach "scandal" blew over, Alf and Annie settled into their roles and their year in office was free of further controversy. They bowed out on 1st April 1974. The following month, Alf worked at the Corner Shop for the first time when Maggie took up his offer to be her stopgap assistant. He surprised Maggie by taking the job seriously, although Annie commented that he didn't have a natural aptitude for shop work.
In June, Alf suddenly asked Maggie to marry him. Unfortunately for Alf, Maggie had met up with an old flame, Ron Cooke, that same day and when Ron heard about Alf's proposal he made the same request of Maggie, and it was the latter offer that Maggie took up. As Ron was due to start a new job in Zaire, Maggie moved there with him. She and Alf never said goodbye to each other, with Alf spending Maggie's wedding day drowning his sorrows in the Rovers.
Although he held a public position, Alf was lonely in his private life and bemoaned the fact that his long marriage had left him with little experience of women. In July 1975, he was asked by GPO canteen worker Donna Parker to retrieve a letter that she regretted posting. The letter in question was addressed to her lover's wife, telling her of their affair. Alf turned her down rather than break the law, but Donna nevertheless became attached to him and when her boyfriend threw her out of the flat he'd bought her, she turned up at Alf's door. Flattered by the young woman's attention, Alf made a special effort to please her, making his home and himself available to her for as long as she needed to get back on her feet. He became infatuated with Donna, sharing a bed with her and loaning her £500 from his savings to enable her to start a hairdressing business. Donna then did a runner with the money, though Alf decided not to press charges against her, believing that the incident had taught him a lesson. A while later, Donna got back in touch and repaid the £500, with a diamond watch thrown in as a thank you, re-affirming Alf's faith in human nature.
1976-1980: Alf finds his calling
Edit
By 1976, Alf was running the sorting room at the GPO. His job at the post office was unrewarding and he occasionally thought about packing it in; when a lad he trained was promoted over him, Alf wrote a letter of resignation but changed his mind before sending it.
That Spring, Renee Bradshaw bought the Corner Shop. Renee was an unmarried woman of a similar nature to Maggie Clegg, and Alf soon took a shine to her. In October, Alf put up some shelves for her in the shop, leading to dates to the cinema and the countryside. Alf even gave up his bowler hat when Renee told him that it made him look old. As they were both free agents, Alf took it for granted that love would blossom, although Renee insisted on taking things slowly. When Alf made a drunken proposal to Renee, which an equally tipsy Renee accepted, Alf started telling people they were engaged and was forced to backtrack when when it became clear that it had been the drink talking.
In February 1978, a few more months of courting behind them, Alf again asked Renee to marry him. He was sober this time, but the proposal was no less clumsy than the first; making no mention of his feelings towards Renee, Alf instead listed reasons why getting wed made sense financially. Renee wanted to marry Alf but due to the unromantic proposal she turned him down. Alf didn't know what he'd done wrong until Len, whose wife Rita had conferred with Renee, gave him a pep talk, encouraging him to make Renee feel special and not like a convenience. Alf tried again and this time Renee said yes. The ceremony took place at Weatherfield Register Office on 20th March, with Len as best man and Len and Bet as witnesses. The service went without a hitch but there was drama later at the reception, which was held in the Rovers' Select; having put up with Renee's stepfather Joe Hibbert's offensive comments all day, when Joe insulted Renee's appearance Alf hit the man sending him crashing to the floor.
The Roberts spent their honeymoon in Capri. Upon their return, Alf moved out of the Omdurman Street house and into the shop's accommodation.
In March 1979, Alf's thoughts again turned to leaving the GPO, a more tempting prospect now that he had the option of early retirement and working at the shop full-time. Alf became set on the idea, but Renee thought they'd get on each other's nerves and accused him of marrying her for the shop. Shortly after the row, a lorry crashed into the Rovers while Alf was drinking there, knocking him out and leaving him lying under a load of timber. Alf suffered a fractured skull and was comatose for three days, but seemed to be back to his old self when he woke up. Alf's last memory was his argument with Renee but, realising that he could easily have died in the crash, the Roberts called a truce, with Alf going back to the GPO.
Alf regained his strength within days but the effects of his head injury didn't surface until later. These took the form of angry outbursts, usually about something very minor, which Alf would subsequently brush under the carpet. Annie was the recipient of his first frenzy, when Alf yelled at her over her high-and-mighty attitude. Later, he let rip at his boss Frank Roper, calling him the biggest skiver at the GPO after Frank joked that Alf was only pretending to be ill to get time off. However, Alf insisted that he'd wanted to say those things for years and it was only when he targetted Renee, causing her to become so frightened that she threatened to leave him, that he agreed to see a doctor. Dr. Patel referred Alf to a psychiatrist, and subsequently a neurologist, who gave him a brain scan and an electro-encephalograph. When the results came back clear, a fighting fit Alf celebrated the news by taking Renee to Benidorm. In July, Alf settled on £800 compensation for his crash injuries - what seemed a reasonable sum until Alf learned that Betty Turpin had got £300 just for a cut on the head.
Once the dust settled, Alf went ahead and the left the GPO, ignoring his wife's wishes. As an Assistant Inspector, Alf was able to medically retire with a lump sum of £6,000 and £2,000 a year pension. At the Corner Shop, Alf found his true calling, and it became the biggest love of his life above any of his wives. Renee didn't oppose Alf this time, and they got on perfectly well behind the counter even when an over-enthusiastic Alf reorganised the products on the shelves without her permission - when Alf forgot where he put everything, he learned his lesson without the need for a row.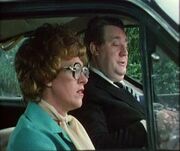 In June 1980, Renee became set on moving to the countryside and twisted her husband's arm by suggesting that they buy a shop and run a sub-post office. Alf lined up a buyer for the Coronation Street shop and when the Roberts got the news that they'd been granted the sub-post office they went out to celebrate, eating at a country pub. As Alf had been drinking, Renee drove the car home; although she was still taking lessons, she felt confident enough to handle the trip. En route, Renee stalled the car while passing through a set of roadworks, causing an impatient Alf to get out of the car to switch places. Seconds later, a lorry came speeding towards the car from the opposite direction, hitting it head-on. Renee was rushed to hospital in an ambulance but died in the theatre without regaining consciousness.
Alf blamed himself for his wife's accident, and accepted her grieving mother Daisy Hibbert's charge of killing her daughter by instructing her behind the wheel with a drink in him, even though a blood test had come back negative. After Renee's death, Alf stayed on in Coronation Street and ran the shop with Deirdre Langton as his assistant.
1980-1985: The neighbourhood grocer
Edit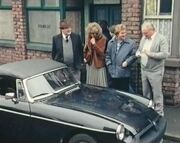 In September 1981, Alf asked Gail Tilsley's flighty mother Audrey Potter to run the shop for him while he was on holiday in Scarborough. As she'd nothing else to do, Audrey said yes, but even the irregular hours she put in were more than she could stick and by the time Alf came home she was spending much of her time running a hair salon in the back room. Surprisingly, Alf was impressed by her initiative and let her carry on with the venture. The company of a youthful and carefree woman like Audrey was a refreshing change for Alf, and as she'd recently been dumped by Tony Ditchburn, Audrey was looking for a new man and Alf with his burgeoning wallet was the ideal candidate. Alf neglected his friends, and the shop, in order to be at Audrey's beck and call, fearing that she'd go out with somebody else if he refused. He also let her talk him into buying a black MG sports car, setting tongues wagging. In November, he asked Audrey to marry him, but Audrey refused, having been forewarned of the proposal by Elsie Tanner. Audrey told Alf that she didn't want to be tied down and then resigned from the shop and returned to Tony.
Alf was a conscientious businessman as well as a shopkeeper, and often thought about expanding the shop. In October 1982, Annie set him up with wealthy widow Joyce Lomax, who got him interested in a partnership, joining her chain of convenience stores. Alf had yet to make up his mind and when Joyce pushed him to decide by making an appointment with a solicitor, Alf decided that he didn't want her as a partner and called off the deal.
In May 1984, Alf was re-elected as councillor. Two months later, he successfully swayed the Town Hall's planning committee into rejecting a proposal for a new shopping plaza. However, the plaza's supporters accused him of bias because of the shop and when Deirdre confided in Ken Barlow, editor of the Weatherfield Recorder, Ken's secretary Sally Waterman of the wrote an article shaming him for putting his own interests before his constituents'. To protect the paper from a libel case, Ken refused to print it, but the story still got out as Sally tipped off the Gazette. Fortunately, there wasn't much reaction from the community at large and Alf survived with his reputation intact.
The following Summer, Alf had plans drawn up to make the shop self-service and expand into No.13, buying the property from Hilda Ogden and knocking through. Les Pringle gave him a quote for the building work and Hilda was offered above the market value for her house. Hilda agreed to sell for £14,000 but Alf sensed that something wasn't right and learned from Bet that No.13's roof was sagging. Hilda made a guilty confession that she was selling him the house to get out of paying £2,000 in repairs. Inspecting the roof himself, Alf found that there was nothing wrong with it and realised that Les had made it up to con Hilda. Alf immediately sacked Les and adapted his modernisation plan to extend into the shop's accommodation area instead.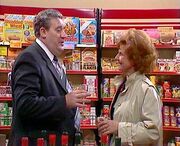 The grand opening of "Alf's Mini-Market" took place on 9th September. The ribbon was to have been cut by Miss Weatherfield, but when Alf was let down, Miss Weatherfield 1957 aka Bet was drafted in to do the honours. Alf was immensely proud of his achievement and the celebration went on all day, with much alcohol consumed. His last customer of the day was Rita, who came in to see the new-look shop for the first time. As his best friend's widow, Alf had looked out for Rita since Len's death in 1983 and had grown very fond of her. Met with a tipsy Alf, Rita was stunned when he asked her to marry him. Rita also cared for Alf but only in a non-romantic sense. When he proposed again - sober this time - in the Rovers, she walked out on him. Alf then got the message.
A few weeks later, Audrey returned to the area, again smarting from a recent break-up. She and Alf picked up where they left off four years earlier. Alf still wanted to marry Audrey but, remembering how their relationship ended before, he was careful not to rush things. Audrey, meanwhile, older and wiser, was ready to settle down and waited for him to pop the question. In early December, Audrey had a bump in Alf's car when she borrowed it to meet a girlfriend. She dreaded telling Alf and when she did, his anger caused her to burst into tears, resulting in Alf comforting her with kisses - and a proposal. Unlikely couple Alf and Audrey were married at the registry office two weeks later on 23rd December, with Mike Baldwin as Alf's best man and Paris as their honeymoon destination. Alf was nursing a hangover when he said his vows; on his stag night the evening before, he'd got drunk and sat on Percy Sugden's prize Christmas pudding which Sam Tindall had just won in a raffle.
1986-1990: The richest corpse in the cemetery
Edit
Since the modernisation, Alf had been living in the shop flat and so finding the Roberts a proper home was a high priority of Audrey's now that they were married. In February 1986 she found her dream home in 11 Bolton Road, a detached house which would cost the couple £42,000. Mortified, without telling his wife Alf bought a house in a more reasonable price bracket - 11 Coronation Street, two doors away from the shop.
The house move had made Audrey realise what kind of man she'd married and she often made cracks about his penny-pinching ways, while Alf fought constantly to limit his wife's spending. Audrey ran a salon in No.11's front parlour for a while and helped out at the shop when she was needed, but she could never stick being behind the counter for long and would abandon her post for the slightest reason, usually to meet up with Alma Sedgewick or to go shopping.
In March 1987, the Recorder attacked Alf again, accusing him and his fellow Independents of not being interested in their constituents, based on a complaint from a single voter, Mrs Tattersall. Shortly thereafter, the local Labour party invited Ken to contest the ward in the upcoming Council election. Ken agreed and Alf called a truce in exchange for a good, clean fight - which Ken then broke by printing a load of letters slamming Alf on the paper's letters page. Alf sent the paper a rebuttal and when that was edited down to a minimum by Ken, Alf contacted the Recorder's co-owner Bob Statham to inform him what Ken was doing, causing Deirdre - now married to Ken - to leave her job at the shop in anger. Statham then forced Ken to drop out of the election by threatening to kick him off the Recorder. Alf was stunned when Deirdre then decided to stand as an Independent, egged on by Ken.
Alf didn't think that Deirdre posed much of a challenge, as she'd no experience in politics, but the Gazette latched onto the fact that he'd once been her boss and after an interview with Radio Weatherfield the community started to get behind her. Meanwhile, until he hired Sally Webster to replace Deirdre at the shop late in the campaign Alf wasn't able to devote much time to canvassing. In May, Deirdre drew 811 votes to Alf's 804 and was elected Councillor.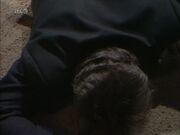 Alf was devastated to lose his seat and wanted time alone but Audrey dragged him to a celebratory party at the Rovers to show that they weren't bad losers. During the party, Alf felt ill and went home, where he suffered a heart attack. Fortunately, Audrey came back minutes later and, finding Alf gasping for breath, called an ambulance. At Weatherfield General, it was determined that Alf had only experienced a mild heart attack and would make a full recovery but Alf was ordered to change his lifestyle - a tall order for a self-employed rotund man of Alf's age. Nevertheless, Alf left the shop in Audrey's charge and gave the life of a retired man a try. After two weeks, he returned to the shop, having found retirement more stressful than working!
In October 1989, Mike moved into a flashy new apartment at Weatherfield Quays, and after a visit and chat with Mike's estate agent girlfriend Dawn Prescott Audrey set her heart on buying one of the dockland flats. Alf indulged his wife by putting No.11 on the market for £25,000, agreeing to sell only if the asking price was met. He was confident that nobody in their right mind would offer that amount for it, but a couple of days later Jim and Liz McDonald did just that. To placate Audrey, Alf agreed to buy a dockland flat, a gesture which pleased Audrey so much that she offered to meet him half-way and go for a semi instead.
The Roberts bought a house in Hillside Crescent and in early December they made their way to their new home ahead of the removal van, only to be informed at the doorstep by the house's current owner, the Ballantynes, that due to a hitch in the chain they couldn't move out. A few days later, the Ballantynes took their house off the market. As the McDonalds had already taken possession of No.11, the Roberts had to live in the shop flat for a while, making them the laughing stock of the street. Audrey's torment continued until February when Alf secured 5 Grasmere Drive for £3,000 less than the asking price.
1990-1994: A Councillor again
Edit
In December, Alf was made President of the Weatherfield Association of Retail Traders and Stockholders (WARTS). One of the members there was Vivian Barford, widow of Alf's old friend Desmond and as a favour to him Alf dropped Vivian off at her house after meetings. In March 1991, during one such ride in the car, Vivian persuaded Alf to stand in the upcoming Council elections. Alf hadn't planned to stand again out of concern for his health. To prove to Audrey that his heart could take it, he went for a full medical before he started campaigning and was given the all-clear.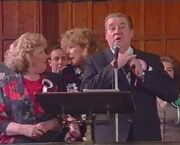 Alf hired Alec Gilroy as his campaign manager, the perfect man for a bitterly-fought battle between Alf and his main competitor, Deirdre. Alf began by attacking Deirdre's status as a twice divorced woman in his leaflets, only to have his efforts set back due to Jack Duckworth making a spelling mistake on the posters causing them to be printed with the slogan "Alf Roberts - The People's Fiend". When appearing on Radio Weatherfield's "Shop Talk" programme, ostensibly to talk about the retail trade, Alf took a call from Deirdre's friend Phil Jennings who, using a false name, asked him about his late-night deliveries to Nightingale Lane and Mrs Barford, suggesting to listeners that Alf had a bit on the side. Audrey was well aware of Alf and Vivian's friendship and trusted her husband but Alf worried that it would damage his reputation as a family man. On the day of the election, the Gazette ran a story with the headline "Councillor's husband threatens opponent" accompanied by a photograph of Alf and Ken pushing each other in the Rovers. Alf was re-elected with 1,515 votes although his moment of triumph was spoiled somewhat when Audrey and Vivian vied to stand next to him on stage, shoving each other aside, causing Audrey to walk out.
As he would be busy with Council matters from now on, Alf hired Ivy Brennan to work at the shop alongside Audrey. To Audrey's annoyance, Ivy persuaded Alf to stay open later and Audrey was put on the rota. Audrey issued an ultimatum to Alf - either Ivy went or she did. When Alf stood firm, Audrey carried out her threat and stayed at a five-star hotel to punish him. Alf tried to force his wife to come home by cancelling her credit card, but when she did return to him she found Vivian with Alf, who was in his dressing gown (in reality due to Vivian calling at the house when Alf was in the bath). Misconstruing the situation, Audrey dumped herself on Gail and family at 33 Hammond Road and announced her intention to begin divorce proceedings. However, when this caused Alf to collapse with nervous exhaustion, Audrey realised what a fool she'd been to think that he'd strayed and she returned to him. Fortunately, the Ivy situation had resolved itself as she'd gone to work at Bettabuy but Alf's recuperation lasted for several months and Audrey had to run the shop in that time.
Alf's health became an ongoing worry for the Roberts. When he collapsed from an ulcer at the WARTS Christmas dinner, Audrey put Alf on a diet and bought an exercise bike. In April 1993, Alf was saddened by the death of his friend Les Curry from a heart attack. Les was a fellow shopkeeper of advancing years, and afraid that he would go the same way Alf, now 67, decided to do the unthinkable - sell the shop and retire. The asking price for the business and flat was £73,000 although Alf accepted £68,000 firstly from Reg Holdsworth and then from Brendan Scott when Brendan set up his fellow ex-Bettabuy supremo by convincing him to go lower. On his last day in the shop, an emotional Alf took the bacon slicer home with him as a memento, and after Brendan changed the shop around Alf managed to rescue the "Mini-Market" sign from the binmen as an additional keepsake.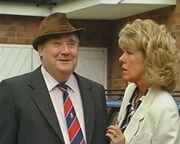 Now that they were no longer tied to the shop, Audrey felt that a change of scenery was in order and dragged Alf to Lytham St Annes to view a bungalow. Alf was surprisingly keen, and made an offer on the property which was accepted. While the Roberts waited for Grasmere Drive to sell, Alf geared himself up for the move and was particularly thrilled to find a golf club in St. Anne's which was full of retired grocers. The latter news exacerbated Audrey's growing doubts about St. Anne's and led her to decide to stay put in Weatherfield. To prove to Alf that she was serious about staying, Audrey found employment at a local dress shop, but when she was sacked for poor timekeeping after three weeks, in order to save face she offered to resign and move away with Alf after all. Meanwhile, Alf retired from the Council and, to secure a quick sale, put Grasmere Drive up for auction. Unbeknown to Alf, following the sudden death of Brendan Scott his widow Debi had decided to auction her husband's business. The Corner Shop went under the hammer while Alf was waiting for Grasmere Drive to come up, and he instinctively bid on it. Ultimately buying it at a knockdown price of £55,000, Alf hurriedly withdrew his house from sale and pulled the Roberts' offer on the bungalow as well as his resignation from the Council. Everything was as it was before, which satisfied Alf but his wife less so; after Alf took possession of the shop, Audrey drove over the shop sign, smashing it.
In January 1994, the Council revived the office of Mayor of Weatherfield after 20 years and offered the position to Alf. Alf wasn't altogether keen but Audrey, his would-be Mayoress, attempted to twist his arm by getting Reg Holdsworth to make an offer for the shop. Alf and Reg reached a deal and on 4th February of that year Alf worked his final day as proprietor of the emporium that had been his life.
1994-1999: Putting Weatherfield on the map
Edit
Alf began his year as Mayor on 2nd May 1994. Much like in his first term in the position, Alf carried out his duties with gusto while his Mayoress enjoyed the glitz and glamour. Audrey often cried off from engagements she didn't fancy, such as a tree-planting at Weatherfield Comprehensive where she refused to get out of the limousine with the excuse that the grass would ruin her shoes. As the months wore on, Alf grew jealous of Audrey's friendship with their chauffeur, Brian Bowes.
Notably, Alf's second year as Mayor included an official visit to Weatherfield's twin town Charleville, France with the Weatherfield butchers for a black pudding tasting contest. The contest never took place as when Fred Elliott was accused of trying to bribe a judge, Alf stood up for him and dramatically un-twinned the towns. Back home, sources told Alf that Fred had a reputation for backhanders and reasoning that he was probably guilty of the bribery charge, Alf apologised to the French and cancelled the un-twinning.
Later in the year, when the Council were planning cuts, Alf "nobly" volunteered to give up the Mayoral limo and take the bus to official functions instead. Out of loyalty to Brian, who had been made redundant, Audrey threatened to quit as Mayoress unless Alf reinstated the limo. Her resignation was accepted by Alf, who was tired of being let down by his Mayoress and gave the position to Betty Williams. Though humiliated by the gesture, Audrey didn't put up a fight - at least, not until January 1995 when she heard that a Royal would be at the upcoming County Hall bash. Audrey withdrew all privileges unless Alf let her go in Betty's place, and when Alf refused, she recruited Fred to open the South Weatherfield Leisure Centre with her, arriving before Alf and Betty. Tired of the hassle, Alf dropped out of the do himself and let Audrey and Betty go together. Otherwise, Betty remained Alf's Mayoress until their term of office ended on 17th May.
Shortly after standing down as Mayor, Alf was accused of embezzling money from the Mayoral charity fund as £7,000 was missing from the account. After enduring weeks of snide remarks, Alf was exonerated with the help of Brian Bowes, who informed him that Councillor Harry Potts used Arnold Hall as a non de plume when placing bets. Recognising Hall as one of the fund's payees, and learning from Brian that Harry was having an affair with Connie Holroyd, who prepared cheques for the Mayor, Alf realised that Harry was getting Connie to make up cheques for him and got Brian to repeat the story to his superior Jeremy Pilkington. When brought into Jeremy's office for questioning, Harry accidentally gave himself away and was subsequently sentenced to nine months in prison.
In recognition of his charity work, Alf was appointed an OBE in December. The Roberts journeyed to London to receive the honour in Don Brennan's cab after Audrey spent so much time looking for her diamond earrings that they missed the last train to the capital. En route, Audrey argued with Don about the recently deceased Ivy, leading an indignant Don to leave her at a service station. Alf continued on with Don to Buckingham Palace, where he dragged in Betty Williams from the crowds to go inside with him as he collected his medal. Having hitchhiked to the city, Audrey arrived too late to meet the Queen and swore she'd never forgive Alf. However, when Billy Williams returned a video of Alf and Betty at the Palace which Audrey never knew existed, she offered to make peace with Alf in exchange for him destroying the video. Keen to put the matter to bed, Alf capitulated.
The following June, the Council recognised Alf's status as a leading citizen of the borough by renaming Mayfield Court old folks' home in his honour. However, when the OAPs protested, with Lily Dempsey throwing an egg at Audrey while the Roberts were meeting a German delegation at the Town Hall, the Council changed its plans and allowed Alf a thoroughfare of his choice to name after him instead. Naturally, Alf chose Coronation Street - the place where he'd been happiest - but after being advised by his colleague George Urquhart that Coronation Street may be demolished for a new link road, Alf picked Docker's Wynd instead, which then became Alfred Roberts Wynd. Alf managed to turn the situation to his advantage as he made out to the aggrieved residents of the Street that he'd changed his mind because of their feelings on the renaming.
Alf had been in rude health since his retirement but worried about the future. His driving licence expired on his 70th birthday, and when Alf backed into Dr Stirling's car after a consultation and then sprained his ankle during a sponsored walk, the aforementioned doctor advised the DVLA that he wasn't fit to drive. Alf was granted a renewal but, reeling from the news that Fred had proposed to Rita, he drove the wrong way down a one-way street and smashed into a police car, resulting in a £200 fine and Alf having to sit his driving test again.
In 1997, Alf slimmed down after years of being overweight and the following June he left the Council, retiring completely. His seat was contested by eco-warrior Spider Nugent and Audrey, who won by seven votes. Three months later, Alf bought Fiona Middleton's salon for Audrey, pushed into doing so when Audrey went to a willing Fred for the money.
On New Year's Eve 1998, the Roberts attended Nick Tilsley's 18th birthday party at 8 Coronation Street. Worn out from dancing, Alf slumped onto an armchair where he suffered a fatal stroke. The party-goers thought he'd merely fallen asleep and it wasn't until Audrey tried to wake him up after the bells that Martin Platt checked him over and announced that he had passed away.
Alf had died so suddenly that he hadn't renewed his insurance policy, which expired on New Year's Eve. Audrey faced a difficult time in the weeks ahead as it transpired that Alf had spent most of his savings on the salon purchase and, putting aside £2,000 each to Nick, Sarah and David which would be held in trust until they were eighteen, Audrey was left with only £1,427.13 in cash plus the house and salon. The much-loved husband and greatly respected former Councillor and Mayor was dead, but he left a legacy which would stand for years to come.
Personality
Edit
Alf was an upstanding citizen: principled, honourable, charitable, and a peerless councillor. He was liked by his colleagues at the Town Hall as he was such an affable man and, especially early in his career, a by-the-book councillor who never disturbed the status quo. He showed a bolder side when his integrity was questioned; in 1976, when the Council received an anonymous letter accusing Alf of taking a bribe from Dave Smith, Alf pinned it to the wall in the Rovers and lectured the regulars about their gossip.
Alf was an effective Council representative at functions and an adequate public speaker, if a little pompous. His Council work dominated his life particularly during his GPO days which ended in 1979; he didn't enjoy that job and his marriage to his brother Malcolm's widow Phyllis was loveless and had only happened due to Alf's sense of duty. He was a people-pleaser with limited capacity for cunning - not an ideal quality for a councillor; unenviable tasks were often dumped on him such as dealing with Community Centre caretaker Ena Sharples who easily bent him to her will.
Alf became a widower in 1972 at age 45. He had no experience of romance, and his subsequent attempts to pursue Maggie Clegg and Renee Bradshaw were stilted and clinical; when he proposed to Renee, he gave her financial incentives to marry and was confused when she turned him down. He often turned to his worldly friends such as Len Fairclough for advice.
The nature of his position meant that people went to Alf with their grievances, even those which were nothing to do with him. Wearing a near-permanent frown, his worries weighing heavily on his mind, Alf was easily wound up and struggled to unwind after a hard day's graft. On the rare occasion that he let his hair down, he shed his usual fuddy-duddy image; in 1976, he went to a charity stag night to see the strippers at the Gatsby Club, and was present when the club was raided by the police. In 1989, at a club he hit the dancefloor with a random girl, even though Audrey was there.
Alf's greatest love was the Corner Shop, and he was happiest behind the counter making chit-chat with customers. Audrey had to compete with the shop for his affections and often felt like a low priority to him. Alf's marriage to Audrey brought another side of his to the fore: his parsimoniousness. Alf hadn't been notably tight-fisted before, but when married to a woman whose main hobby was frittering away his money, it was a necessary evil to stay afloat financially.
The tenants of the shop flat often fell victim to his pettiness. Alf preferred not to let the flat at all to spare himself the bother, but agreed to let it to Curly Watts in 1988, only to be accused of being a racist for choosing Curly over Shirley Armitage, who had asked first. Curly moved out in 1989 owing £80 rent, which Alf continually brought up until Curly finally paid the debt in April 1990 so that he would allow Reg Holdsworth to rent the flat. The following year, Alf refused to carry out repairs to the flat due to the expense, going as far as to work with a sprained ankle he suffered after falling down the stairs; as he'd tripped over a rotten riser, reporting the accident would be as good as admitting that the flat needed work.
Alf wore a suit every day. He was a regular hat-wearer and owned a bowler until Renee made him get rid of it as she thought made him look old. Alf replaced the bowler with a trilby which he nearly always sported when outdoors or at the Rovers.
Alf had been overweight since he was little; one his neighbours, Mrs Jobson, called him "Fat Alfie". In 1994, Alf and Audrey paid a Mayoral visit to Mrs Jobson on her 100th birthday. As Alf tucked into her cake, Mrs Jobson remembered the greedy little boy, much to his embarrassment.
The portly Alf tried on several occasions through the years to slim down. In 1971, he collected money for a sponsored slim for cancer research, and in 1983 he put £5 in a winner-takes-all kitty with Eddie Yeats, Fred Gee and Stan Ogden on who could lose the most weight. Alf won the proceeds by losing 3lb after it was discovered that Fred - who had "lost" 5lb - had had a bag of coins in his pocket at the first weigh-in.
Alf's efforts weren't helped by his habit of accepting eating challenges; at Fred Gee's birthday party, he lost a bet with Mike Baldwin that he could eat cheese faster than Mike could drink a pint with a spoon, and in 1992 he ate an entire Christmas pudding from his shop to quash a rumour started by Percy Sugden that his puddings were out-of-date. Alf unwisely did so on the same day he was due to attend the WARTS Christmas dinner; while devouring a three-course meal at the black tie event, Alf collapsed from an ulcer. It wasn't until 1997 that Alf changed his eating habits and slimmed down.
Relationships
Edit
Frank Barlow
Edit
Frank Barlow served with a teen-aged Alf in the signals in the latter days of the war. Frank was a seasoned Navy man and 13 years older than Alf but on the battlefield a lasting friendship was formed and Alf later said that Frank was like a brother to him.
After the war, both men returned to their jobs at the GPO where they worked alongside each other for a further 18 years, at the end of which Frank resigned from the post office to open a DIY shop. Against all odds, Frank made a good living from his shop and at the end of 1963 he offered to make Alf manager of a second branch. Alf believed his friend's tall tales of how successful he was and was about to pack in his job when a perceptive Albert Tatlock advised him that Frank was just trying to impress people.
In July 1961, Frank suspected Alf of pilfering from the GPO after seeing him take a letter from the sorting office and put it in his pocket. Out of respect for his friend, Frank didn't mention the subject when he next saw Alf, and he was greatly relieved when Alf confessed to pocketing the letter which was from his wife's sister Joan in Canada. Two years later, Alf showed his loyalty to Frank when he cornered Joe Makinson under the viaduct and had to be stopped him hitting him by Len Fairclough and Jerry Booth. Joe had went out with Christine Appleby, who was seeing Frank at the time.
Alf was an occasional guest at the Barlow household and knew the whole family. In September 1961, he waited in the house for the police to call with news of a missing Ida and was therefore first to be told that she'd been hit by a bus and killed in Gray Street. Alf then led the constable to the Rovers Return to break the devastating news to Frank. Frank himself passed away sometime in the early 1970s, long after moving to Wilmslow.
Len Fairclough
Edit
Builder and councillor Len Fairclough was Alf's closest friend in Coronation Street during his earlier years on the Council. Their public positions meant that Len and Alf frequently had to join forces as while Coronation Street wasn't in Alf's ward at that point, the Community Centre fell under his purview and the residents found him more amenable than Len.
An early dealing between the pair took place in July 1967. Alf and Len had invested their money in property, with Len putting up £300 of Fairclough and Booth's money without the knowledge of his partner, Jerry Booth. They lost their money when the Council refused planning permission on the deal, despite them voting in favour of it.
Len's career at the Town Hall was rockier than Alf's as he was known to put his own interests first and face criticism with pig-headedness. In these circumstances, Alf was often caught in the crossfire; in January 1974, when a London development fronted by Douglas Wormold submitted an application to re-develop the Coronation Street area, Len was strongly in favour as he stood to make a lot of money by selling his three properties in the area. Alf was against the plans, but when the local residents held a meeting with him and Len on the matter, Len didn't turn up, leaving Alf to face the mob on his own. Len ultimately voted against the proposal, which was thrown out.
Len apparently committed an unforgivable betrayal of Alf in August 1973 when, having promised to pass on the news that Norman Leach had changed his plea to guilty to stop Alf from resigning as Mayor, he was a no-show at the Town Hall. Fortunately, Alf heard about Leach from a clerk, but finding out that Len could have cost him his position caused Alf and the residents to shun him. It wasn't until a month later that Alf learned that the reason Len hadn't appeared at the Town Hall was that he'd just rescued a suicidal woman from the canal and taken her home.
In 1975, Alf shared with Len his problems with Donna Parker who had abused his trust and stolen £500 from him. Alf felt that his lack of experience with women had made him easy prey for Donna and believed that Len wouldn't have been taken in by her. Annoyed on his friend's behalf, when Len saw Donna at the Gatsby Club the following February, he offered to rent her The Kabin flat as premises for a new salon, collecting £500 upfront which he returned to Alf only to discover that Donna had already repaid the "debt".
Len and Alf were best men at each other's weddings in 1977 and 1978 respectively. On Alf's stag night before marrying Renee Bradshaw, Len was arrested for being drunk and disorderly and spent the night in a cell, causing him to nearly miss the wedding. Len was thrown off the Council over the scandal, with Alf reluctantly backing a motion by the Independents to support a different candidate from Len's party. Alf continued to pass on news of interest to Len from the Town Hall, such as Joe Dawson, owner of Dawson's Cafe, being the one who reported The Kabin for not having customer toilets.
When Len died in a motorway crash in 1983, Alf supported Rita as best he could by organising the funeral and dealing with the Builder's Yard. Alf eventually developed feelings for Rita himself but they were never more than friends.
Maggie Clegg
Edit
In the early 1970s, Corner Shop owner Maggie Clegg was the main woman in Alf's life after his first wife Phyllis, even though they were never more than friends. They struck a chord from across the shop counter, both being private people who had been in unhappy marriages.
Alf showed how much he'd come to care for Maggie in February 1972 when, after seeing Cyril Turpin pressure Maggie to go into business with Betty, he warned Cyril to leave her alone, resulting in Len and Billy Walker having to pull the pair apart to stop a fight breaking out. When Maggie learned about this, she put her foot down with Betty and announced that she would be running the shop by herself.
Maggie fell out with Alf when he avoided her through guilt following Phyllis's death; Maggie believed that it was no way to treat a friend. They were back on good terms by early in 1973 when Alf asked Maggie to be his Mayoress. Maggie declined as she didn't think she was suited to giving speeches and meeting important people, but was flattered to be asked.
Although Alf was now single, he never tried to take things further with Maggie but acted jealously when he saw her with other men. In April 1973, he got at Maggie's American suitor Mike Ritchie, leading Maggie to assume, when Mike returned home, that he'd been put off by Alf. Even after Elsie Howard informed Maggie that he'd went back to Wichita for a woman, Maggie continued to snub Alf for his pettiness. Maggie was aggrieved again in January 1974 when Alf let her pay architect Peter Shields £50 to draw up plans for an expansion of the Corner Shop even though the whole area could soon have been knocked down. Maggie walked out of Alf's life in July that year when she married Ron Cooke, ignoring an earlier proposal of marriage from Alf.
Renee Bradshaw
Edit
Renee Bradshaw was Alf's second wife. They were married for just two years before Renee died when the Roberts' car collided with a lorry.
Though she was a romantic, men had never been a big part of Renee's life; her last relationship before Alf was a long-distance one with Navy man Harry McClean, lasting six years. In that regard, she was well suited to Alf, whose marriage had been loveless. She even owned Maggie's old shop of which he was so fond.
Alf and Renee's first outing together was as part of a foursome on a fishing trip with Mavis Riley and Fred Gee in April 1977. The expedition ended with everybody except Alf falling into the water. When Renee caught the cold, Alf looked after the shop, at least until he caught Renee's cold and was moved into her bed. Their inaugural date took place the following week when Alf took Renee out to the pictures. During their courtship, Alf could be insensitive to Renee's needs and often disappointed her by going for the cheap options, although he usually came through in the end; when he was in London for a course, he rang Renee from the hotel and brought her back an expensive bottle of perfume.
One area where Alf needed no prompting was in defending his and his wife's honour. At their wedding reception in March 1978, Renee's stepfather Joe Hibbert congratulated Alf for bagging himself a woman with money and property, adding that "she's no oil painting". As his reasons for marrying Renee had been honourable, the latter comment caused Alf to shove Joe, sending him crashing to the floor.
In 1980, Renee started learning to drive and took lessons with Jim Lorimer. Alf didn't like her spending all that time with another man and took her out himself instead - a move he regretted once he saw her dangerous driving first-hand! After her accidental death, with the sight of her sprawled across the driver's seat of the crashed car at the forefront of his mind, Alf tried to picture what Renee looked like when she smiled, preferring that as his lasting memory of his wife.
Bet Lynch
Edit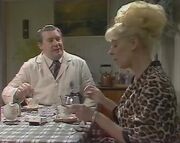 Longstanding Rovers barmaid Bet Lynch was living in the Corner Shop flat when Alf married Renee. She'd been a key player in the Norman Leach drama in 1973, being instrumental in saving Alf's reputation and career on the Council, but otherwise their interactions had almost entirely been across the bar.
Once Alf moved into the shop, he quickly found that three was a crowd - aside from the constant cloud of smoke, Bet walking around half-dressed, and the long wait for the bathroom, the Roberts often had Bet's boyfriends to contend with. The last straw was when Alf found out that Mike Baldwin was subsidizing Bet's rent. Too much of a pushover to give Bet her marching orders, Alf used various others means to get her to leave, including a disastrous attempt to matchmake her and Fred Gee which resulted in Fred asking Bet to marry him. The Roberts gave up their efforts after June 1978 when Renee's mother Daisy Hibbert asked if she could have the flat - suddenly Bet didn't seem so bad!
Bet was the Roberts' tenant until April 1980, when she moved out due to Alf and Renee forbidding her from carrying out her affair with Elsie Tanner's boyfriend Dan Johnson there. Two years later, Alf let her move back in while the roof was repaired at her bedsit in Ludlow Avenue. Alf didn't charge her rent as it was only short-term, but felt a fool when Bet's whole street was demolished leaving her with nowhere to go but the flat. Bet swore that her landlord had lied to her but made a show of walking out with her bags (which were actually empty). Alf saw through the ruse but allowed Bet to stay, having missed her cheek.
In August 1982, Alf incurred the wrath of Luxy Cinema owner Mr Wainwright by banning his x-rated film. Wainwright got the Gazette to call at the shop and interview Bet, who was still living in the flat rent-free, humiliating Alf in the local press. Alf ordered Bet out of the flat, but changed his mind when Ken Barlow pointed out that doing so would look suspicious.
The next major row between Alf and Bet was, once again, caused by Bet's love life. In 1983, she began a relationship with Des Foster, a councillor and a married man. Alf gave Bet an ultimatum over Des after grudgingly covering up for Des when his wife Edith called the shop. Bet chose Des over the flat, but when she discovered that he had other women on the go aside from her and his wife, she saw sense and finished with him.
Bet finally left the flat for better things when she became Rovers landlady in 1985, although she resided there briefly in 1989 when her marriage to Alec Gilroy was on the rocks (in typical fashion, she didn't give Alf the chance to say no). Despite their disagreements, Bet held Alf in high esteem and asked him to give her away when she married Alec. When Bet returned to Weatherfield after a seven-year absence in 2002, she passed on her sympathies to Audrey over Alf's death. Unbeknown to Bet, just before she'd left the Street in 1995 Alf had cautioned Rita against buying the Rovers for Bet to manage on the grounds that Bet, who had no savings of her own, was a financial risk, resulting in Bet losing her beloved pub.
Rita Fairclough
Edit
Rita Fairclough didn't play much part in Alf's life until the death of her husband Len in 1983. During Rita's period of mourning, Alf put himself at her disposal and provided her with much support and advice, including tying up Len's business affairs and encouraging Rita to look forward and not wallow in the past, based on his own experience as a widower.
As Rita became less reliant on Alf, he continued to look out for her even when his "help" wasn't wanted. In April 1984, to get back at Bill Webster for "fleecing" Rita out of £1,000 which she'd loaned him to get his business going, Alf refused to give him a reference to repair the Mawdsley Street Chapel roof. He relented when Rita took him to task for his pettiness.
Alf had become attracted to Rita, but had trouble expressing his feelings knowing that they wouldn't be reciprocated. In 1985, upon sharing an enjoyable evening with Rita at the Community Centre's Valentine Dance, Alf invited her to go on holiday with him, but she went with Mavis Riley instead. Later that year, after opening the refurbished Corner Shop, Alf made a drunken proposal to Rita, who had to walk out on a (sober) Alf at the Rovers to make him accept that they would only ever be friends. This was cemented when Alf married Audrey three months later.
Audrey never saw Rita as a threat to her marriage but she and Alf occasionally used Rita to score points off one another. In 1990, Alf accompanied Rita to Johnson's Bed Warehouse, planning to buy a new bed for him and Audrey, only to be caught lying on a showbed with Rita by Audrey, who exacted revenge by purchasing the most expensive bed there. In 1994, when Audrey decided she no longer wanted to be Mayoress, Alf offered the role to Rita who accepted on the proviso that he cleared it with Audrey. Audrey was vehemently against it but to get back at her Alf lied to his wife that it was a done deal, a move which annoyed Rita.
Alf had continued to carry a torch for Rita. In 1993, history repeated itself when a drunken Alf, upon re-opening the Corner Shop after buying it at auction, offered to leave Audrey for Rita. Alf repeated the offer when sober, but to Rita's relief he didn't push the matter and it never reached Audrey's ears.
In 2004, Audrey became convinced that the late Alf once had a liaison with Rita when she developed photos from her husband's old camera and found one of Alf and Rita on a bench in Blackpool. It was later proved that the film had been in the camera so long that the negatives had become corrupted and the incriminating photo was of two separate images combined.
Ken Barlow
Edit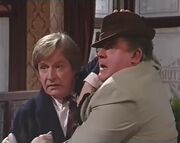 Despite his long friendship with Frank Barlow, encounters between Alf and Frank's son Ken were often adversarial. While their day-to-day interactions were cordial, Ken was an outspoken critic of the local establishment and in his journalistic career he attacked Alf and his fellow councillors on multiple occasions.
Before becoming editor of the Weatherfield Recorder in 1983, Ken spent eight years running the Community Centre as Community Development Officer, a position he'd been recommended for by Alf who sat on the committee. Alf was also familiar with Ken through Ken's marriage to Alf's assistant Deirdre, and Alf had given Deirdre away at the Barlows' wedding in 1981.
In March 1983, Mike Baldwin bought the old warehouse in Rosamund Street with Alec Yardley and opened it as the Graffiti Club, asking Len and Alf for support. Ken gave an interview with the Gazette shaming the Council for losing the residents' views, an obvious attack on Alf. Alf and his colleagues were later accused of feathering their own nests on the Council by the Gazette in a 1984 article, and again in the Recorder itself in 1987. Alf took the attacks personally due to his association with the Barlows and, in retaliation, set events in motion which forced Ken to drop out of the upcoming Council election.
In 1990, Alf was caught in the middle of Ken and Deirdre's bitter separation. Having let the shop flat to Ken, Alf reconsidered his offer for Deirdre's sake but was unable to dislodge Ken, who cited his legal right to the property. Ken continued a tradition of Alf's flat tenants being more hassle than they were worth; in 1991 he issued a list of repairs to Alf only to be accused of pulling a fast one. Following an argument, Alf tripped over a rotten riser and fell down the flat stairs, but didn't report the accident as he'd have had to admit the cause and pay out. The stalemate was broken when Audrey had the work carried out behind Alf's back.
A few months later, when Alf was standing against Deirdre in the Council elections, Ken supported Deirdre by sticking a "vote Barlow" poster on his window, which Alf ripped down even though it entailed entering the flat illegally. The day before the election, Ken found a "vote Roberts" poster glued to the outside of his window and tackled Alf in the Rovers. As their argument became physical, Gazette reporter Pete Waring who was in the pub at the time photographed them, providing the paper with the perfect front-page image for election day.
In March 1997, Alf received a complaint from Jean Crabtree that Ken had been passed over for redundancy at Weatherfield Comprehensive due to his affair with headmistress Sue Jeffers. Alf vouched for Ken, satisfied with his assurance that the rumour was untrue, and was therefore angry when he discovered that Ken and Sue were in fact an item.
Audrey Potter
Edit
Audrey was Alf's third wife, who was married to him from 1985 until his death on 1st January 1999. The first time Alf spent a significant amount of time with the unmarried Audrey was in 1981 when she stayed on at the shop after minding it while Alf was on holiday. 41-year-old Audrey's youthful spirit proved to be a tonic for "Alfie" (as she called him), who hadn't been with a woman since Renee. In order to keep Audrey around, he spent money on her and let her choose his new motor - a black MG sports car. Audrey liked Alf well enough but he wasn't as good-looking or as passionate as the men she usually went for, and when Alf pushed his luck by proposing marriage, she left him for her old boyfriend Tony Ditchburn.
A string of bad relationships, including an engagement to the sleazy George Hepworth who made a pass at Gail, led Audrey to regret dropping Alf. In September 1985, after being thrown out by her boyfriend Paul she returned to Weatherfield and threw herself at Alf. The couple were wed at Weatherfield Register Office two days before Christmas.
Alf was Audrey's meal ticket. Marrying him gave her stability for the first time in her life. That he was a loving and faithful partner was a welcome change to Audrey in itself, but the biggest thing in his favour was his brimming bank balance. Alf, who had always lived modestly, found himself fighting to keep hold of his hard-earned money. In the first year of their marriage, after Alf insisted that she contribute to the Roberts' income Audrey opened a hair salon in No.11's front parlour. The venture lasted only three months as Alf closed it down when Audrey abandoned Hilda Ogden while dying her hair, causing it to turn bright orange and forcing Alf to pay Hilda £20 compensation. Thereafter, Audrey was a part-time assistant at the shop, helping out when required, although she hated the place and tended to flit in and out as the mood took her.
With Audrey, Alf had a glamorous wife with whom life was never boring. He was surprised that Audrey had ever looked twice at him and remained afraid of losing her to another man. In 1988, Audrey suddenly fled to Canada to see her son Stephen Reid - who Alf didn't know existed - after he was involved in a serious car crash. Audrey was away for three months, during which time she was a guest at Stephen's father Malcolm's house in Toronto. The length of Audrey's absence and the lack of contact led Alf to think she'd never return, nearly causing him to have a nervous breakdown.
When Audrey returned the favour to Malcolm by putting him up at No.11 when he visited the country to "look up relatives", Alf cold-shouldered him, while remaining polite enough so as not to appear rude. Alf soon grew suspicious of Malcolm's motives and followed him and Audrey to Blackpool when they went to the seaside town as part of a Street coach trip. After spotting the pair together in a pony carriage, Alf confronted them on the coach and threatened to knock Malcolm's head off before dragging Audrey home in his car. Unbeknown to Alf, Audrey had just turned down an invitation from Malcolm to make a fresh start in Toronto with him, leaving Alf - who he thought was a miserable man who treated his wife like a hired hand. Malcolm was expecting a 'yes' as Audrey had led him on, enjoying the attention. After Alf threw his things into the street, Malcolm returned to Canada empty-handed.
Audrey never cheated on Alf but flirted with other men when he wasn't around. In 1990 she repeatedly called Jim McDonald out to 5 Grasmere Drive to repair the Roberts' bedroom TV set. Audrey relentlessly teased Jim, leading him to call her a bored housewife. Audrey then caused a feud between Alf and Jim by pretending that Jim had made a play for her, a lie which Alf swallowed unquestionably. Liz eventually tricked the men into making peace by telling each of them that the other had apologised.
Audrey vowed to turn Alf into less of a penny-pincher but history proved that Alf was right to hold onto his money. In 1988, he endured the humiliation of having his credit card cut up after Audrey ran up a huge bill. Audrey threw herself on Alf's mercy, admitting that she couldn't handle money. Two years later, after finding out that she was down in the books as earning a salary for tax purposes Audrey was excited by the thought that Alf "owed" her £10,000 - a debt she swiftly called in by buying Martin Platt a new car for Gail and family. For Alf's 70th birthday, Audrey booked them both a spell in a health farm for £800. As Alf wasn't keen, Audrey took Alma Baldwin instead. Alf duly paid for his own birthday present even though he wasn't going!
As he'd never had children, Alf enjoyed being a grandfather to Nicky, Sarah and David, and was a part of Sarah and David's lives from birth. In 1994, while on a Mayoral visit to Weatherfield General he spotted Martin kissing nurse Cathy Power, but didn't tell Audrey as he preferred not to get involved. Months later, he admitted what he'd seen to Martin, leading Martin to confess to Gail that he'd been unfaithful.
Audrey loved Alf dearly and always thought about him after he died. In 2000, Audrey snapped at David when he was being cheeky to her and Martin, reminding him that it was the anniversary of his grandfather's death. When Audrey dated Keith Appleyard it was clear that the attraction was mostly because he reminded her of Alf. When Keith found Alf's distinctive trilby when cleaning out Audrey's garage, Audrey became distressed to see Keith joking around and posing in it, insisting he took it off. Audrey would later reminisce about Alf again when fraudulent psychic Rosemary Piper claimed that Alf's spirit had contacted her and recounted the time when Alf enlisted the help of Bet Lynch in buying an eternity ring for Audrey.
Role in the community
Edit
Alf was the key local establishment figure in Coronation Street through his position as town councillor between 1967 and 1998 (excepting 1987 to 1991 when Deirdre Barlow held the ward), and Mayor of Weatherfield in 1973 and 1994. Until 1978 Len Fairclough of 9 Coronation Street was also a councillor although Alf was held in higher regard by the residents who thought him more honest than Len.
Alf was seen by the neighbours as a pillar of the community and, much to his chagrin, people often went to him for help even in non-Council matters in the hope that he'd pull strings for them. In September 1974, Granny Hopkins got him to speak to the bank on her behalf to grant the Hopkins' a mortgage on the Corner Shop. In 1984, he arranged to give Mavis Riley away at her wedding to Derek Wilton, and ended up being the one who had to tell Reverend Unsworth that neither the bride nor the groom had turned up.
Alf typically played it safe at the Town Hall and his vote didn't automatically favour Coronation Street. In June 1977, he chose the area around the Red Rec instead of his ward to include in an Improvement Area, denying the residents grants to modernise their homes. In his later years on the Council, he was less impartial, and was guilty of opposing new ventures solely due to the effect they would have on his shop, such as in July 1984 when he fought against proposals for a new shopping plaza within spitting distance of Coronation Street. In 1993, Alf was caught up in a row over a new one way system increasing traffic flow to Coronation Street by virtue of his role on the council. When Sally Webster appealed to Alf to assist in her petition against this change, Alf attempted to pass on the responsibility and patronised Sally, insinuating that the matter was trivial. Sally angrily responded by moving Alf's car to the middle of the road and dropping his keys into the postbox, blocking the traffic and causing Alf trouble when the police arrived.
In early 1998, Alf and his committee decided to build a Millennium concert bowl on the Red Rec, triggering a protest by Spider Nugent, Toyah Battersby, Roy Cropper, Emily Bishop and others in protection of Weatherfield's greenspace. Their complaints fell on deaf ears and it was only because Roy found a Roman bath house underneath the Red Rec that the endeavour was cancelled.
Alf was on the committee for the Community Centre. In October 1975, he backed Ken Barlow and Ena Sharples for, respectively, Community Development Officer and caretaker, even though they were unpopular candidates with the rest of the panel, particularly Ena who had been fired from the job two years earlier and at 76 years old could only do minor work. Having installed them in the centre, Alf was in a position of having to protect Ena when his fellow councillors tried to retire her. In July 1977, Councillor Tattersall planned to give Ena her marching orders but backed down when Alf discovered that he'd earmarked the job and flat for his niece.
By 1981, the Centre was a lower priority to Alf. When Fred and Eunice Gee asked to rent the Corner Shop flat, he used his contacts to secure them the job of caretaker instead to avoid having them live above him, even though they were totally unsuitable for the job. In November, Councillor Ben Critchley chairman of the Social Services committee, ordered an investigation causing Alf to sack the couple to protect his career.
The Corner Shop was the other outlet through which Alf served the community, and the one closest to his heart. In December 1990, he was made president of the Weatherfield Association of Retail Traders and Stockholders (WARTS), and he became a lifetime member of the organisation when he sold the shop in 1993. He was also a member of the Square Dealers, who honoured him in 1996 by choosing him to head Weatherfield's Millennium.
As a small trader, Alf feared extinction in the face of competition from supermarkets. In 1990, Bettabuy introduced a bus service to its store in nearby Albert Road, and Coronation Street was one of its pick-up points. Furious, Alf conducted a one-man protest of the service by standing in front of the bus as it pulled away, and later boarding the bus and making an appeal to the passengers, all to no avail. In 1993, after buying back the shop Alf refused to honour OAP vouchers issued by Brendan Scott. Curly Watts allowed the pensioners to spend the vouchers at Bettabuy, pinching Alf's trade. During a row with Curly in front of Gazette reporter Mark Travis, Alf got angry and pushed a pensioner, photographed by the reporter.
Legacy at the Town Hall
Edit
Alf's name was immortalised in 1996 when the Council renamed Docker's Wynd as Alfred Roberts Wynd. Shortly after his death, the incumbent Mayor offered Audrey the title of "Mrs. Millennium" in his place, although she refused the honour as she thought it made her sound ancient.
In 2004, the Council decided to posthumously recognise the former Mayor by erecting the "Alf Roberts Memorial Fountain". At a princely sum of £45,000, the project was branded a waste of public money by local taxpayers including Emily Bishop, Betty Williams, Norris Cole and Blanche Hunt who protested at the Town Hall when the plans were being unveiled after Deirdre, now a Council secretary, tipped them off. Due to the backlash, the Council dropped the fountain in favour of some public conveniences in memory of Alice Strudwick.
Hobbies and interests
Edit
When persuaded to take time off, Alf preferred to put his feet up but on rare occasions he was cajoled into doing something more active. In 1980, he was part of a (dreadful) barbershop quartet with Renee, Bert Tilsley and Eddie Yeats, and four years later he joined the Rovers team in a tug-of-war, competing against teams from The Flying Horse both times. In the first instance, the Rovers team failed miserably, but they scored a rare victory against their rival pub in the latter contest.
Alf was usually drafted in when the residents put on a play or show. On Christmas Day 1972, he and Ernest Bishop were the Western Brothers at the Rovers' 40s night, while three years later he was one of the Ugly Sisters in Cinderella at the Centre. Despite his minor part in the production, when he did a line reading for Annie Walker she was so unimpressed with his lethargic performance that she insisted on coaching him.
Alf wasn't much of an animal lover, as he found when he bought Harry Hewitt's whippets in 1961 only to return them a couple of months later. In 1976, while at the dogs with Fred and Terry Bradshaw and three sheets to the wind the men bought a greyhound, Fred's Folly, from Joe Mooney. The un-trainable dog ran off when Annie Walker, on a driving lesson with Alf, swerved to avoid it, hitting Stan Ogden's cart. Alf had a similar experience thirteen years later when Audrey talked him into buying a half-share in Don Brennan's greyhound Lucky, but he withdrew his money when Lucky kept losing races. In 1996, he bought a share in racehorse Betty's Hot Shot when it came in on odds of 50-1.
Background information
Edit
Introduction
Edit
Making his debut appearance with Episode 18 on 8th February 1961, Alf Roberts was a recurring part for Leeds-born actor Bryan Mosley until 1971. He was first seen at the GPO where he worked alongside Frank Barlow, and subsequent episodes in 1961 established Alf as a friend of the Barlows.
Mosley's appearances in Coronation Street ended abruptly in November 1961 due to the Equity actors' strike. Alf was brought back when industrial action ended in April 1962 but he was not as prominent, making only four appearances that year and eleven in 1963. Frank Pemberton's departure from the series in 1964 caused writers to drop Alf entirely, though he was revived for two stints in 1967 where it was established that he was now a councillor - a key addition to the character which was the basis for his eventual full-time role.
Five years younger than Alf, Bryan Mosley had trained at the Esme Church Northern Theatre School in Bradford and went on to work in rep all over Yorkshire. Between his stints in Coronation Street, Mosley pursued other, longer term, acting roles, and also worked as a stunt and fight arranger for television under the name "Buddy Windrush", becoming a founder member of the Society of British Fight Arrangers. He was on the verge of giving up acting when he landed a part in Z-Cars which led to roles in action shows such as The Avengers and The Saint, and subsequently feature films including This Sporting Life, Charlie Bubbles and 1971's Get Carter.
Following his role in Get Carter, Mosley was considering trying his luck in Hollywood when he was invited back to Coronation Street full-time. Mosley accepted, making his return appearance in Episode 1050 on 8th February, ten years to the day since he debuted. He became a regular three months later with Episode 1078 on 17th May.
Evolution in the 1970s
Edit
Alf was brought back as Coronation Street's new Community Centre was being built. His role was that of the main councillor responsible for the centre. For most of the decade, Alf neither lived nor worked in Coronation Street, and the programme rarely delved into his private life; his day job at the post office was never seen, nor was his wife Phyllis, who was battling cancer.
Phyllis's off-screen death took place in Episode 1218 (18th September 1972), as revealed by Alf to Jerry Booth in an emotional scene which Mosley recalled some years later: "I did a scene with Graham [Haberfield] when Alf's first wife died and he went round to see Len, but only Jerry was there and Alf broke down. Graham and I were both emotional about that." (Coronation Street: Celebrating 30 Years, Boxtree Ltd, 1990)
The next big event in Alf's life was his appointment as Mayor of Weatherfield in 1973. Alf being chosen over Len Fairclough - also a councillor - surprised Mosley due to Len being the more central character. According to Mosley, the storyline didn't play out as originally planned: "Harry Kershaw said the intention was to show people how Mayors operated, where they got their suits from and all that sort of stuff. But this was deemed not to be part of Coronation Street, so it was never actually shown. All we ever saw him do was go off looking posh, but it didn't tell you anything as to how the Mayoralty functioned, which was a missed opportunity I think." (The Coronation Street Story, Boxtree Ltd, 1995)
In 1974, writers planned for Alf to marry Corner Shop owner Maggie Clegg but the storyline was shelved when Irene Sutcliffe quit the programme. When Bill Podmore became the programme's producer in 1976, he observed that the character of Alf lacked purpose and paired him with the shop's new owner Renee Bradshaw, played by Madge Hindle, while also making a notable wardrobe change. Podmore: "Several things intrigued me about the mysterious Alf; how, for instance, had he managed to wander down Coronation Street in the first place? He didn't live there, and apart from his job at the local post office plus his work as a councillor, his only place in Weatherfield affairs appeared to be supping pints in the Rovers. But what really fascinated me was why on earth he chose to sup them wearing a ridiculous black bowler hat. We struck a deal. Alf could stay on the condition that he wed the lovely Renee, but the hat had to go." (Coronation Street: The Inside Story, Macdonald & Co, 1990) The bowler was quickly replaced by a trilby, which was part of Alf's wardrobe until the character passed away in 1999. Helen Worth: "It was Bryan that told me when I first joined that you had to have something to hang onto in the Street, to give something that people would remember, and in his respect it was the trilby." (The Corrie Years at Christmas, ITV Productions, 2012)
In 1978, Alf married Renee and the following year he took early retirement from the GPO and joined his wife behind the shop counter, where he proved a natural. Podmore: "If I ever saw a Mr Green the Grocer waiting to be cast, it had to be Alf Roberts." (Coronation Street: The Inside Story) John Stevenson: "He was probably the man Napoleon had in mind when he said England is a nation of shopkeepers." (The Corrie Years)
From Renee to Audrey
Edit
The Roberts' marriage failed to inspire the writers and by 1980, Bill Podmore and the actors concerned agreed that change was needed. Podmore chose to kill off Renee to spare Alf: "The writers tired of [Renee's] marriage to Councillor Roberts when it didn't prove, storywise, as fertile a ground as we had hoped, and we decided to make Alf either a widower or a bachelor again." (Coronation Street: The Inside Story) Renee died in a car crash during a driving lesson in the countryside, with Alf instructing her. Despite his stuntwork experience, Mosley found the scenes problematic to film: "I found climbing over the car a bit difficult as I'm not built for it. I remember having to climb over the car to get to Renee and not really believing anything was wrong because there was no real blood." (The Coronation Street Story)
Alf's standing improved when he became the sole proprietor of the Corner Shop, which he ran until 1994 (with a short break in 1993). In 1981, he was first paired romantically with Gail Tilsley's flighty mother Audrey Potter, played by Sue Nicholls who at that point was not a regular cast member. The unlikely partnership proved to be a goldmine for comedy, with Alf's penny-pinching and passion for the grocery trade coming to the fore for the first time as a contrast to Audrey.
In 1985, Sue Nicholls was given a long-term contract and Alf and Audrey were married. Bill Podmore, by then executive producer, believed that the flourishing of Alf in his new marriage proved that the decision to axe Renee had been the correct one: "If time proved anything, I think it underlined that the decisions to kill off characters were correct. Alf Roberts emerged into the sunlight from the shadows of a rather humdrum marriage, and eventually with his brash new bride, Audrey, became the wonderful cornerstone character he is today." (Coronation Street: The Inside Story). On their screen marriage, Sue Nicholls: "I suppose one does know of couples that are totally opposite in probably character and physique too, as I am kind of thin and Alf's rather roly-poly," Mosley: "And it works very well, it's amazing how popular the marriage is. I'm always getting letters saying how good they are together." (The Coronation Street Story)
Declining role
Edit
On 9th June 1991, Mosley suffered a serious heart attack. He had been in the midst of shooting a major storyline in which Audrey left Alf after an argument over Ivy Brennan working at the shop. Mosley's abrupt departure caused scripts after Episode 3245 (28th June 1991) to be rewritten so that the story would be resolved quickly, with Audrey returning to Alf who had had an off-screen collapse brought on by exhaustion.
After Mosley returned to work in October, making his return with Episode 3300 on 4th November, Alf remained a prominent character. Although he sold his beloved shop for good in 1994, Alf was then appointed Mayor for a second time and, in 1995, awarded the OBE at Buckingham Palace. The latter storyline was suggested by archivist Daran Little (50 Years of Coronation Street: The (very) Unofficial Story, JR Books, 2010).
Mosley was struck by a second heart attack on 3rd February 1997, soon after shooting Episode 4159 (14th March 1997). The actor's health was further affected by a dramatic 5st weight loss. Mosley's family urged him to retire but when producer Brian Park visited him at home in Shipley and invited him to return to work, he accepted, making his comeback with Episode 4294 on 5th November. He fell ill again in January 1998, resulting in another absence of five months. Each time Mosley returned to filming at Granada, his workload was lightened, with Alf making only small appearances which could easily be cut from scripts should Mosley drop out of shooting for health reasons. Mosley was advised to quit by family and friends, but chose to work on. Mosley: "I'm just thrilled to be back. I love Coronation Street. It's in my blood and gives me something to get up for. I'd become a vegetable if I stopped. I'll never quit." (Street to kill off Alf in TV shock, The Mirror, 13th October 1998)
Deaths of Alf and Bryan Mosley
Edit
In late 1998, new producer David Hanson made the decision to ignore Mosley's wishes and kill off Alf, for the sake of his health. Alf passed away peacefully while resting in an armchair at Nick Tilsley's 18th birthday party just after midnight on New Year's Day 1999. Mosley shot his final scenes two months after being told that he would be leaving.
Although he had previously vowed never to quit, Mosley accepted that he would have to retire at some point but had hoped to continue for a few more years: "I thought I'd weathered the storm. To get rid of Alf now seems totally stupid. There's so much more for him to do... I had hoped to keep going at least until 2000. I would've liked to see Alf as Weatherfield's Millennium Man. I've been here a long time and I thought they could've done that for me." (Alf blasts "totally stupid" axing, The Mirror, 22nd October 1998) Regarding the death itself: "Filming that death scene was bloody boring, because all I had to do was sit there and pretend to be dead. Sean Wilson, who plays my son-in-law, Martin, had to shake me and say: 'Oh no, he's gone, Audrey.' "In rehearsal, I leapt out of the chair and yelled: 'Surprise!' I couldn't resist it. Poor Sean nearly jumped out of his skin. Then two extras kept tripping over my feet. I had to say: 'Oi, come on, I am supposed to be dying here.'." (I fought back to life twice, then I was bumped off with just two months notice... it was so sad, The Mirror, 11th January 1999)
After Alf was killed off, Mosley gave an interview where he expressed his disappointment at being forced out, refuting claims that he wasn't up to the demands of filming: "I feel like a new man, the best I have felt for three years, and I kept telling the producers I was getting better all the time." However, he understood the difficult position his colleagues were in: "When I came back, I was just pleased to be there, although I looked like something someone had dug up. I couldn't breathe properly. "It was a strain on everyone else because they thought: 'Is he going to drop dead, or what?' In fact, I looked iller than I was. But, of course, my appearance had changed so much." He clarified his feelings: "Now I will miss Alf. But I won't miss the schedule."
Mosley passed away after suffering another heart attack on 9th February 1999, six weeks after his character's death was transmitted. When he was buried on 14th February, Alf's trademark trilby was placed on the coffin.
Playing Alf
Edit
To aid his portrayal of Alf, Bryan Mosley created a backstory for the character which built upon the hints which had been given over the years, including his World War II experiences. Although none of this was explored on-screen, it helped Mosley get into character: "There's something of a fighter in Alf. He was in the army during the war and probably had quite a difficult war. He's still interested in the weapons of the 1940s. All that has been glossed over. Part of the way I play him is that he has this experience behind the staid image. He has been to strip clubs with Ray Langton and Ernest Bishop, and he had a girlfriend called Donna Parker that no one in the Street, only viewers, knew."
On the differences between him and Alf: "I don't go along with Alf about a lot of things. I don't spend time in pubs – it's a tremendous waste of time. He has a very limited outlook on travel and is never seen to read. I'm sure he does – he probably reads Tolstoy, but it's never been shown. I've got my own secret world of Alf that I work from." (Coronation Street: Celebrating 30 Years)
Mosley's screen wife Sue Nicholls was extremely fond of the actor and often praised his performance: "I'll say until my dying day that lovely Bryan didn't get the acting plaudits and the kudos he deserved. Alf may not have been the most showy character, but he was an ordinary man and it's very difficult to play ordinary. Any of us, with due respect, can play over the top, do a funny walk or pull a silly face, but it's very difficult to play ordinary because people don't think you're acting. Bryan came into that category because he remained so wonderfully true to the character he played." (Fifty Years of Coronation Street, Headline Publishing Group, 2010)
First and last lines
Edit
"What's up with you today?" (First line, to Frank Barlow)
---
"I'm just gonna rest me feet for five minutes, I can't keep up with this young lot." (Final line)
Appendices
Edit
List of addresses
Edit
Employment history
Edit
External links
Edit
Community content is available under
CC-BY-SA
unless otherwise noted.